Quote:
I think you have made the horse better looking than it is in reality. The neck on yours differs from the photo, but perhaps you did this on purpose. And I like the way you adjusted the front legs to make the horse more engaged and balanced.

Not really much to suggest because it is not finished. I guess just to say, don't overwork it because your style has a certain freshness to it that is easily ruined if you worry about making every line clean and perfect. I know, it's the artist's perennial dilemna; when is it finished? when to quit.

this is a very nice piece. the owner will be thrilled
Thank you for the suggestions, I hadn't thought about trying to keep it from getting overworked so I'll make sure to be more careful about that.
I originally drew the pose off a blend of her reference pictures and I'm using a different one for the shading, so that's probably why the neck looks off. I wish I had just stuck to one picture though, it would have saved a lot of brain damage!
Quote:
I'm right handed and my horses always tend to face to the left <3 These are amazing! I need to start practicing again. Keep up the good work and I can't wait to see more.
Thank you! Lol, mine always tend to face right. xD I'll definitely be posting more in-progress pictures as they get closer to being finished. :)
Quote:
This is my longest ongoing work in progress, it's almost 2 years old now. It's a digital painting, and although the horse (soon to be unicorn) wasn't much of a problem, the background has been extremely difficult. I have a bunch of references but none are quite what I'm picturing it to be and I'm having a hard time trying to make up what a whole forest, ground, and cliff should look like. I'd love any suggestions on this one. :)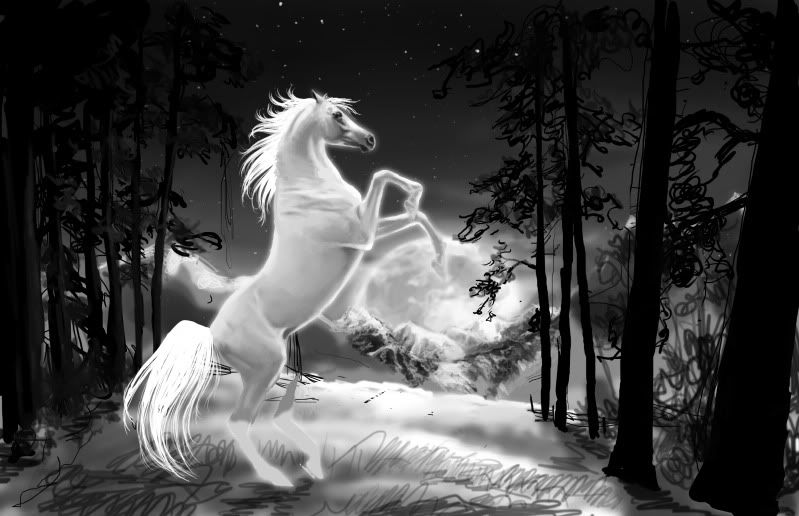 It's people like you that inspire me to draw again... Seriously, this image is flipping amazing! I love it, the whole thing would look pretty freaking awesome when finished, I like the trees, I really do, it all looks so good!
---
Also known as NiNo on other forums.
TralissaAndalusians: Thank you so much! I haven't worked on it in ages, but I think I might give it a try now that I've gotten a lot more used to drawing with a tablet. :)
this is nice really cool I LOVE IT
They look soooooo good !!! I love the coloured drawing of the chestnut you got the colour exactly right
---
Pocket - 8 yr old, 15.1hh Thoroughbred Mare
~You know you're a horse person when you say 'whoa' to your dog~
Thanks, I'm using a combination of around 5-7 colors for his coat, so I'm glad you like it. :)
Wow I didnt know it took that many colours! Well it has payed off cause it looks beautiful
---
Pocket - 8 yr old, 15.1hh Thoroughbred Mare
~You know you're a horse person when you say 'whoa' to your dog~
Thanks :) The only problem is that it's very time-consuming, so I hope I can get myself to actually finish it!
Similar Threads
Thread
Thread Starter
Forum
Replies
Last Post
Some artworks :).

TaMMa89

Horse Artwork

8

05-29-2008

06:45 PM