Oooh, looks soo nice! Great job.
I love the detail.
---
Ride more, worry less.
Omgosh your art work is AMAZING!! Would you mind drawing my mare?? Choose what ever one you want!
Or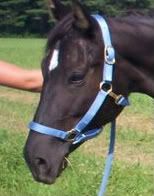 <-- If you decide to do this one dont draw my friends arm :P
Wow. You have serious talent... Have you ever sold any of your drawings, or do you just draw for you?

I don't know if you are doing requests, but if you want some more muses I'd love for you to sketch my arab...

And once again... wow!
AMAZINNGGGG!!!
I want to see those hands who made all these art work!
You Are Fantastico!!!
May God bless you and help you further in the art work. You should go and work for Disney or something. I'm sure you would get a job there!!
Very good work Very Very Good art work...
Sorry but I can't help myself thanking for your great art work.
Would we be able to see some colorful ones too?
Regards
---
2¢
-Jehanzeb-
2¢
If something's HARD to do, then its NOT worth doing!

O....M....G...Amazing! How do you do it! I wish I had that much time and patience. Nice work.
---
If you want a stable friendship, get a horse.
Nice Arabian head drawing.... You are very very good. keep up the great work. Maybe you should consider setting up a booth at the Arabian Nationals in Tulsa next year. I think you would do good there.
Bye..
Thanks guys! :)
Here is one more ive done recently and a W.I.P of a rotty which i still have loads more to do on
Beautiful work! I enjoy your style of shading. It seems to add life to your drawings, something every Arab has in plenty. :)
love those!
---
kickshaw
Justin (qh/tb)
Boo (asb)
Thankyou everyone for your kind comments :)

Finished my Kimba drawing..(i think..lol.) And thought i would show you one of a Clydie ive been woking on..

Enjoy..