If it's is left up to the boy, I'd say it will be a 1/4 of a credit card - just to be 100% sure I can't use it again!!!!
Trained
Join Date: Sep 2011
Location: Hour and a Half from Town!
Posts: 6,324
• Horses:
2
dickblick.com
My addict feeding site, signed up for the coupons.....
Posted via Mobile Device
**** my sensible, money saving side. Now I'm doubting myself just before clicking the 'pay for your order' button. My horses are due for the dentist + vaccinations + farrier in November... do I reaaaalllllly need new pastels right now? I only have to get 4 more portraits out of them, I'm sure they can stretch that far... maybe..... then I can buy myself a new set for my birthday in December...
Trying to be good!
Oh FlyGap....imagine my pain when there's a Blick store in my actual art building at school....I'm in there everyday it seems like!!
Posted via Mobile Device
SUCCESS! My darling, generous, wonderful partner is buying my Unison's for a birthday/christmas present - the joys of having a birthday 2 weeks before christmas.

Have just bought a new batch of velour paper though, went to get a sheet out last night to start a new commission, and panicked as I had none left!!!
I don't think there's anything better than the smell of an art supplies (except a stable or tackroom). Wood and rabbit glue and linseed oil and turps. Mmmmm...
---
A crazy girl with a crazy horse
What brand of pastels do you buy kayty? I'm curious.
---
A ride a day keeps the worries away!
I use a number of brands, generally Rembrandt for the bulk of my work, with some Schminke for the areas that need very bold colour. I also use some Derwent Pastel pencils for the finer detail work.
I've got a few Unison pastels, and have fallen madly in love with them, hence begging my partner for a set of 72 for my Bday/Xmas :)
Teen Forum Moderator
Join Date: Dec 2010
Location: South East Texas
Posts: 7,157
• Horses:
2
You caught me, I'm an art addict as well ;) or atleast as much of one as I can be as a poor teenager with no free time.
My favorite thing to do is Mixed Media art. I work with melted crayons, india ink, oil ink (one of my favorites), newspaper, acrylics, markers, charcoal, graphite, watercolors, crushed glass, paper meche, you name it.
I'm
extremely
picky about my art supplies though. I'm normally a very laid back person and few things bother me, but if someone messes with my art supplies I'll turn into a ball of fire in seconds. My favorite ink pens are Pentels, but unfortunately they're $60 for a box of 33 and most of mine have run out. I also love squirrel and camel hair brushes for painting and GOLDEN acrylics.
I have an entire closet full of different paints, canvasses, and pencils...I think that last time I checked I had 104 pencils of varying size, material, and grade. My favorite are the cherry wood pencil though. They're so soft!
My most recent mural, the biggest that I've done (9x12) and my first commission. I'm only 16 so I have a ways to go, but it turned out pretty good! The water alone took 13 hours. The rest took me about 8 hours.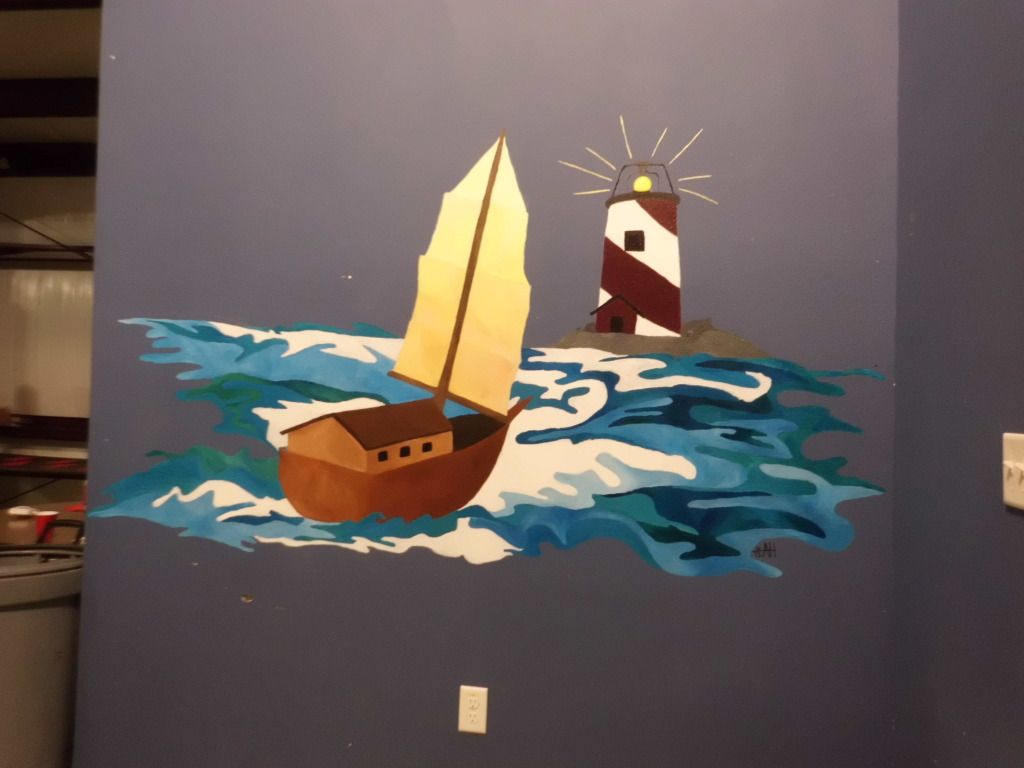 My entire wall is full of paintings and sketches too xD you can definitely tell what I enjoy doing in my spare time when you walk into my room!
---
Everyone in your life is meant to
be in your journey, but not all of
them are meant to stay till the end.
That is very bold! Ilove the graphic quality.

you know, although I love artist supplies, the stuff i've been doing and showing on here is all done so simply. The paper is not cheap, but not all that expensive. The brushes I've had for years, and the ink is just a stick of Sumi ink that I grind on an inkstone. That's it. I set up on teh kitchen table in 3 minutes. it's so easy. But, I still love art supplies and think I should indulge in MORe!