Clay Work
---
So my type of art is a bit different, I take ceramics class at school and my favorite thing to do is build things by hand. Last year I made a few horse statues
This is the first thing I did with a horse (in this case unicorn), and yes it is cracked. It craked while firing and I glued it together
This is my first horse statue, made from my mind only. My teacher didn't like this one very well
this is my last, it's modeled after a Jappenese Horse statue. My teacher actually loved this one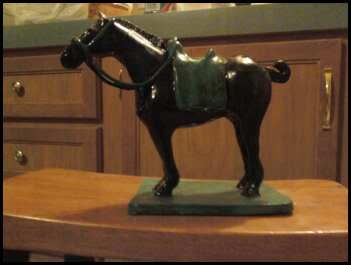 Those are amazing! I love the last one.
---
RIP Minnie, 1981-January 15, 2010
RIP Maggie Mae I miss you
I love seeing all the different art styles in here. I agree, the third one is quite spectacular! I could never do that. Keep up the good work and post more of your art in the future!
You're definitely gifted in doing clay! I've never seen someone do anything with clay and relate it to horses so bravo. I would never be able to, haha. I think I fancy the last one the best.