Custom Made by Horse Forum members- Collection Thread
---
Ok I am not going to take credit for this idea someone posted the idea on anouther forum I am on but it is fun to see what everyone does so I thought it would be fun to see here.
I will start. I am a professional photographer among other things and have been doing it for year.
Anyway. One of my specialties is Historical and Alternative processes with on photography. Some of these processes are done in the dark room and some in my photo lab/office.
Anyway here are just a few examples of things I have done for clients in the past.
These first examples are of historical processes done in the dark room. No matter how many times you do then each one is different.
These examples of Liquid emulsion are on Color paper. However this can be done on just about anything.
These examples are more alternative and again can be done on just about anything.
On Slate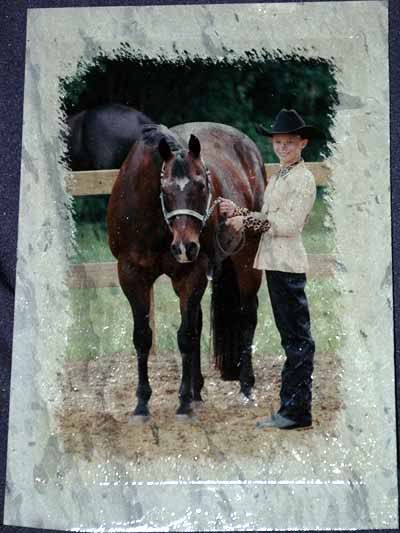 On wood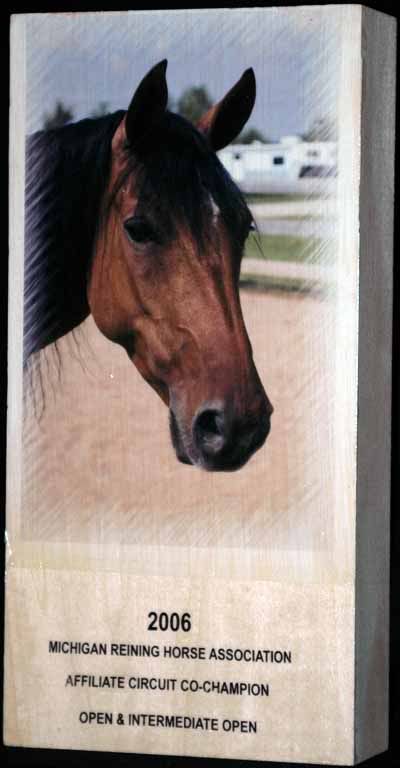 On tile which can be added into your rooms tile work if you wanted too.
I have also done things on Glass which is quite neat when the image on glass is mounted into a box photo frame with a mirror behind it.
So lets see everyone's talent. This should be a lot of fun.
---
-I'm so busy... I don't know if I found a rope or lost my horse.
-An Armed Man is a Citizen an unarmed man is a subject.
-Where ever free speech is stifled Tyranny will reign.
I posted on the other thread on HGS - so I'll copy and paste mine :)
~~~~
Making Custom:
BEADED BROWBANDS!
Located in:
Michigan, U.S.A
Descriptions and Pricing:
Crown Jeweled Beaded Browbands.
Each Browband is made for you and your horse, to your specifications with a guarantee that no two browbands are alike. You will have one of a kind! These browbands are fabulous for pleasure or show. Whether you enjoy Trail Riding, Endurance, Eventing, Jumping, Dressage, Barrel Racing, etc, etc, - your browband will make you and your horse shine!
I can make your browband with whatever colors you want, to what size you need, with or without a leather backing, with or without bling - the choice is yours.
The beads used vary, depending on the beaded strand. Vary anywhere from Swarovski Pearls, Fresh Water Pearls, Glass Beads, Semi Precious Stones, Swarovski Beads, Swarovski Accents and the list goes on.
The browbands are strung with strong beading chord, where the browband will be able to stretch if the beaded strand is snagged - and will go back to its origional state. The beaded strands are hand sewn to the leather backing and secured in place.
Prices vary:
With Swarovski Crystals and with a leather backing $45.00
With Swarovski Crystals and without a leather backing $40.00
Without Swarovski Crystals and with a leather backing $35.00
Without Swarovski Crystals and without a leather backing $30.00
LINKS: http://s291.photobucket.com/albums/ll288/TickTack01/
How to Contact:
You can either PM me here, or send me an e-mail at
chaz920@yahoo.com
Most Recent Sales Thread:
Crown Jeweled Beaded Browbands
I just want to state, that I have sold my browbands to many HGS and The Horse Forum members who will vouch for my product and myself.
Pictures *you can see many more on my photobucket account*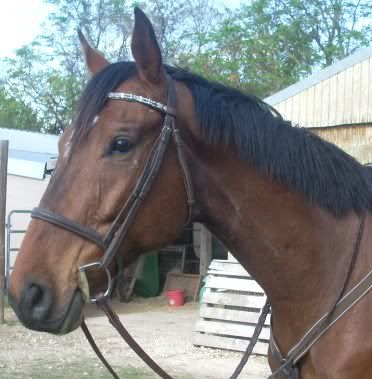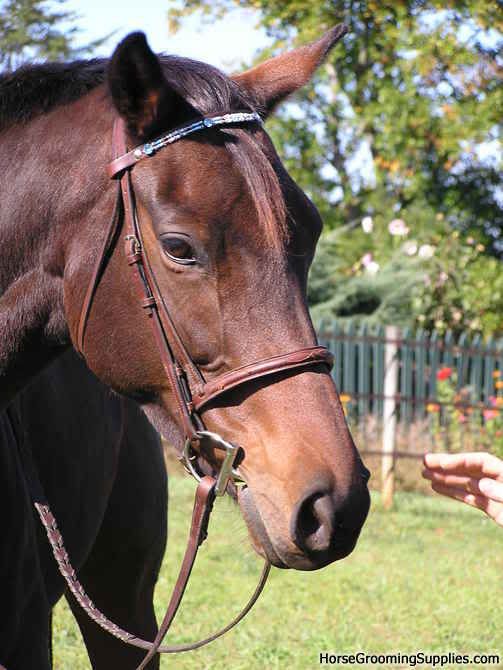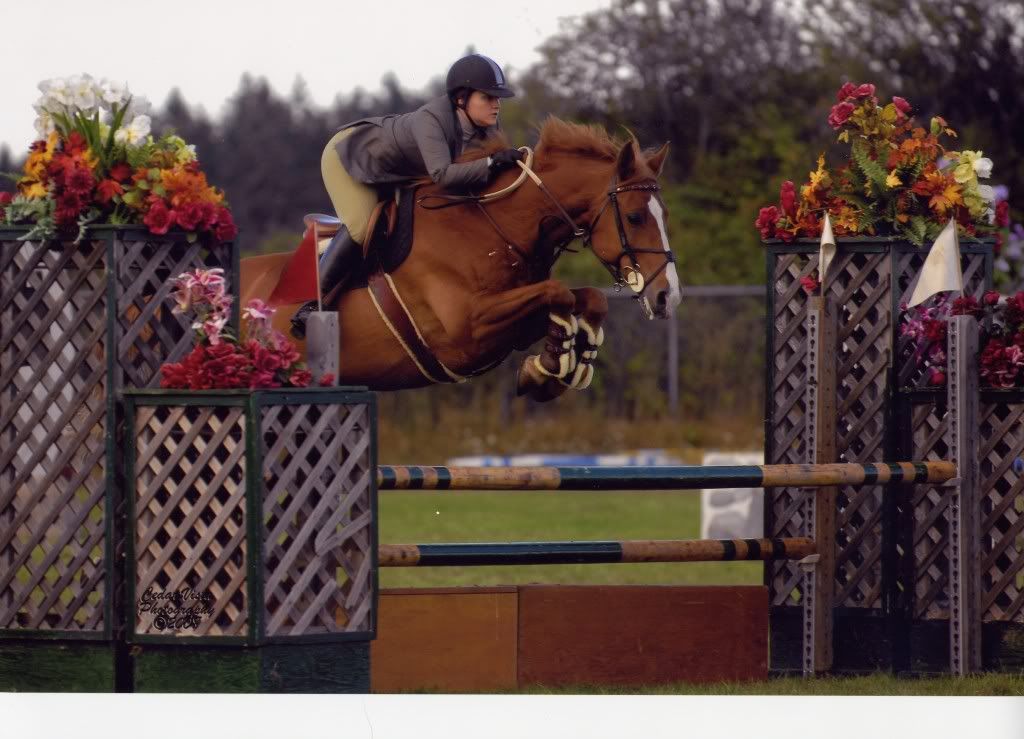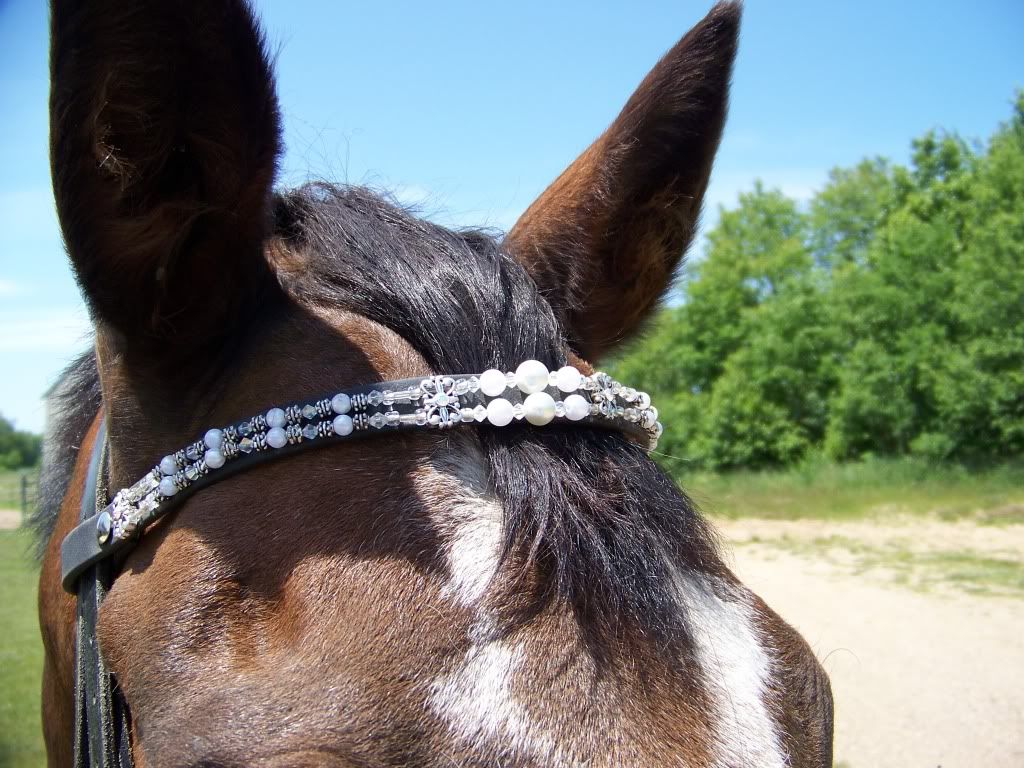 ---
Those browbands are lovely!
---
Ω Horses are a projection of peoples dreams Ω
i may start to do browbands too. right now im doing browbands with ribbon on them.ill get pics as soon as im done with some.
---
its horse show time in tennessee!!!!!!!
what im not paranoid!!! ....whos asking???
proud to be a southerner!!!
Thankyou HoneySuga :) I've been making them for about 5ish years now :) I have sold them to many HGS members and The Horse Forum Members who will vouch for my product :)
---