digipaint wip
---
I had a pageviews contest (or 'kiriban' as many call it) on deviantart, and the winner was promised a fully shaded full body artwork of one of their characters, with a full background.
It's been so long since I've done anything of the sort I'd forgotten how long it takes!
The character belongs to kamirawolfdemon.deviantart.com - though was adopted from another dA member. So design credit goes to Kamira and to the person she adopted Easter from.
Aaaanyway. I didn't get a WIP of the sketch, because I wasn't sure I liked it until it was fully shaded. I'm trying out a new line-free style, working towards some more realistic stuff than my usual [I am very cartoonish, typically, as some of you may know].
Reference photo [from cassykiara.deviantart.com]:
Greyscale shaded: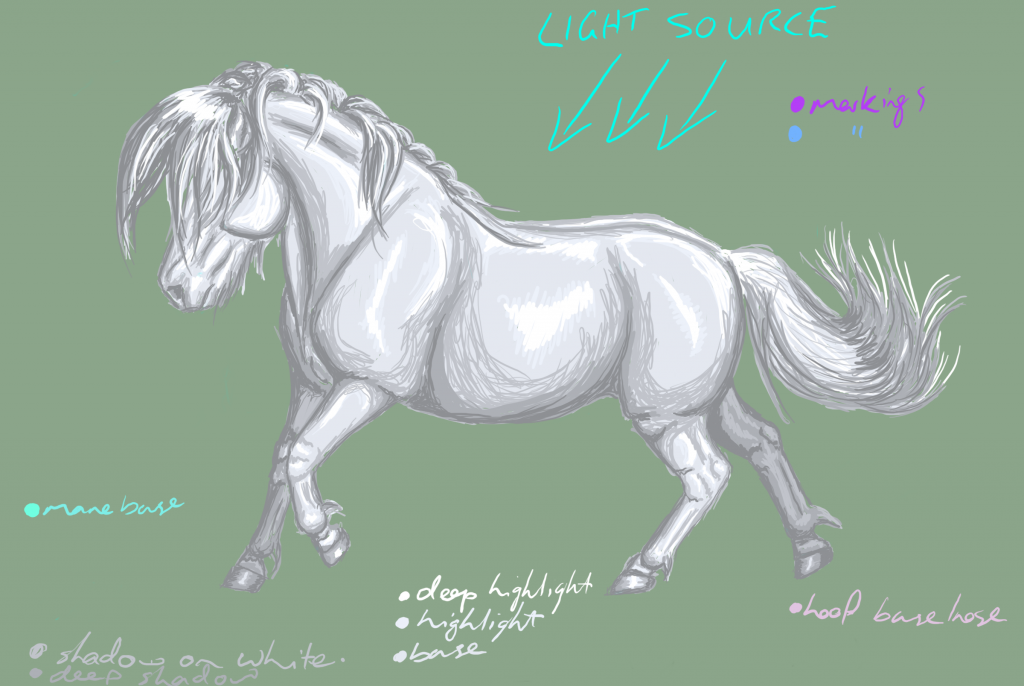 Colour done except tail: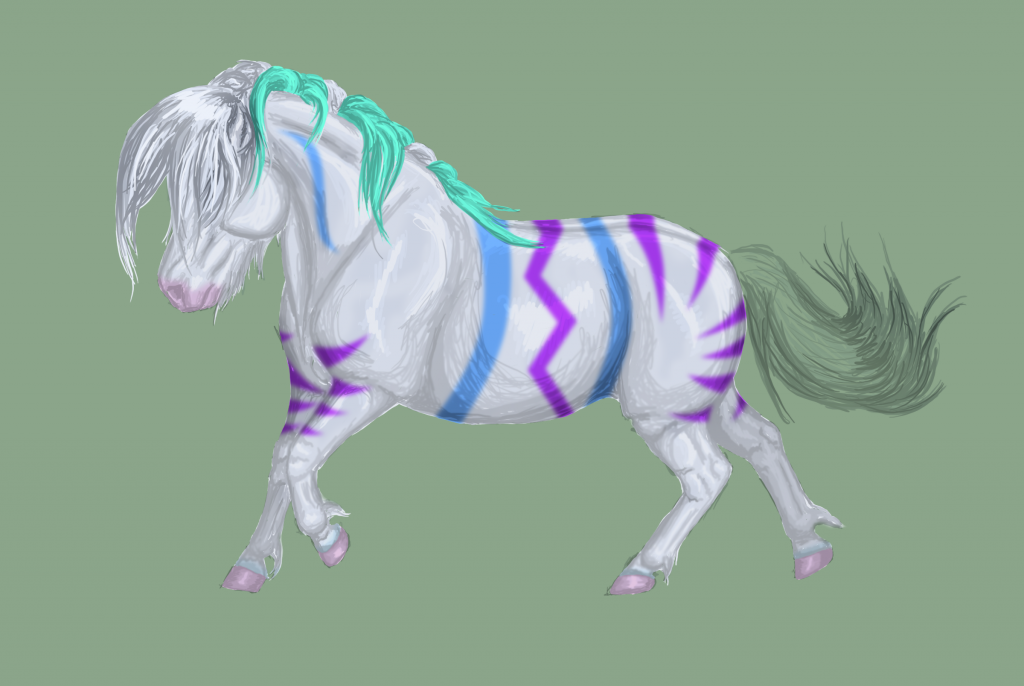 Pony finished, background started on/blocked out: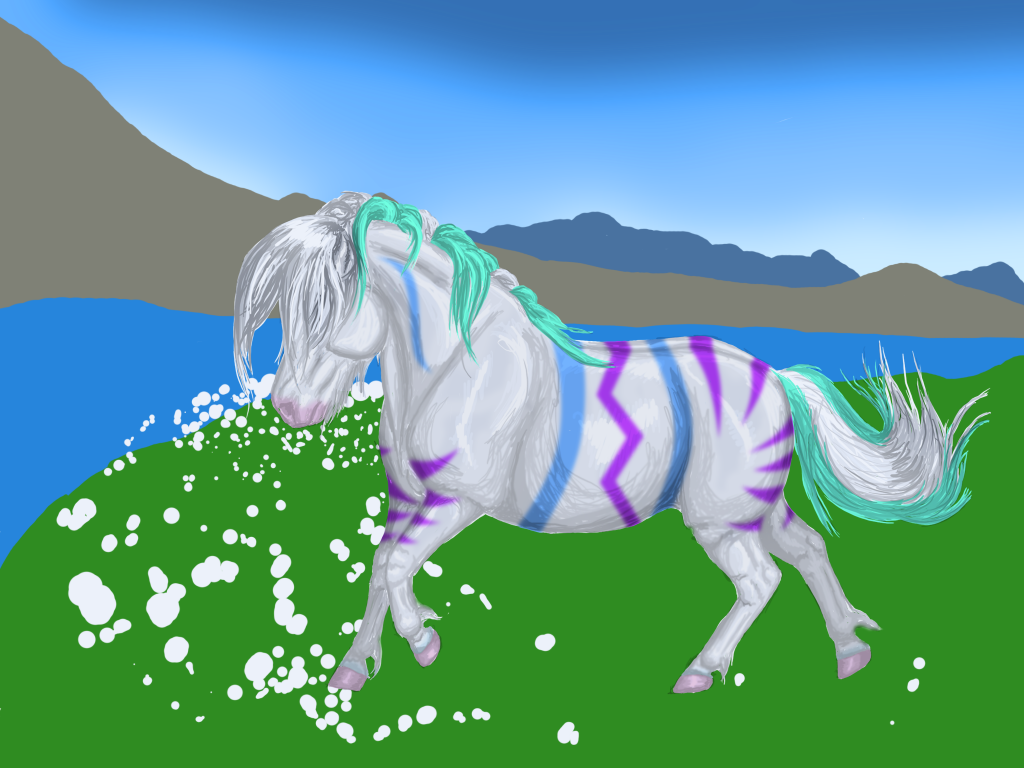 I'm also using a ref for the background, this, from momotte2stocks.deviantart.com:
---
REGAL PRINCESS
Another progress report :) I got the grass/foreground finished at last, dear goodness that takes a long time - but I anticipate the water/mountains will take longer.
I took a little artistic license, as you can see, so while I'm using a ref it's not going to look exactly like the ref. Longer grass, less dirt/rock. The request was for a spring scene, so if I have any say in the matter, it's going to be a really lush grassy scene!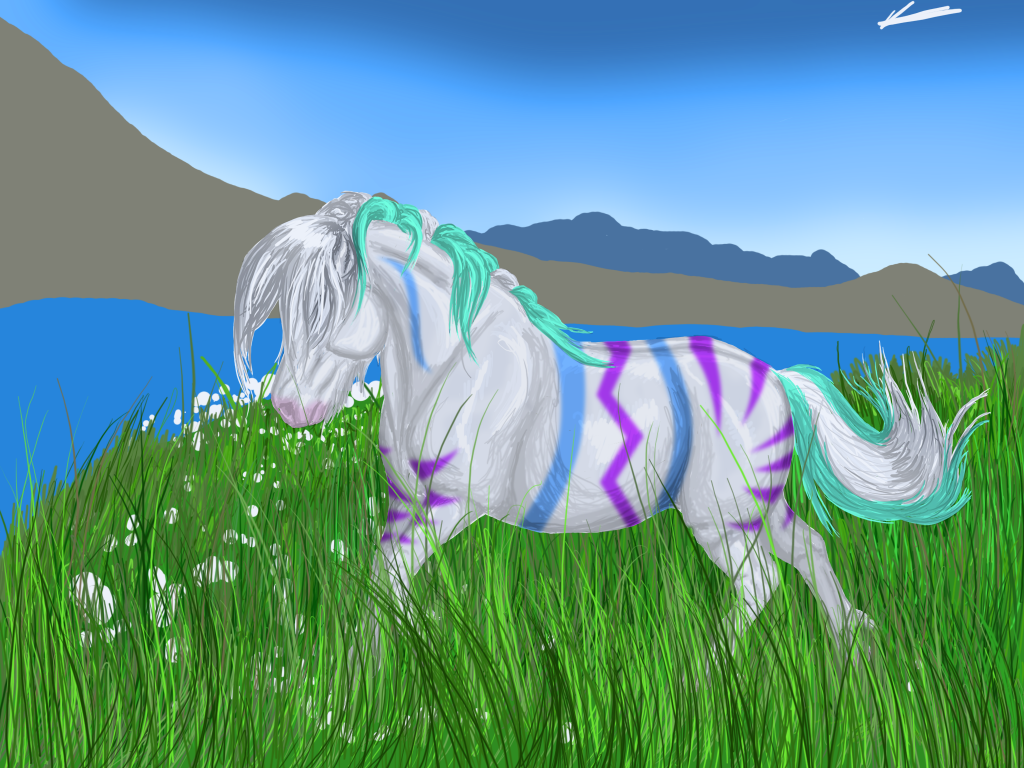 ---
REGAL PRINCESS
That is just beautiful, BEP! I use a drawing app on my ipad for fun sometimes and your work is amazing. I love how accurate it all is!

The winner of this picture is really, really lucky.
---
This space has been left intentionally blank.
Thank you! I work in Photoshop CS5 with a Genius graphics tablet. Nowhere near as good as a Wacom [market leader] but a decent tablet. Took some getting used to though - working with a pen and not looking at where my pen is, but the computer screen.

I'm just as lucky as the winner, she has so many amazing characters and I was really hoping she would be the one to get it. Easter has been so much fun to draw. I could/should blend my shading a bit better but I like the sketchy style, it's more forgiving of mistakes.
---
REGAL PRINCESS
It looks so much better without being blended I think. Blending would make it a bit wishy-washy, with everything stark it really stands out and separates foreground from background a bit more too. A bit like Marc McBride, who illustrated the Deltora Quest series :).

What are the coloured markings on Easter for? Is he going to be that colour, like an Easter egg or will he be like the picture?
---
This space has been left intentionally blank.
The coloured markings are her colour :) that's what Kamira wants, so that's what Kamira gets. I very rarely use references for colour - only really when drawing people, because for some reason I just can't get the colour/shading right otherwise LOL.
edit; with blending the shading, I would probably make the shading a bit darker if it was all properly blended. I do want Easter to be the main focus of the piece and at this stage she is. Hopefully as the background becomes more detailed she will still stand out, without looking like she's just been slapped in there with no thought of how she mixes with the setting.
The character:
Easter Ref by ~KamiraWolfDemon on deviantART
---
REGAL PRINCESS
---
Last edited by blue eyed pony; 02-09-2013 at

12:15 AM

.
Done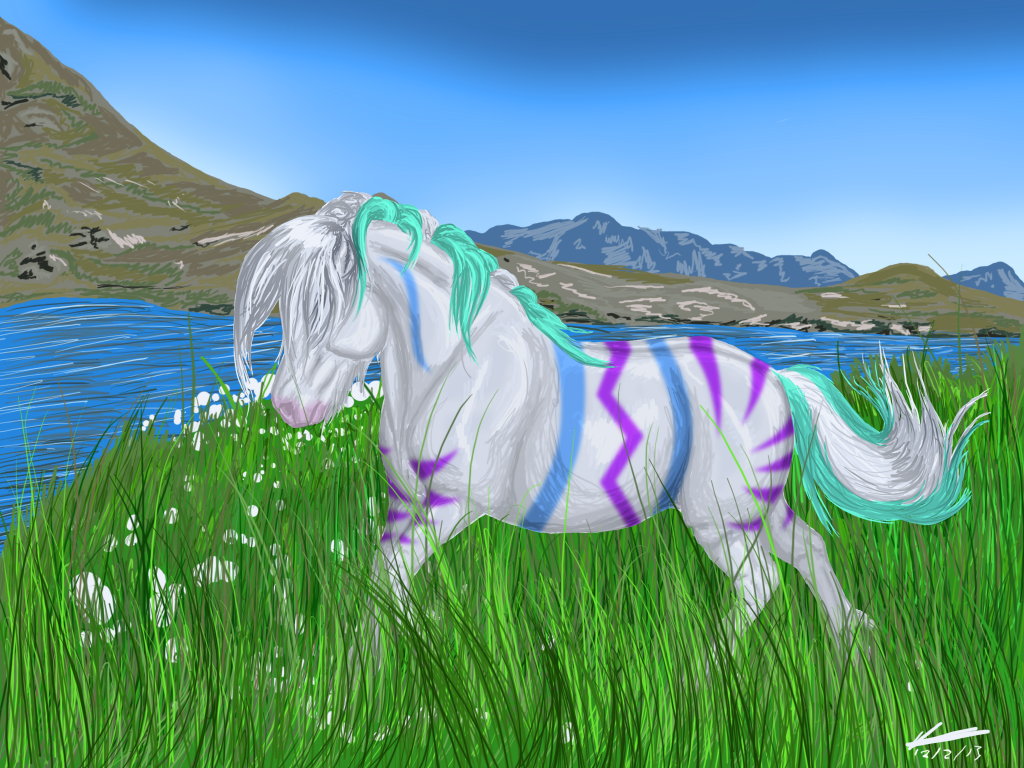 I am NOT happy with the water, but any thoughts/critique?
---
REGAL PRINCESS
Thank you! I'm just about to start on another digipaint, this one of a person [I suck at people, so when I draw them they're very heavily referenced]... I can put up a progression thread?
---
REGAL PRINCESS
Scratch that, I can't now :P gotten too far. Forgot to get progression screenshots.
---
REGAL PRINCESS