Digital Drawing Requests Available
---
For a limited time only!
I am able to draw people, horses, canines, felines, and just about anything else you throw at me. Feel free to request any other pets you may want a drawing of. (:

I'm offering a few [digital] drawings of your horses (and any other pets) to help build up my artist's portfolio. (: At the present moment I am rather novice when it comes to shading/highlighting horses and doing other detail work; this is what I want to practice.
I use
Adobe Photoshop 7.0
and a
Wacom Bamboo Pen Tablet
for all of my drawings. Traditional art is available (I draw the same either way), but I don't have a scanner. :(
Below you can see most of the pose sketches, and the "preliminary sketch" (before I begin colors/line art), as well as a current practice image (the paint horse on the bottom).
The colored image is a work in progress and referenced from a photograph by Mark J. Barrett with his permission.
As I complete the piece, the black lines (line art) will be removed.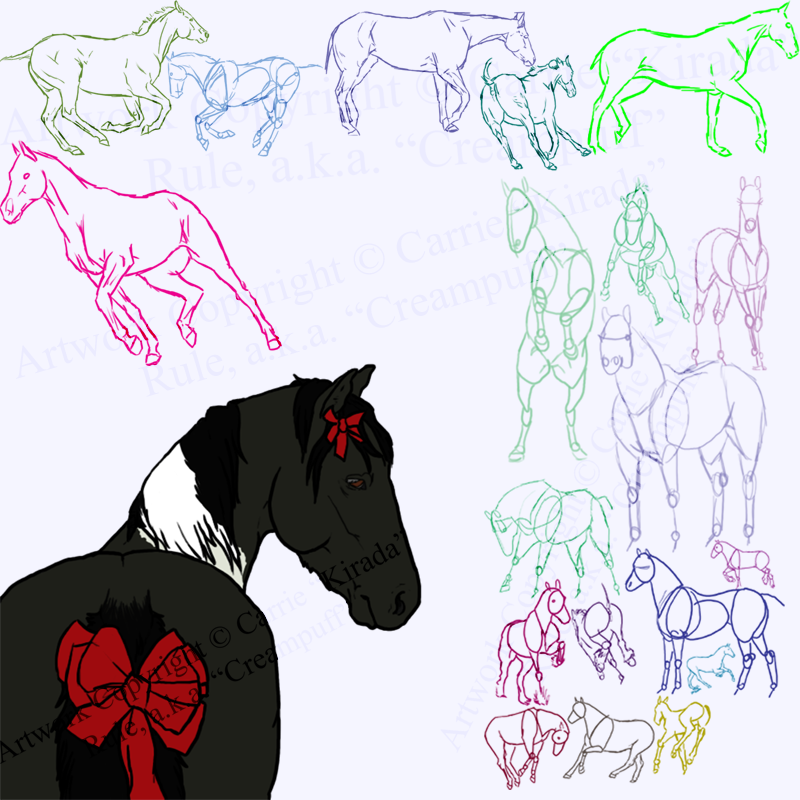 So, would anyone like me to draw their horse? (: All I ask is for a photo reference, and maybe even the kind of pose you'd like if you don't want me to draw from the image you supply me with. All I ask is that, as the artist, I have free rights to post the image(s) on
my DeviantART account
as a portfolio image, as well as possibly printing it for a live image in my portfolio.
To request, please supply me with the following information
:
- Your first name as well as the horse's name.
- Any photo reference(s) you want me to use; do
not
use any photograph you find on the internet. (Such as from Google Images or established photographer.)
- Any desired pose(s) or background preference.
I can also draw your other pets!
However, please know that I have
minimal
experience drawing a horse under saddle, even less with a rider. But I can easily draw someone with their horse on the ground, or on their horse if i use the reference.
It's also almost the holiday season! I'll even draw a gift for a friend or loved one, even a lost pet memorial. I'm very versatile and can draw early anything, but keep the aforementioned experience (or lack thereof) with tack & rider in mind.
I will also not allow anyone to sell my artwork at their own expense. If you need art for sale, private message me and we can work something out. (:
Limited time offer! I don't want to get backed up, so I will only take 5 at a time and 5 reserves.
-------------------------------------
Current Request Queue:
1.)
2.)
3.)
4.)
5.)


Reserve Queue:
1.)
2.)
3.)
4.)
5.)


Completed [from HorseForum.com]:


_________________________________________________

The time it takes to finish your request depends on the complexity; if you want a sketch, it will be less than 3 days. About 5 for a line art, and unknown time for full details. All artwork is copyright © Carrie "Kirada" Rule, a.k.a. 'Creampuff,' and may not be performed or reproduced, commercially or non-commercially, publicly or non-publicly, without my direct and personal permission. This includes, but is not limited to, unauthorized coloring, referencing, saving to your machine, printing out, or claiming the artwork as your own.

---
"Adapt or perish, now as ever, is nature's inexorable imperative." (H.G. Wells)
| Missile Sweet Studio |
Strange; I can't seem to edit the original post!

KawaiiCharlie has reserved a drawing of her horse, Charlie.
---
"Adapt or perish, now as ever, is nature's inexorable imperative." (H.G. Wells)
| Missile Sweet Studio |
I would really love to get one.
The horse name is Artemis and mine Liis.
I will post the photo link below. If you would prefer any specific photo I can post the ones I like the most.
About the pose I'm not sure. You could choos by yourself. If it's possible I would like it to be related to Christmas.
Here are the links:
Artemis - album Fotoalbumis
(there are 10 pages, if you click on the picture it goes bigger)
Login | Facebook
Artemis: If you want, show me your favorite(s) and I can transform them into a Christmas portrait, or even work from those for an all new image. (:
Also, I can't see the content in the second link.
---
"Adapt or perish, now as ever, is nature's inexorable imperative." (H.G. Wells)
| Missile Sweet Studio |
---
Be a first rate version of yourself,
not a second rate version of someone else.
---
Last edited by goodcallsenator; 12-02-2010 at

03:36 PM

.
---
Clam a llama down, calm a llama deep down in the ocean blue like a barnacle. Sitting in the tight place!
Gotta love the Mighty Boosh!
---
Last edited by peppyrox; 03-30-2011 at

02:35 AM

.
Gorgeous horses, you guys! I'll be honored to draw them! (:

Currently waiting for their requests:
- Peppyrox
- GoodCallSenator
- Kawaii Charlie
- Artemis (?)
-
---
"Adapt or perish, now as ever, is nature's inexorable imperative." (H.G. Wells)
| Missile Sweet Studio |
These are really neat, so naturally i'd love one!
If you could do one of these pictures for me i'd be honoured. I like the pose in the first one best, but honestly Any pic is fine, so whichever one you prefer.
Thank you in advance!
---
~The most important lesson my horse ever taught me is how much I have left to learn~

Maybe one for me?
I'm Alyssa
The roan is Annie
And the black horse is monty
I would like a line drawing (like the ones at the top of your picture) of Annie or a full color of Monty. Thanks!
---
Last edited by A knack for horses; 12-02-2010 at

06:29 PM

.
Beautiful horses, you guys. <3

I'll send you each a private message once I finish your drawings. (:
---
"Adapt or perish, now as ever, is nature's inexorable imperative." (H.G. Wells)
| Missile Sweet Studio |