The Drafting-Film Experience
---
Hi, I'm new to this forum, but not to animal art, as pets are one of my main subjects. Just thought I'd share one of my latest efforts, representing what is a relatively new experience for me: Using colored pencils on drafting film. The fine texture of the synthetic sheet, combined with sharp points on the colored pencils,
plus
being able to erase effortlessly with isopropyl, mean you can work in miniature size without compromising detail. Depending on your specific pencil type/brand and techniques you can work all the way down to ACEO size- 2 1/2" x 3 1/2". This picture is 5 1/2" x 7", and done with Prismacolors, both regular and Verithin.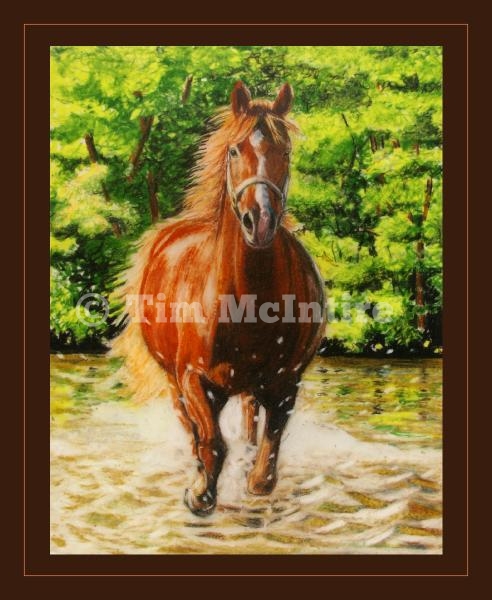 Green Broke
Join Date: Dec 2010
Location: At The End Of That Rainbow To Yer Left
Posts: 3,171
• Horses:
4
Very pretty! Also, welcome to the forum! You should take requests!
---
If you want a stable friendship, get a horse.
Thanks.
Horses are always challenging and exiting subjects for me.
Absolutely beautiful work! I'm too scared to try coloured pencils haha, can't say I'm one to venture outside my comfort zone too often :/