Drawing(:
---
This is my first attempt and a basic outline of my horse Calum. I'm going to shade it later on, but i thought i'd get some opinions on it.
---
ShimSham<3
The shading so far..
i'll come back to it later. any opinions/critique?
---
ShimSham<3
You have a really cute style, ATLx.
My only critique would be that the portrait, overall, looks very static. The forelock and halter both have very little shape (making them look "flat"). The muzzle, as well, is very enlarged. The horse's head sort of "slopes" into the muzzle and, like Tinyliny told another artist, the muzzle is roughly as wide as half the distance between a horse's eyes. To help illustrate my point I've done a red-line critique for you. In the first picture I drew the basic shape of the horse's head over the photo; in the second, I took the red lines from the first picture and shaped it over your drawing.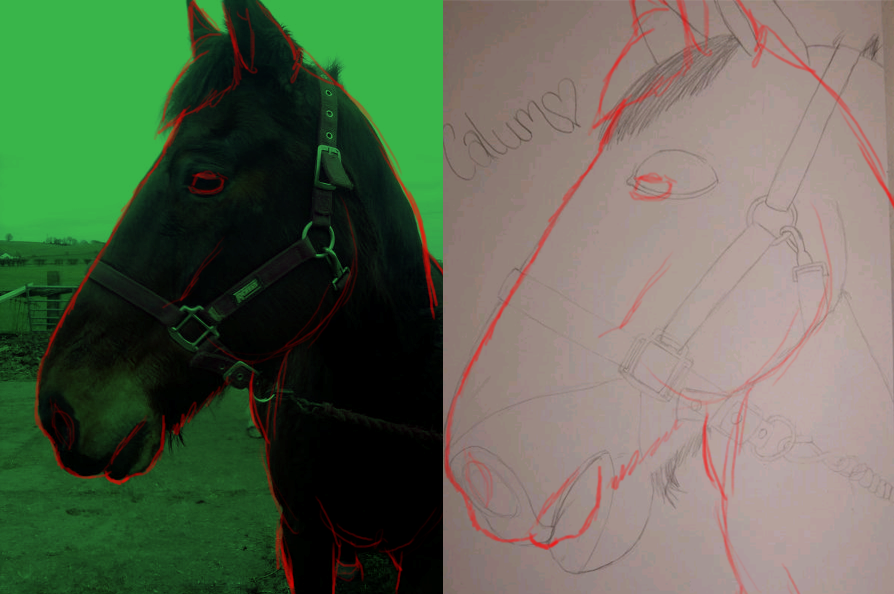 If you need me to elaborate or help you any further, let me know. I can show you a bunch of tutorials and guides (
this one
, for example) to help you along, as well as give you critique. (:
---
"Adapt or perish, now as ever, is nature's inexorable imperative." (H.G. Wells)
| Missile Sweet Studio |
thank you for the advice/comments! But, it was just a bit of fun for me, as i am only 14 and have only been in my proper art class for roughly 6 months! I will take your comments and use them in my next drawing! Thanks again!
---
ShimSham<3
I just thought i would comment!! i was looking at your halter on callum and it looks so good , it is so neat i can never get mine to look like that!!! haha callum is a very cute boy by the way!!!!!
---
Pocket - 8 yr old, 15.1hh Thoroughbred Mare
~You know you're a horse person when you say 'whoa' to your dog~