Edits and Painting
---
A few edits in memory of Wally: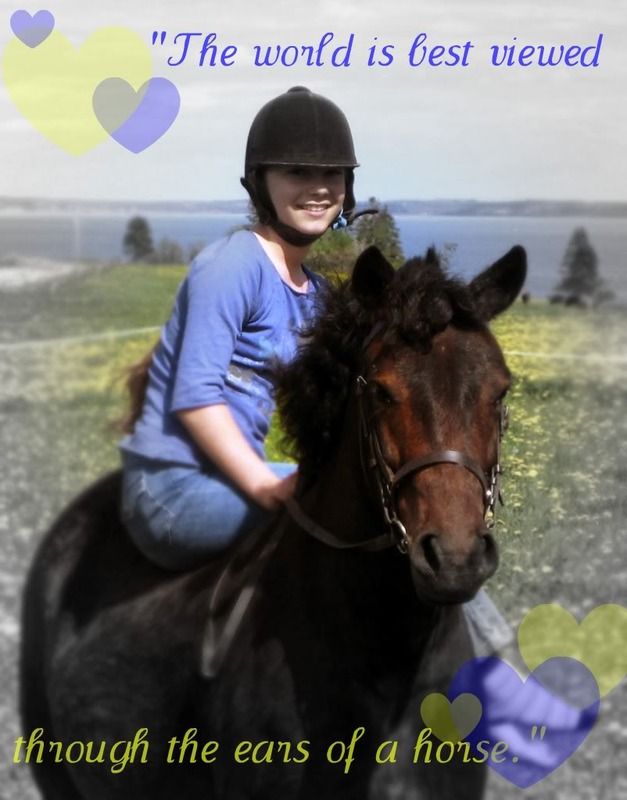 And my painting, 8x10, acrylic on canvas, 6 hours:
You did a really good job with the edits and the painting!
---
Journey, Spirit and Goldie...
Love is when reality is better than your dreams!
I like the painting very much. REally bold colors and nice composition. Wally must have been a really special pony.
aww thanks guys, yeah tiny, he was my first pony, i got him when i was 8 and he was 2, and I had him for 6 years. Everything I know about horses and riding, I learned with him. He could be a stubborn brat, mind you, but he taught me loads by being one, and having a strong pony with a mind of his own definitely made me a better rider. But he could also be a gentle, patient little sweetheart. Some of my favourite memories of him are just sitting or lying on his back while he munched hay in his stall, and talking to him, especially in winter after dark, because the barn seemed so cozy. Im gonna stop now cause im about to start crying.
Im sorry, he looks like he was a great little pony. I love the painting! It's amazing
I Love that painting I think it is gorgeous!!
---
Pocket - 8 yr old, 15.1hh Thoroughbred Mare
~You know you're a horse person when you say 'whoa' to your dog~
the painting would make a realy nice greeting card. Go have it professionally scanned and then make copies. You can make cheap copies via laser printing, and then have the printer fold them (use Cardstock or Cover paprer, not regular paper) costs about 80 cents per print wi/ fold. Buy envelops in bulk (make sure you get the right size) and then package them in groups of 6 and tie with a soft violet ribbon to match the flowers in the grass. Voila! All your Christmas shopping done. A package of 6 costs about $6 to $8 dollars to produce, including envelopes. That would be a totally precious gift for your parents, your trainer, your friends (don't get too carried away! 6 dollars a pop can add up fast!)

If you need more info, PM me, ok? I have done this before.
Similar Threads
Thread
Thread Starter
Forum
Replies
Last Post
New painting!

SouthernComfort

Horse Artwork

10

03-06-2011

07:05 PM

My painting

Soul

Horse Artwork

9

12-23-2010

10:52 PM

First Painting Ever

midwestgirl89

Horse Artwork

9

08-19-2010

11:55 AM

Another Painting.

Moxie

Horse Artwork

2

06-27-2008

06:10 PM

oil painting

IHeartHorses

Horse Artwork

7

05-25-2007

10:03 AM