feel like drawing, but it's just not happening...
---
Urrrrrrrgh, just venting - trying to pick up drawing after a long time. It's probably been a couple years since I've drawn anything. I did one sketch yesterday/this morning that's not too bad, not great, but not bad considering it's been so long.
And I'm just in one of those moods where I want to draw. But everything is just WRONG!!! Gah.
Anyone else feel like hurling their pencils and sketch book (or paints and easel or whatever it is you use) out the window?
This is that first sketch - mixed media, pencils/charcoal/felt pen outline.
---
I know just how you feel, sometimes you just have to go through a couple of notebooks with doodles until you get back into it.
Also, your drawing that you have posted on here is nice. I like your style.
---
Falling Maples Homestead
www.fallingmaples.wix.com
Thank you Foxy.
I was initially going for something more realistic, but it just wasn't turning out quite right so I added the outline to make it a little more 'cartoon' ish and I actually don't mind it.
I wanted to do a portrait of my horse, but she's surprisingly un-photogenic for a horse that's so pretty in person! I thought maybe I could fix the things that look funny in pictures, and maybe after some practice I will be able to but at this point it's not happening!
---
Teen Forum Moderator
Join Date: Dec 2010
Location: South East Texas
Posts: 7,157
• Horses:
2
Well I for one think that your drawing is absolutely adorable!
Something that helps me is to have multiple reference photos in front of me and to break everything down into porportions. Just like humans, horses (or atleast conformationally correct ones) have specific porportions. In general, for example- horses ears are as long as their muzzles are wide, they're as tall from wither to hoof as they are long from chest to dock, their eyes are slightly smaller than their nostrils, etc. It looks like you have porportions down pretty well though. You have good shading technique too. Just don't be afraid to go darker! Its a bit scary at first, but thats how you really get muscle definition in there to make it look realistic :) Small details like veins in the face, bone structure, etc also play a big part in making it look as real as possible!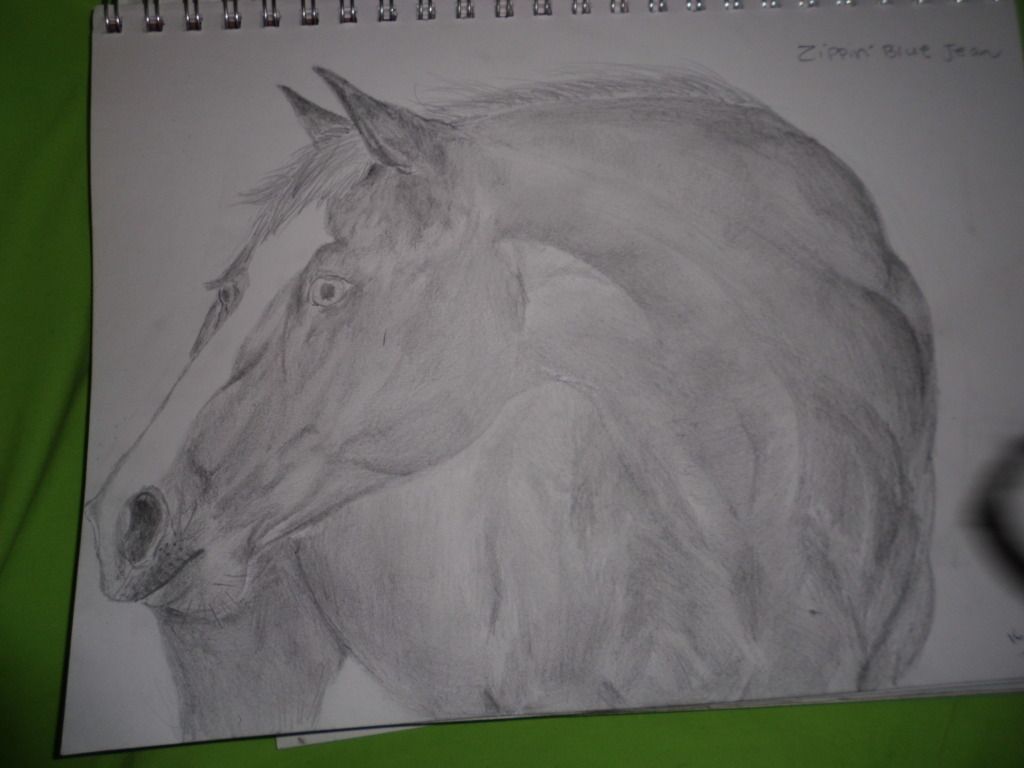 And don't worry...I have days when I just have to put my pencil down too xD its part of being an artist!
---
Everyone in your life is meant to
be in your journey, but not all of
them are meant to stay till the end.
That happens to me all the time. I want to paint/draw, but I'm not the mood for it and just can't squeeze my artistic talent out to do something decent.
What you did is very nice though, simple and cute. It will come back don't worry.
I find what helps is to find a particular project that is really cool/original/fun to bring out my enthusiasm, or to watch some how-to videos on youtube to inspire me... Or I watch other people's art, get a wee bit jealous and it cranks up my gears and get's me motivated to go and "do better".
---
A ride a day keeps the worries away!
---
Last edited by Hidalgo13; 08-18-2012 at

07:16 PM

.
Green Broke
Join Date: Jan 2010
Location: south of nowhere, north of nothing
Posts: 4,643
• Horses:
6
I feel your pain! ive been trying to get back into horses for a month but they werent turning out right...which is why i did that little sketch of The Flash haha...

sometimes you just gotta change the subject of your drawing for it to come back...like me...ive been drawing horses for YEARS and only fooling around with humans but i couldnt get the horses to come together so i went gback to humans now my drive is back haha


so maybe try something else?


ps i think your drawings pretty dang great
aww thanks.
I should just keep at it... it HAS been quite a while, so I really can't expect to pick up a pencil and draw like I did 10 years ago. (School was when I did most of my drawing... when I
should
have been studying
)
---