First try at Soft Pastels
---
Here is my first go ever with soft pastels. I love using them they are so fun but very messy (got it all over the table haha). I used proper pastel paper like I have read you need to otherwise the pastel wont stay on the paper well.
It is really not a good attempt and I am only showing it so I can get better. So if anyone has any advice/help/critique I am all ears
I can see that I really stuffed up the eye and nose .. I found it hard to get any real detail with the pastel sticks
---
Pocket - 8 yr old, 15.1hh Thoroughbred Mare
~You know you're a horse person when you say 'whoa' to your dog~
For a first try I think you did very well. Try looking up some pastel artists and see how they work them. On youtube there is a lady called Roby Baer and I love her work. She does the speed painting videos and you get to see what colours she uses to create her magic. Other than that, experience is the only other way to learn :/ I cant wait to try my pastels aswell...
Thanks Sarah I will defintly look her up :)
---
Pocket - 8 yr old, 15.1hh Thoroughbred Mare
~You know you're a horse person when you say 'whoa' to your dog~
That's kind of the way I feel about them; hard to get any detail , hard to control. The muzzle came our really well.
I think where you're having big issues, is actually with the paper.
It appears to not be toothed, but more a 'matt' type paper. This will make it near impossible to layer the pigment and get any kind of detail.
I love pastel, and find it quite easy to get detail with the sticks now - for the REALLY fine line work, I have a sand paper block and just shave off the edge of a pastel stick (hard pastel) to a fine line. Works a treat :)
Soft pastels on their own can be difficult and work much better as loose landscape type pieces - that is where to medium and hard pastels come in.
I'd be investing in a few sheets of Canson Mit-Tientes and working on that. It's a true 'toothed' paper that will hold a lot of layers - great for beginners! Also not expensive compared to other good pastel papers.
Once you get your hands on some Canson, if you can afford it I'd highly recommend purchasing a set of Rembrandt Landscape soft/medium pastels. They will cover nearly all bases for colours you'll need to get started - I use Rembrandt's in all of my portraits still, they are very good general use pastels.
With the upgrade in materials, you'll be able to get more coverage and add more layers. At the moment you're getting a wax crayon effect. This will go when you get the right materials to work with.
This is my first attempt at using soft pastels, this was done in Rembrandt soft/mediums, on the reverse side of Canson Mi-Tientes (don't do that, it's full of little squares!)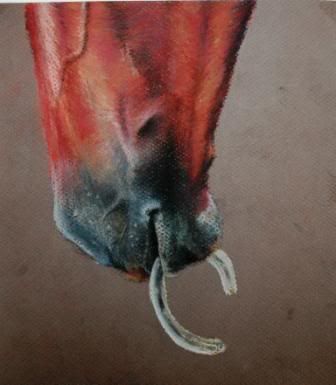 And one of my recent commission portraits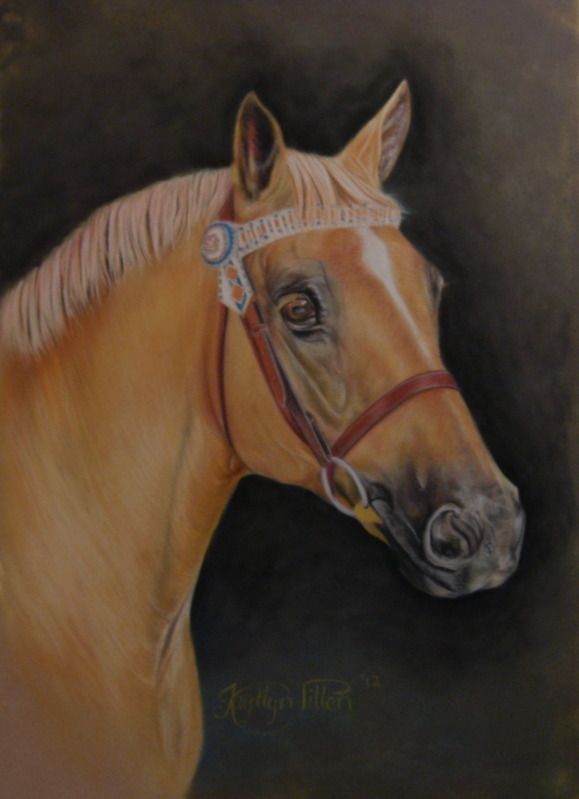 As you can see, its all about layers and getting a good coverage over the paper, you don't want bits of paper showing through the drawing.
Thankyou so much for every bit of advice Kayty!

I will most defintly get some of the Canson Mit-Tientes paper and look into getting those pastels. Thankyou again!

By the way LOVE the new one , its absoloutly stunning :)
---
Pocket - 8 yr old, 15.1hh Thoroughbred Mare
~You know you're a horse person when you say 'whoa' to your dog~
i love messy art, like clay and charcoal. I love having sticky hands or black fingers. Makes it feel more fun...
---
"Courage is being scared to death - and saddling up anyway." ~John Wayne
CowboyGirl, you'd like pastels then!! I tend to come out with camo streaks across my face - make sure you don't pick your nose with pastel on your hands, it will leave evidence haha!