Horse Artwork?
---
If anyone would like to put my horse in a piece of their artwork (drawing, edit, painting, etc) I would be delighted. Thanks!
I've seen you post some of these pictures in other threads. There are a couple shots I have been wanting to sketch from. I am in the middle of commissions right now and those take priority. I am offering s $25 special for graphite drawings in case you'd be interested (trying to pay off vet vills for my cat) in which case I'd add you to the list of drawings and get to it sooner or later. Otherwise, I'd be happy to just sketch your cute pony as I have time.
sorry, mean't to post sooner "than" later
I Did Some!
---
OK I made some, tell me if you want anything changed. Hope you like them! Very pretty pony btw. :) I didn't draw the last one, my computer did :p
---
Good people get cheated, just as good horses get ridden
Your pony is beautiful! I love him :)
Here's a little something I put together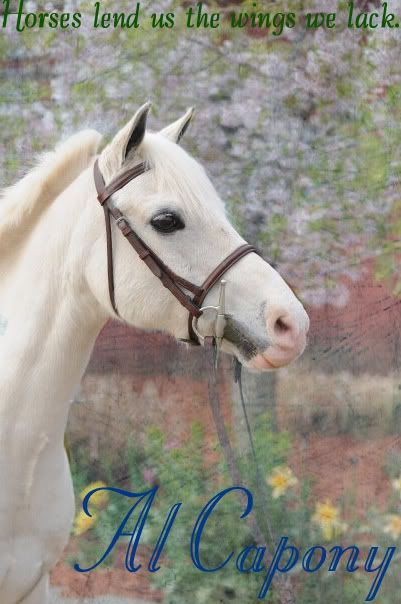 ---
St. Elmo's Fire 14.2 bay Dutch Sports Pony
-the polite horses stop and let you jump first-
I'm with Liz~there are a few pictures you've posted that I've been eyeing. He's so darn cute! Very expressive face. I won't make any promises but I'll see what I can put together.
---
The aim of art is to represent not the outward appearance of things, but their inward significance. ~Aristotle
www.brandisue.jimdo.com
Thanks everyone! I am trying to get together really nice pictures of him to buy a "top quality" portrait. I'm looking at quite a few people who do different styles of drawing including you Liz.
Hi, if your looking for a cheap commission, I can do you one, go here:
Haiti Fundraiser-Cheap Drawings
your pony is really adorable, and those photos would be excellent to draw from!