Horsehair Art
---
I've done a lot of horsehair jewelry, but this necklace is the piece I think most qualifies as art. The tiny braids took forever!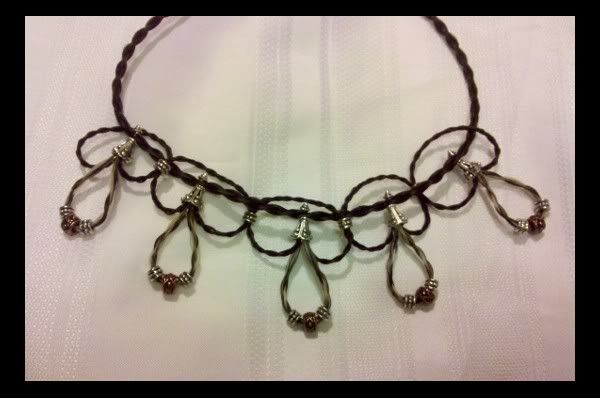 Very nice. have you thought about using turquoise beads? I mean I noticed that you are from NM.
Yes I do use turquoise at times. Below is a photo of two bracelets I made, the one is turquoise & horse hair, the other is kiwi jasper and horsehair.
do you sell theses? I bet you cpuld make a pretty decent profit.....oh wia there's your site. Post a link?
wow it is amazing :)
Posted via Mobile Device
Thank you everyone, for your compliments!
I was afraid putting a link to my site on this thread would be a breach of etiquette, since you asked for it, the link to my site is:
Sandstorm Designs in Horse Hair
The designs pictured here are not available for sale on my web site currently, I ran out of the turquoise beads and the necklace is to complex to offer as a custom piece .
I am planning to post on the classified page an ad for ready made bracelets that I have left over from the last fund raiser for the Four Corners Equine Rescue. I give a percentage of every sale to help support the horses waiting for adoption at FCER. That is where I adopted my horse from, and I like to give back.
---
Last edited by Fargosgirl; 01-13-2012 at

04:39 PM

.