Awesome work! I love the little details you add to your drawings like the feathers, bracelets, etc. It makes the art much more interesting to look at. Keep up the good work
PintoTess -- Thank you very much! I'm glad you're liking it so far. I'm taking it slow, but I feel like it's coming along!
RunSlideStop -- I looked up the color and it really does seem eerily similar... LOL! I wouldn't have known! And thank you!
SeaBreezy -- Wow, thank you! It's nice to hear that the details do work for others. I just have such a good time doing them, haha! Thanks again!
I'll try to update this sometime soon; I just recently opened up commissions, and I'm having to get a few things out of the way before I can come back and work on this more. Thanks for the encouraging words, ya'll!
---
Candy | 14.3hh sorrel AQHA mare
Diesel |15hh bay grade gaited gelding

I was wondering what software you use for the coloring?
Wow! You definitaly have talent, so cool!
Sorry it took me so long to get back with replies!
Redfox -- I use a program called Paint Tool SAI. I used to use the GIMP, but that's more of a photomanipulation program, while SAI is made for drawing and some painting. Here's the website where you can read up on it as well as try a free trial if you're interested.
SYSTEMAX Software Development - PaintTool SAI
Reeltje -- Thank you! That means a lot.
---
Candy | 14.3hh sorrel AQHA mare
Diesel |15hh bay grade gaited gelding

Thank you guys!
Also. . . It's been a while. I've been sick, and a lot's happened in my life recently. I kind of gave up drawing on and off for a time because I would have to sit up at my computer to draw, and for a while, I just didn't have the strength for it. I have a laptop for school now, and I can draw again since I don't have to sit up, I can lay in bed and draw/color, and I can simply click "save" and close the lid when I get dizzy or tired and I need to lay down. I'm back now, and I thought I'd do a short update on this badboy tonight.
Strange, but all of these "updates" were done in psychology class except for shading her skin. I've been drawing in class because it gives me something to distract myself with so I don't get dizzy with the motion of people around me or my teacher moving as she talks. I'm still listening; I have a 93 in the class. As you can see in some of the screenshots, I've got a "notes" tab open in SAI as well, where I was jotting down information that I'd need to read up on in the module.
First, let's look at what I did with her bow and the sash around her waist. The bow's colors was an easy choice; green is the color of her clan, and red is the color of the "family protege," as she is the prodigy of her generation. So, the shaft and limbs are primarily green and the siyahs are a deep red, as are the feathers in her hair. The bow is primarily modeled after the Hungarian style horse bow with some slight Turkish influence, (from personal preference,); the character in this picture is from a fantasy world, but I wanted the style of archery and some of the other equestrian martial arts to be based on the ancient Hungarian, Turkish, and the Steppe people, (as these three cultures have always been incredibly interesting to me.)
Dae's tribe's color is also based around golds and earth tones, although it varies from clan to clan. Here's a closeup of her sash and her pants. . .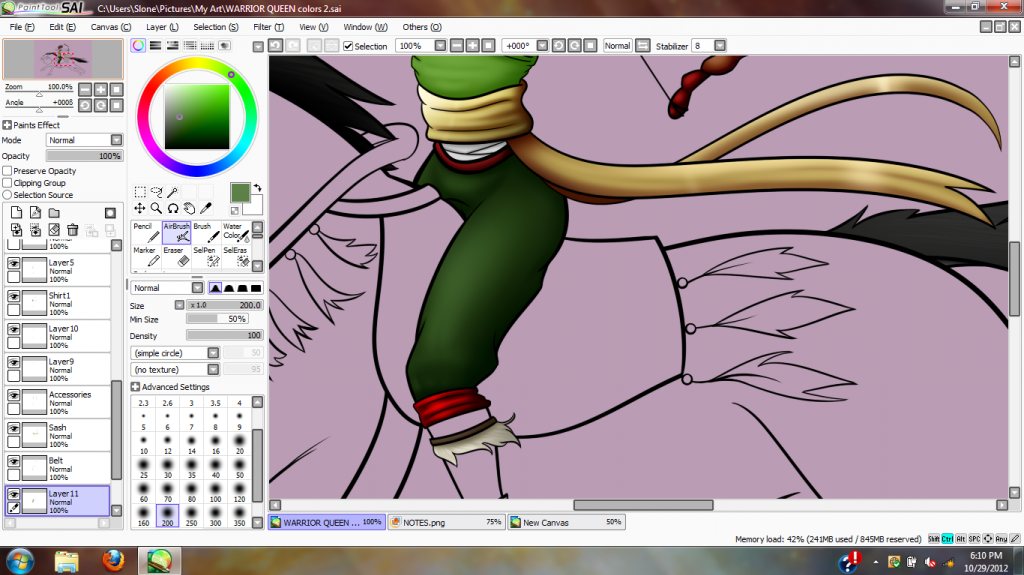 Here's the picture so far. Since it's been sitting untouched for so long, I see anatomical errors, but I'm trying to convince myself that she's okay; she's supposed to only be around 4'10" to 5'0" in height, and that gelding is supposed to be only around 14.1 to 14.3hh.
This next part was so simple that I didn't care to take but one screenshot. I put flats on her skin.
Now here's where I had a little fun. I shaded her skin, trying something new, and I'm fairly happy with the results. My laptop is very strange with colors. You know how their colors/screen displays are compared to a good desktop. Once I have my desktop restored to factory settings, (long story short, my sister downloads too much music,) I'll try to take a look at it on there to make sure her skin isn't too bright and to see that the shading is actually visible. If you think the coloration is strange, don't be shy; you could really help me out!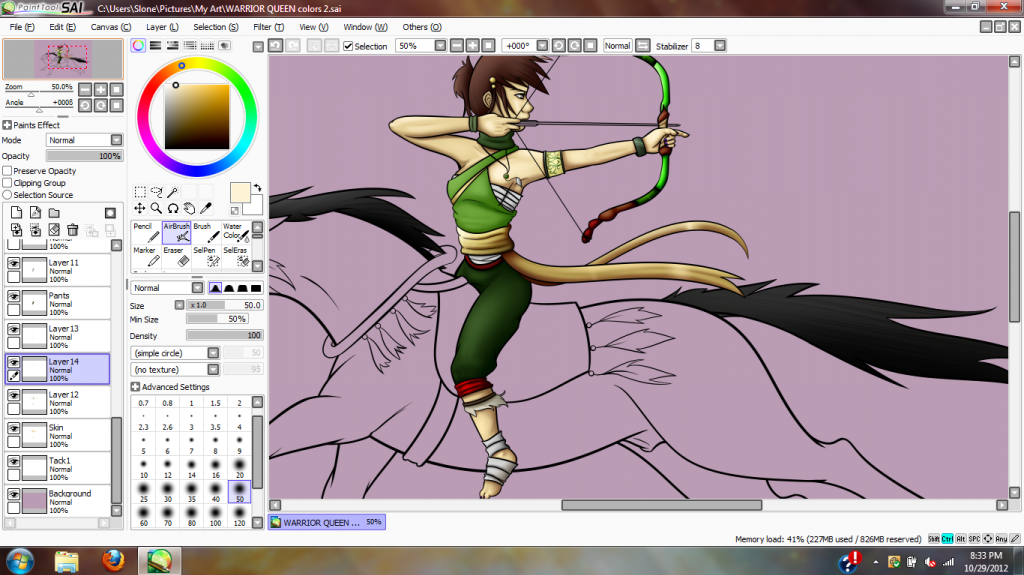 Closeup of her leg; I tried to put some shading on the musculature of her leg and the bones/tendons of her toes and ankle. Simple, but it's proven effective in the overall result, in my opinion.
Closeup of her waist-up. Also, if you look closely -- I painted her nails. I couldn't help myself; I love coloring nails and lipstick, (but this character doesn't wear lipstick, unfortunately. LOL)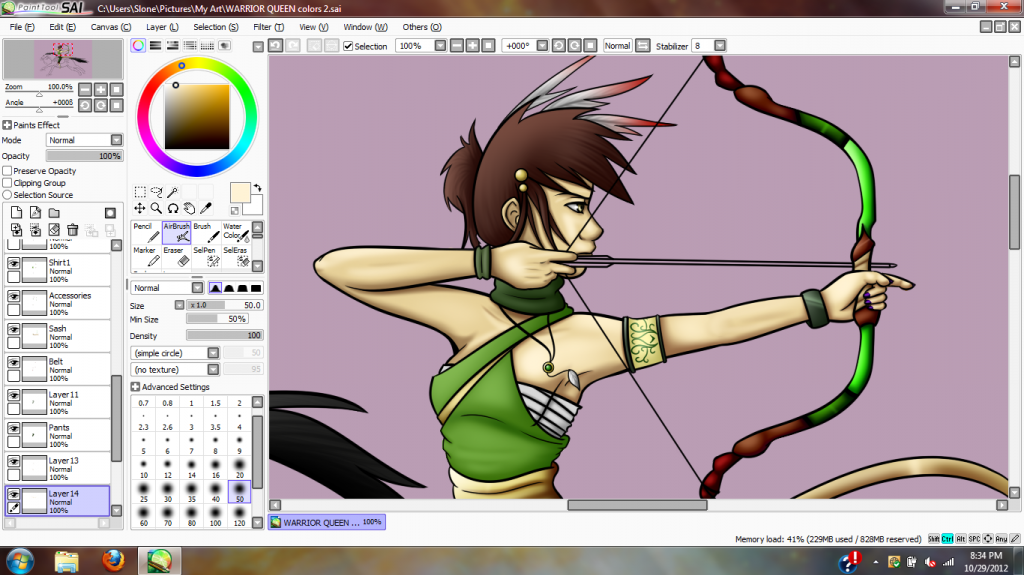 Since the picture has "aged" for a few months, I'm going to go back and add more appropriate shading to her hair and her clothing; I'll do that toward the end of the picture, so I can make sure it's all done evenly. Looking at the colors, to the line art, and right down to the basic anatomy, there are a few things I would have done differently; but I want to finish this picture as it is so I can move on with other things I've been wanting to do, (such as updating my fanfictions, as nerdy as that probably sounds.
)
I'll try to update soon; possibly next Monday, if my psychology project and report don't kill me by then.
---
Candy | 14.3hh sorrel AQHA mare
Diesel |15hh bay grade gaited gelding

Hope the horse will be an appaloosa :)
Op, that is one of the coolest things I have ever seen!!! Look forward to seeing you continue! I think her skin looks fine, love the shading on it! Your incredible!!!
WHOAH! I have to sub to this.. that is amazing.. no doubt..

and the horse is gonna be a paint;) huh.. haha
---
http://www.horseforum.com/member-journals/sunnys-thread-160521/ << read about Sunny and I. Our journey