Banned
Join Date: Jul 2008
Location: Oklahoma where the wind comes sweeping down the plains...
Posts: 752
• Horses:
9
I can draw and do photomanips for free!
---
I just bought an art kit and am really into drawings. I can draw anything you want...i shade it with charcoal. I have no examples yet, but you'll have to trust me!
And I have an amazing program that lets me do photomanips...I can do anything! Just message me or post on this. I need a pic of the horse and possibly a background or idea.
Photomanip ex:
Could you draw Abby for me?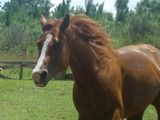 Thanks!
---
-Horse racing is my passion-
Athena:15y Palomino QH & Shirley's Brittney:8y Bay OTTB
Hi
You can have a go at Sassy.
What ever you think looks good.
Thanks
Woa!! really??
lol
would u mind drawing jiff??!!
that would be sooo cool!!
it would be awesome if u could draw like a beach background or something!!
and if u are willing to draw him, i will post pictures up as soon as i get home:] im at my highschool right now in the library wih my best friend:]]
oo she says hi!! lol
thanks much=]
-allie