I made something!
---
I fooled around with cropping and designing and what not. I know there are people on here who are much better at this sort of thing than me, but I was pretty proud of it for being my first three I ever made.
Paco:
"Our hoof beats were many, but our hearts beat as one."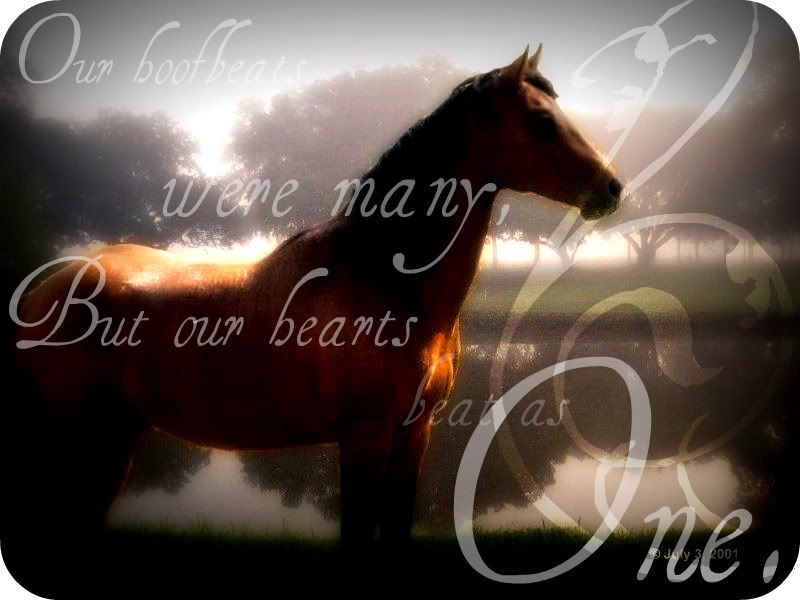 Pudden and Rosa:
"Everything light and love is you."
Catalina:
"Beauty Spirit Grace."

wow those are really good...if you ever want to start making them, i would love to have one of my horse done.
---
R.I.P. KIANE(5-year-old AQH gelding)- I WILL NEVER FORGET YOU
very nice! makes me want to play around on photoshop!
i second the idea, if you want to make one of my horse you could, i am no good with photoshop and i def dont have the patience
---
"The horse you get off is not the same as the horse you got on; it is your job as a rider to ensure that as often as possible the change is for the better."
Very very good!! I like them all. :)
---
Ride more, worry less.
Started
Join Date: Apr 2007
Location: Australia-The best Country!
Posts: 2,192
• Horses: 0
Wow! They're fabulous! You use photoshop right?
---
Rach
WE ARE GEELONG! THE GREATEST TEAM OF ALL.....