I need practise!
---
Hi everybody.
I'd really love to get better at drawing horses, but I'm lacking good references. If you want, post a picture you want me to draw.
Please limit it to one picture per person, so I don't have to choose which one to draw! :)
Also, I don't really like drawing people, so could you please make sure the picture doesn't have a person in it?
I don't know for sure how long it will take me to draw each one, but I promise that once your photo has been added to the list, I'll finish your drawing!
Now, here are three of my more recent examples: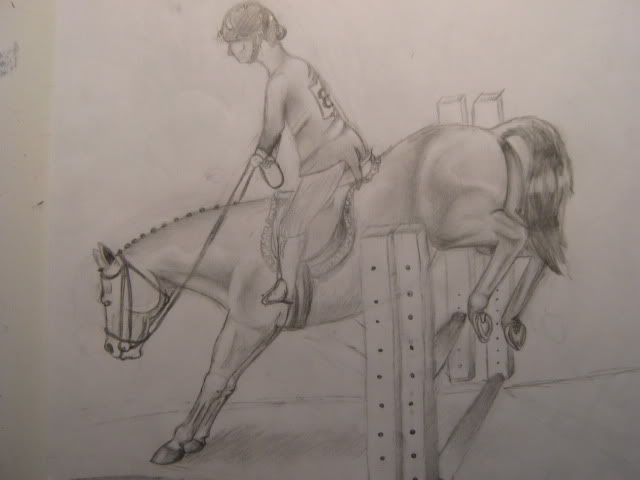 I used a step-by-step book for the horse, but I didn't follow it too closely. As you can tell, I really don't like drawing people!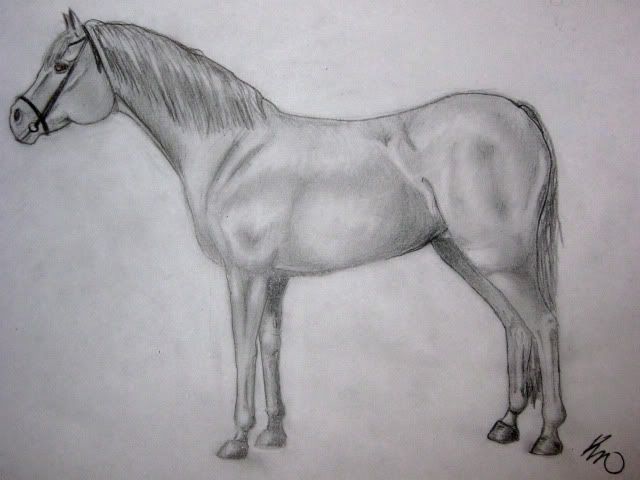 This is one of my favourites, and I think I put the most effort into this one.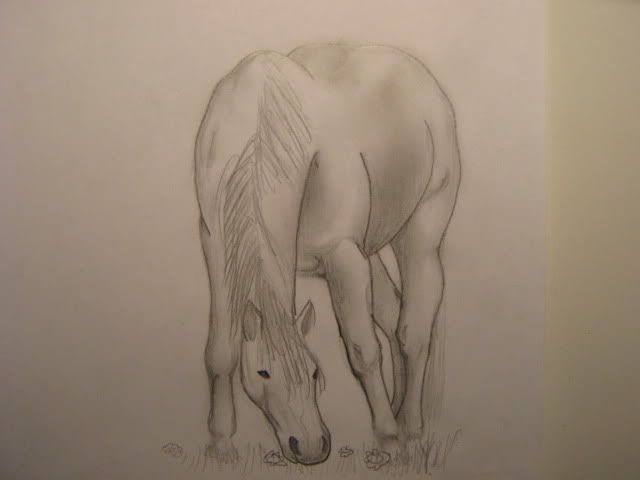 I just did this one today, the reference being the cover of one of my magazines. It took me a total of half an hour, but I despise the head and you can tell I rushed the mane P:
---
Last edited by azarni; 06-29-2009 at

09:25 PM

.
Good job. I'm an artist by day, and massage therapist by other days
and you did very well on these. I can tell you have a good eye for detail and "see" things the non-artist folk don't. Keep it up :)
Green Broke
Join Date: Jun 2009
Location: Brokenheartsville, just north of Styxtown :)
Posts: 2,577
• Horses:
1
The first thing I noticed was your shading and muscle shading..They are wonderful! Adds depth and life..The person needs help but you have gotten a good start horse-wise:)
---
Most people are like Slinkies; they serve no real purpose, but they bring a smile to your face when you push them down the stairs.
When you come to the end of your rope, tie a knot and hang on for dear life.
Thanks, goldilockz and sunny06! :)

And yep ... I don't plan to try and draw people. Ever. I think I'd just embarrass myself further! Teehee P:
The shading is really good, especially in the second drawing. Some of the proportions are a bit off, but not distracting.

I do a similar thing on myspace , where I have people post pics of their horses so I can sketch them and get in some practice. It has REALLY helped me refine my skills. I may start one in here some other time.

Kepe up the good work.
Green Broke
Join Date: Apr 2009
Location: Queensland, Australia.
Posts: 4,488
• Horses:
1
Wow! Your drawings are very, very, good! You do the shading really nicely! :)
Thanks everybody :)
Sure, ChingazMyBoy, I'll start later today. Chinga sure is cute!
Great drawings!
I know you said not to post two pictures, but these two are basically the same thing.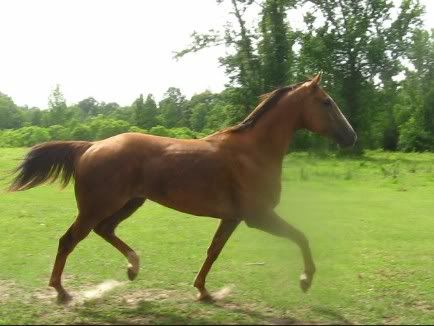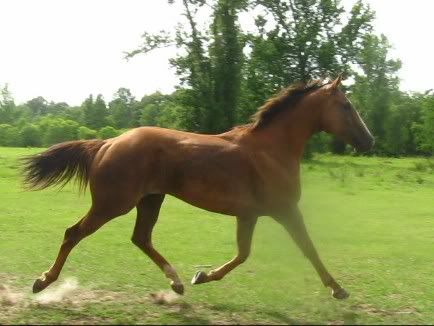 You can do either one, I didn't know which leg position would be easier for you (or harder, if you want a challenge
)
I would love if you could do one of my boy. I'd love if you could leave out the rider and tack. Thanks so much!!