And someone pm'd me about their donkey.
Thank you do much for the cartoon! I love it!!! - And I am positive golley will love it too! Thanks!!
---
🔫 Don't Tread On Me 🐍
,.-~*'¨¯¨'*·~-.¸·,.-~*'¨¯¨'*·~-.¸
Oh, I thought maybe you wouldn't mind doing another one for me??? You don't have to if you don't want to - but I loved golleys too much
This is Brisco.
He is our beastly boy. He is 15 hands tall - that is tall for me!! But he is very lazy, loves to eat and sleep. Sometimes if he seems to have enough energy to misbehave, he will do these really sweet reining spins - but only when I don't ask him to do it. Once I do ask him to do it he has no idea what I mean!!
But he loves people and he loves to shove his nose in your apple bucket.... And he will eat ALL the apples.. still haven't forgiven him for that..
But he likes to be bossy but will decide to follow me instead of run ahead. He accepts me as the boss and he loves to go fast and please.
and here is a head photo so you get an idea of how silly he is!!
---
🔫 Don't Tread On Me 🐍
,.-~*'¨¯¨'*·~-.¸·,.-~*'¨¯¨'*·~-.¸
There are so many ways to describe Roxie. Smart, lovebug, bold and determined, brave in tough spots etc. I just found out she is blind and even that does not seem to stop her. We have started doing jumps again, just like the old days. To some her up I'd say she's determined and brave for some of the things she does even though she can't see but she is also a lovebug at times.
Brisco; i didnt know if he was english or western so i just guessed :p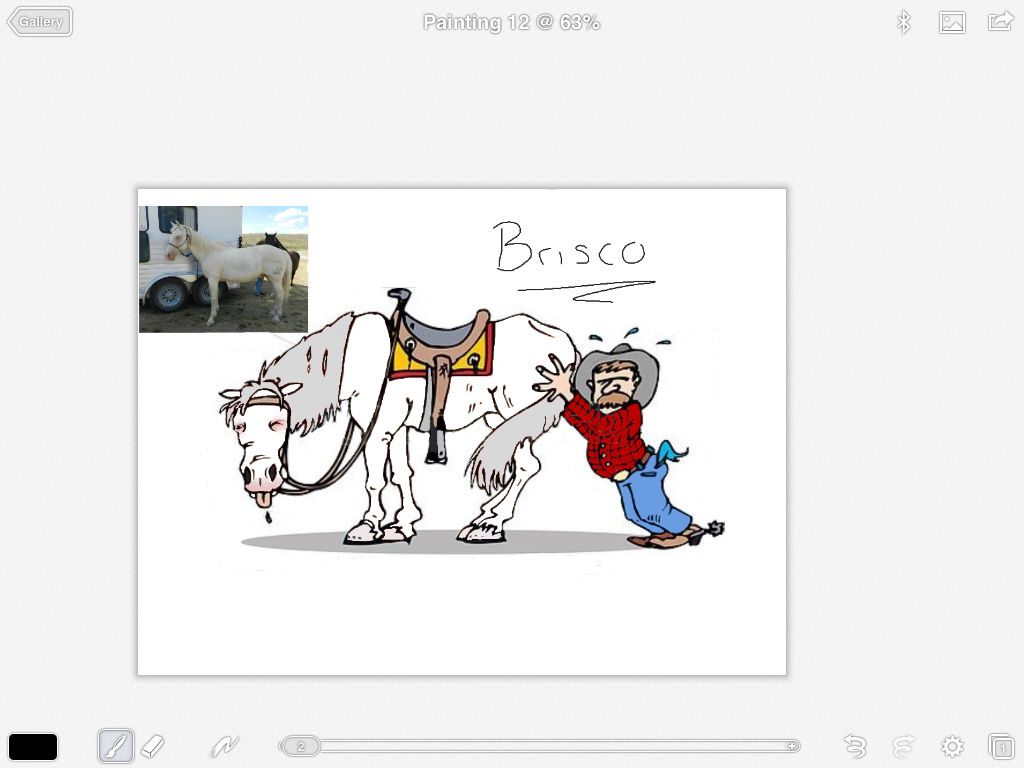 I LOVE it!!! Haha! Thank you so much! that is exactly him!!! Hehe!!
---
🔫 Don't Tread On Me 🐍
,.-~*'¨¯¨'*·~-.¸·,.-~*'¨¯¨'*·~-.¸
Btw Roxie is solid black she's just faded
I still cant do those colors so i just did black and white :p but heres Roxie; i thought the no eyes would be a symbalism for her blindness.
Edit: oh oops.
That's awesome! If you don't mind can you do one of my new guy Salvador? He has zebra markings and an eel stripe. In the pasture and the barn, I riped apart three stalls so they could be together, he is Roxie's eyes. Often I call him bonehead because sometimes it is his way or the highway other times I call him jackhammer because how bouncy his trot is. Still he is sweet and very kind, not to mentioned an escape artist. He figured out how to get himself and Roxie out of the stall so I had to buy a new latch. Sal does have a paint spot on his other side, I'll post another picture. If you can't that's fine.