Inspired by Rach!!! (appreciation week)
---
I know its not great whatsoever but I wanted to show my appreciation to the HF team!!! Gracias!
(I thought the idea was cute so...)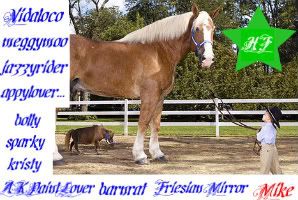 ---
WHATS REALITY?
*humble bow* Thanks Blu, its nice to know we are appreciated. I know personally, I enjoy all of our members so much. I feel my day hasn't started out right if I don't check in here to see whats going on. Thanks again :)
:o im not on there :P jp thats cool looking
thanks Blue ((hugs)) it's cute how you just have the dots after my name. ((sorry its a long one)) Thanks so much!
No need to say thanks!
lol Appylover, I did put the numbers there but it made your name look smaller. So I changed it! hehe
---
WHATS REALITY?
no that's fine. Everyone calls me either appy or appylover on her anyways.
You did a wonderful job