Just a lil sketch
---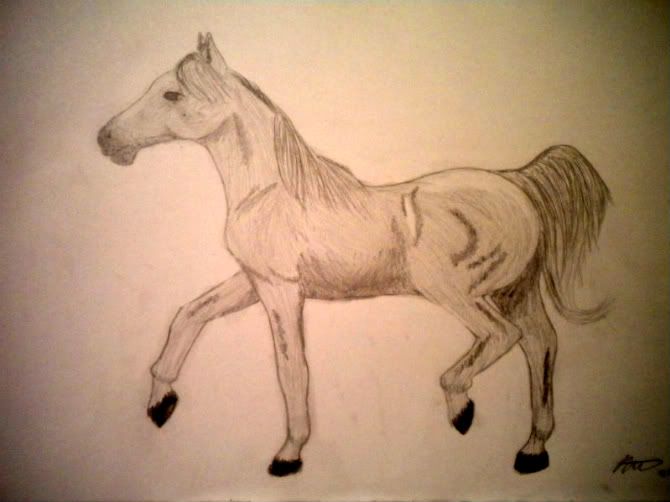 What do you think?
The horse is badly proportioned, and the sketch looks 'flat'. A good sketch will look close to 3 dimensional.

Keep at it, and maybe get some books and take some art lessons if you're really interested in becoming an artist.
---
You want the truth? You can't HANDLE the truth!
I like it. It has a nice sense of movement. You did some nice shading on the body, but the hooves you colored in so dark and without any shading, that they stand out too much. Hooves are kind of like a truncated cylander. So, you can do shading on them , too, so that they have the roundness that they do in reality. They should never be as dark as the eye, which should always have a powerful draw to the viewer.

Remember that whichever hip is over the weight bearing leg will be higher than the other hip (which I htink you have correct here) . As for shoulder, I think it's the same but confess that I am not as sure about that as I am for the hip.

anyone?
Teen Forum Moderator
Join Date: Dec 2010
Location: South East Texas
Posts: 7,157
• Horses:
2
You're correct, Tinylily.
OP- your sketch is very cute, and theres some potential. I would work at giving your shading a 'softer' look to it, and sort of blend the musculature in with the rest of the body. You want the muscles to be well defined, but not overbearing.
Beautiful
work with the tail, it's quite a bit better than the sorry excuses for mops that I string onto my sketches!
IMO I think it would be a good idea to take a few horses and really study their porportions. In the few years that I've been sketching, I've developed something that I call the 'rule of thumb.' Not exactly it's original meaning, but something that has helped me tremendously in my drawing and painting. All you do is take a simple picture of a horse (I like to use illustrations with good porportioning, so I'm not distracted by backround or anything) such as
this
and I use my thumb to correctly porportion everything. In humans, there is an exact symetry to our anatomy, that makes us all look the way we do, and not wonkey with huge heads and tiny bodies. i.e; our head is the size of our forearm, three times around our thumb is our wrist, our arms are roughly the same length as from our foot to our knee....etc. Theres a symetry similar to this with horses. I've learned that generally speaking- a horse's head is roughly the same size as from it's wither to it's heart girth, he's as long as he is tall, the head and neck are about the same length, the muzzle and ear are the same size...etc. You can use your thumb to 'compare' these by grazing it over one and bringing it to the other, to make sure their sizes are correct. I'm not sure if that made sense or not though, since I'm no good at putting my thoughts into words ;)
I'd also work on fine lines on the face, because those are what really give the animal its character. The shape of the eye can completely change whether it looks kind or mischievious, it's nostril size will make it look winded or calm, etc. The veins and nerves will stand out more on a hot blooded horse, while they are more discreet on a draught or warmblood. All of these things really make an sketch come alive, and give it character.
---
Everyone in your life is meant to
be in your journey, but not all of
them are meant to stay till the end.
Wow! that's some great info. I had no idea of those ratios. But, I use a pencil for that. I hold the pencil up to my screen and measure something, like the distance from the top of his eye to the bottom of his ear. Ok, say that measures X on the pencil. Then I hold my finger on that point and measure the distance from the same point on his eye to the tip of his muzzle (on the screen photo), and find it is 2. 25X. I use the same ratios to lay it out on paper (where the overall size of the image will be about 130% of what I see on the screen.

Sounds like I'm a math wiz, but I assure you, I failed math.
I think it's so cute!!! A whimsical happy drawing.

Though it looks like you were drawing 2 different horses as the front is different than the hind.
endiku thankyou so much for those tips I've never thought about that before :)
Teen Forum Moderator
Join Date: Dec 2010
Location: South East Texas
Posts: 7,157
• Horses:
2
Not a problem! Keep working at it, realistic drawings don't come overnight. Can't wait to see your progress!
---
Everyone in your life is meant to
be in your journey, but not all of
them are meant to stay till the end.