Looking for Horses to Sketch!
---
Nice work! You can visit my barn on here..I have a bunch of pictures! If you do though I just ask to see them!
---
TM Tardy's Chick "Hunter" - 13 yo Paint
Remmy - 18 yo Morgan/QH cross
Gunner 3/31/11, Heidi 7/2009 Miniature Sicilian donkey

Weanling
Join Date: Nov 2008
Location: I live in that card board box you pass by every day on your way to work.
Posts: 520
• Horses: 0
I would love one of my boy heres a couple pics
---
"The horse you get off is not the same as the horse you got on; it is your job as a rider to ensure that as often as possible the change is for the better."
Foal
Join Date: Jul 2008
Location: Behind a cactus in the hi-desert CA
Posts: 192
• Horses:
6
I have a few pics i'd loove to have sketched! Please PM me if you decide to do them so I can see the work. :)
Thanks!
Kendall
You are an amazing artist!! I'm jealous! I don't have the patience to draw like that =] and charriot, your horses are beautiful!! I love the first picture =]

I would love a drawing of my mare. It's my avatar picture
Thanks everyone! I got the first little sketch done, of one of RusticWildFire's horses, Hunter. I'm going to try and do them all in order because I'm, you know, crazy.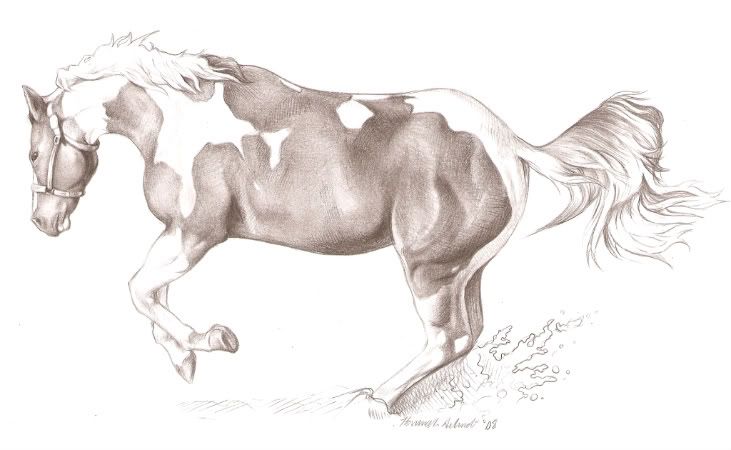 Thank you very much for letting me use a picture of you're horse as a reference!
I've already started on the next one!