WOW!!! You are super good!!!
Gee I would LOVE a sketch of Velvet!!! lol
Here are some pics of her...Some "pretty" shot and some "character" shots.
Wow you are
totally
amazing. You've got some serious talent there!
I would absolutely love love love love LOVE it if you could do one of my mare, Galina, sometime. No rush/pressure or anything.
Here's a piccie
---
Whoever said money can't buy happiness didn't know where to buy a horse.
---
* Elmo's War Cloud- 9 yo Appy*
* The Pride The Glory- 4 yo Tennesse walker*
* Rock Views Montana- 5 yo Paint*
Your work is wonderful!! I would love if you could do one of Brickens sometime. I have a whole bunch of pics of him in my barn under Brickens that you can use.

Thanks so much!
Quote:
Thanks everyone! I got the first little sketch done, of one of RusticWildFire's horses, Hunter. I'm going to try and do them all in order because I'm, you know, crazy.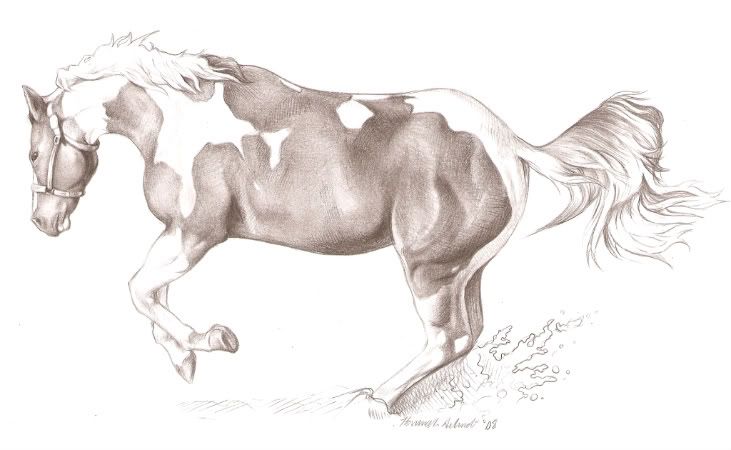 Thank you very much for letting me use a picture of you're horse as a reference!
I've already started on the next one!
WOWWW! That is AMAZING!! Thank you so much :) :) It's beautiful.
---
TM Tardy's Chick "Hunter" - 13 yo Paint
Remmy - 18 yo Morgan/QH cross
Gunner 3/31/11, Heidi 7/2009 Miniature Sicilian donkey

---
The lovely images above provided by CVLC Photography cvlphotography.com
hey
i pm'd you hunni
hope you got it
Excellent work. I would love to send you some stuff of the man of my life
here are a few of the big wuss
wow you are so good! Looks like you are already getting a big list going, but If you ever do want someone else to draw, I would love one of thunder as well :)He's in my barn, i have a bunch of pictures :)
<<<----------------------------

Thanks! And no worries if you aren't able to get to it :)
You have great Artistic talent.
If you find the time, I would love to see what you could do with these photos of my old horse, Vega. I just recently had to see him and would love to have a beautiful drawing to remember him by.
Here are some good ones:
Ignore my arms and the hose.
I always loved this photo. That's me, Vega, and his friends Trinity.
No pressure if you don't have time to draw him. Only if you want to.
Thanks,
Jubilee