My Art Journal
---
This is more for my own peace of mind than anything else. I'm going to put progress shots up as I work through each of my commissions so I can see how the drawing develops and where I need to improve areas before I finish it- much easier to touch up before the final layers of pastel go on as the paper will only take so much pigment.
At the moment I'm working on an old dog of mixed breeding. He was purchased from the RSPCA at 2 years old by his current ower, who absolutely adores him!!!
Original Image (difficult to draw from as it is quite blury, when I try to zoom up on features it gets really pixilated and makes my life **** difficult, so it'll be interesting to see what results I get with it)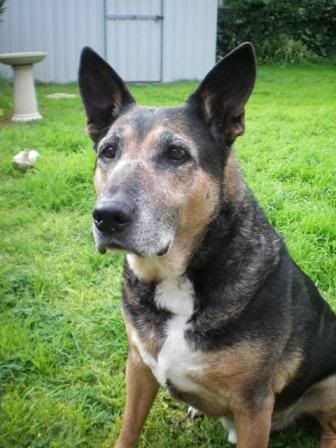 Step one: Measure the photo up to size (in this case A4) and mark the measurements of crucial features on plain cartridge paper. A clear, basic outline helps me with the actual drawing to keep it true in proportion.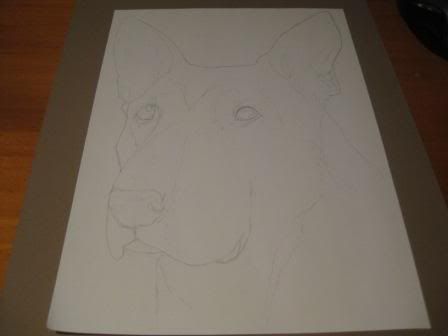 Step Two: Transfer image on cartridge paper onto coloured Canson paper (lengthly process in commissions as I meaure each section to get the propertions perfect. When I am drawing for myself I do it freehand to develop my eye for detail)
Step Three: Start the under coat in the upper right hand corner (as I am right handed, I work from left to right to avoid smudging), and begin to add detail.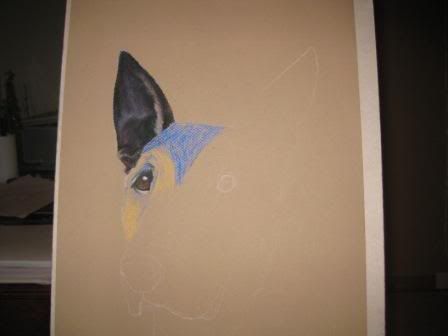 Will post as I get further along.
Last 2 hours progress. This one is coming along much quicker than I thought it would as usually I HATE working with black and browns because they're so hard to get the right tones with, but I'm actually enjoying this one :)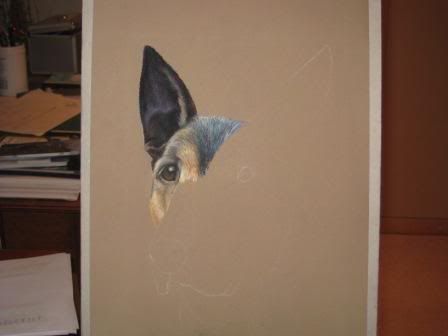 Awesome idea to post your progress in here. I too am trying to discipline myself to start from the left and work my way to the right. I tend to be allover the place when I draw and move on to many different areas as I become bored with one area.

If you don't mind, I'd love to start one of these threads of my own to post my progess on the next commission I get.

Great work. You really inspire me to want to get into soft pastels.
Liz, I highly reccomend working left to right. I also like to work in the same manner as you, going all over the place because you get bored with one area!! However, I've found that working from left to right is more satisfying on the eye, and stops smudging, PARTICUARLY with soft pastels, coloured pencil is not so bad, but you would find the smudging with graphite and charcoal, however after previously working primarily in graphite and charcoal, I've found pastel to be even worse for smudging!!!

Also for working with fur, generally speaking I try to work from a photograph that allows me to work left to right, where I am able to layer each section of fur on the previous section, as it is in real life. So I try to start on the base coat and slowly work backwards so the hair is being layered. If that makes any sense at all!!!!

Feel more than welcome to start a thread like this, you'll find it really helps your drawing improve as you can see it from a different perspective.

In fact, if you don't mind, do you think we could critique each others work as we progress with each commission? I like to have another set of eyes to tell me where I'm going wrong, if you're not interested no problems ;)
Absoulutely, I'd be interested in sharing comments/critiques with you. However, I won't really have access to a computer after tomorrow as my hubby and I are going on our honeymoon until the 12th. Can't wait to see your progress then. :)
Fantasic, thanks heaps ;)
Have fun on your honeymoon you lucky thing!! Where you headed??
good work.
i love it, wish i could get someone to draw my horse like that
---
Ferdi - iloveyou RIP♥
Apache - You are my world. I dont ever want to loose you♥
Jadeewood, I'd draw your horse in pastels like this, but I'm commission only because it takes so long and it costs me enough money to not really make that much profit even doing a commission, because the pastels/paper etc. are really quite expensive to purchase!
Curious, how long does a finished portrait take you?
---
don't worry, spiders, I keep house casually.

~ Kobayashi Issa
(1763 - 1827)