Holy cow Kayty~that two days work?! You're definitely getting faster. And that's a great idea about the vet surgery...may borrow that idea =)
Looks amazing, as per usual!
---
The aim of art is to represent not the outward appearance of things, but their inward significance. ~Aristotle
www.brandisue.jimdo.com
Finished. VERY fussy client :S I've done a dog for her and she made me change it about 6 times, but she's come back for a horse so obviously I can't be THAT bad.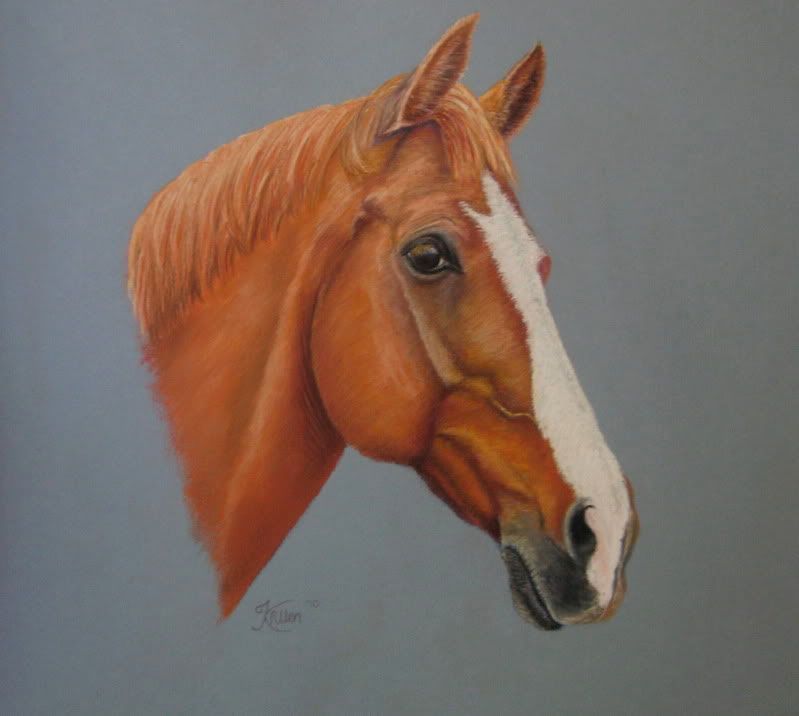 Brilliant!!!! This makes me want to do more soft pastel drawings. I just hate how tricky they are to handle and ship.

Oh btw, you were so right on the fixative thing. Not that I didn't believe you, but I had that practice piece that I just wanted to experiment with and the fixative didn't just warp the colors a little. It DRAMATICALLY killed the colors and completey faded the white (and this was a white horse). The reaction was immediate. It was almost like it removed a bunch of layers. I guess I am one of those "seeing is believing" type people. just wanted to see for myself what a fixative would do. I would NEVER have tried it on a commission or gift. It did however do a pretty good job of preventing smearing. But yeah, just my little experiment...lol.
Yep they certainly are tricky to ship. I've shipped a couple of dozen and I think I've changed my method every time.

haha glad you tried the fixative, see what I mean? :P You have to weigh up whether its worth risking it getting smudged with people touching it or surfaces rubbing, or if you want to take away to likely hood of it smudging, but risking the quality of the portrait. Personally I'd rather risk it smudging and just be extremely careful with the packaging process, and I always send an info sheet with my pastel works to tell the owner how to avoid smudging and how best to frame the piece.
You can put it in between layers while you're working, I have used it on occasion in the first few layers of a pice to give it that extra bit of hold, but found it quite difficult to work over.

By the way, I expect to see more pastel pieces by you in the near future!
Annnnd sure enough. She's not happy with it. F*$&!!!!! This is the very irritating down side of doing commission work. Plus she has already paid for the piece so I HAVE to get it right. Not happy, VERY not happy. Will have to play but I don't know how much I can change around. And most definitely not doing it again, I am way too busy.
ugh, that sucks...if it's any consolation, I had my first rejection recently...the person pretty much told me her horse looked like a ******ed mule....literally...can't please them all...lol.
Oh shoot thats pretty harsh :S

Yeah this lady I did a dog for and she made me go back and alter the stupidest things about 6 times.
With this horse, her problem is that there are 'too many lines above her eye' (I've actually taken a lot of them out!) and can I please 'make the base of her neck thinner as she only has muscle there as she wind sucks'. Would have been nice to know that before I put about 10 layers of pastel on!
hmmm, well I don't know if you already do this, but I typically e-mail the rough sketch to the client before I begin the shading process (havent done that for the Buffy fund special because I wanted to get the drawings done ASAP) so they can request any modifications to the shape or orientation of the drawing before I put all that hard work into it.

I learned that the hard way when I completed a big 16 x 20, only to find out the owner had sent me the full body shot she wanted, but the wrong head shot and didn't want what I drew. It was frustrating, but she eventually sent me the head shot she wanted and I wound up redoing the entire drawing. It was my bad in a sense that I just "assumed" that was the head shot she wanted (which was essentially a blurred pic of the horse running in his pasture, so very hard to see the details) and didn't bother to confirm that via rough sketch. So, not sure if you did that with this client, but she may have been able to tell you to make the neck more narrow if she had seen a rough sketch first. She sounds very picky anyway and I wouldn't doubt if she saw a rough sketch, approved it, and then decided it wasn't what she wanted afterall...lol.
Yep I do the rough sketch first as well. Which is why I'm so annoyed with this client! Mine also aren't really rough, the final step for me before I start with the pastel is to mark the shapes in solid charcoal lines, so it's almost like a colouring in book picture. That way they can clearly see the shapes. And she approved it!
I also send at least 3 work in progress pictures and ask if they can let me know what they're htinking, if they want things changed etc. And the whole way along she was saying 'yep yep yep'. *sigh* you can never please some people
Here is the re-jigged version of the above drawing. I have brought the eye up more to make it slightly more almond shape and added a slight dish. I think just those slight alterations have made all the difference, she's gone from a handsome looking horse to a cute pony look. Hopefully the owner will approve this one so I can move it on. I currently have a whopping 13 drawings on my waiting list, at the increased rate :O Busy busy busy, and uni starts back next week so I'm going to be run off my feet! time to tone down the advertising push a little so I can catch up. The work is nice, and I need the money as I'm only working on saturday's now during uni, but it is stressfull and takes a lot of my time up