Depends on the portrait. This one is going quite quickly because I've had some time off work so can sit down for a few hours straight and work at it. Also because the portrait is very close up, so I can use bigger strokes with the pastel sticks. Have spent about 4 hours on it so far.
Last one of a jack russell took me about 20 hours, then maybe another 2 hours on top re-adjusting bits of pieces that the owner asked for, and adding a background.

Horses generally take me a bit longer, I think it's because I'm more familiar with them and can see if my drawing has got the horse perfectly or not. For a head usually they'll take me about 25-30hours, and a full body up to 40hours.

Of course, this is all 'A4' size, anything bigger and it takes me longer. By A4 I mean the actuall portrait would fill an A4 sheet, , so the actuall paper is usually between an A4 and A3.
Weanling
Join Date: Jul 2009
Location: The great, white expanse of Maine...ugh!
Posts: 400
• Horses:
3
Thanks so much for showing the step-by-step. I'm a graphite/watercolor pencil girl myself; but I am always looking to expand my repertoire. Pastels I have little to no experience with, but these beautiful results are inspiring me to try!
---
And now, the men of the Second Armored Division with their famous close-order swanning about.
Give them a go!!! Only thing is, if you don't get pastels that are good quality, they might put you off using them because the cheaper ones tend to have more binder in then than pigment, so it's more like chalk. I use Rembrandt pastels, which are quite pricey but well worth it. Also you need to buy pastel paper, I tend to stick with Canson, which has two sides to work on- one with larger 'grooves'. The jack russell portrait I did last time was on the smoother side of the paper, and this dog is on the rougher side. I'm not liking this side as it's taking up alot more pastel to fill the area, and it's harder to get the texture I want.
Today's work in progress: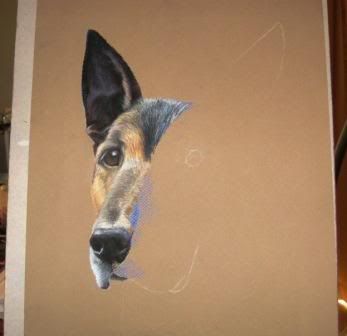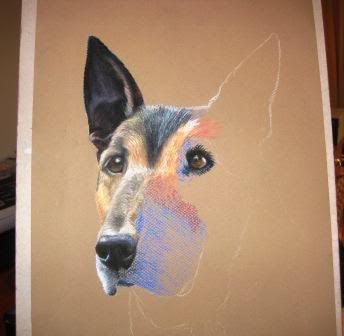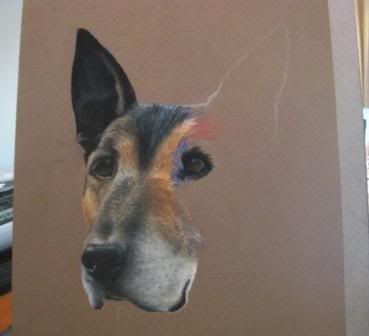 Hoping to work up to the left eye before I pack it in for the night, hate leaving things floating around the middle of the page!!
"...toadflax works sort of in 'blocks' I guess, focussing on the really stand out sections..."
I'll admit this comment intrigues me, don't often have an actual artist remarking on my work, but am scratching my head as to what you are seeing---my habit of leaving sections of very understated space in some of my drawings?
I didn't want to reply on Eventer's thread hence the switch to yours.
Also wondererd how you would classify your own work.
---
don't worry, spiders, I keep house casually.

~ Kobayashi Issa
(1763 - 1827)
Oops it wasn't meant to offend at all!!!!
Looking through your albums, I absolutely adore your work. And part of that is that it is quite different, you seem to put so much work and attention to detail in the really 'important' or standout areas of your subjects, such as the eyes, nose etc. And the areas of fur are realistic but do not go into as much depth as the eyes and such. I love the style, this is not a critism about your style, just commenting on how different it is to others. Same as with Liz Norris, her work has an almost cartooney feel to it while maintaining the realism.
I myself and I hugely tight and picky artist, I draw each and every hair (particuarly in graphite work, not so much with pastel), but in doing this lose some of the quality of the eyes, they don't stand out as much as yours do which is unfortunate, as the eyes are the most important aspect to a drawing in my opinion. If you don't get the eyes there is no animal there.
For example, this is my last graphite drawing I did, about 2 months ago. You can see I've drawn in just about each individual hair, hence it takes me hours and hours to finish, but the eye never really stands out.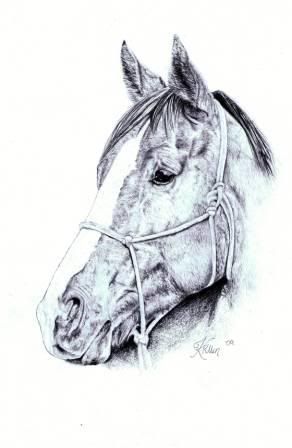 Oh, I didn't mean to sound like I had my knickers in a twist and you did get me thinking.
In fact I do tend to 'see' the way you describe, I focus on what most interests me and let everything else become peripheral, and apparently that has translated itself in to my drawings. It can be hard to look objectively at one's own work for better or worse, I for one need a lot of time after finishing a drawing before I can accurately analyze its strengths and weaknesses. So, I think you are fairly describing a tendency of mine that I have to be careful of so it doesn't become sloppy or lazy.
I know what you mean about feeling compulsively obliged to render every hint of shadow and light that you find in a subject. My own drawing is in transition but I am not sure where it's going--I love photo-realism but as you say it takes forever and a day, and I'm not sure it's always the best choice artistically.
Anyway your work is exquisite, your use of color masterful.
---
don't worry, spiders, I keep house casually.

~ Kobayashi Issa
(1763 - 1827)
That ok, didn't think you were getting your kickers in a knot but thought I'd better cover myself as I've been known to get myself into strife without meaning to with my comments :S
I do love your work, particuarly as you say it reflects your own way of seeing. You sound very much like me, I am a perfectionist in all ways of life, which is my undoing in horses, I want everything to just fall into place and try to work my horse as a whole, rather than focussing on one aspect and allowing that to influence the rest of the body. This comes through in my work, where i feel disapointed if I cannot capture exactly what i see in front of me. I don't consider myself a true 'artist' as an artist in my eyes is someone who can transfer and image from their head onto paper, come up with some magical and obscure image that is the pinical of creativity. I simply reproduce what I see, and it works for me with commissions, as pet owners seem to want to have a photo reproduced, but I'd love to be able to one day sit and 'play' with my own mind and see what comes of it. I need to loosen my style, rather than being so finicky about it.
My way of thinking is that if I can loosen my art, my mind will also begin to unwind. I am a very highly strung human being, and am always on the go. It will be interesting to see how I go when I go on holidays to the tropics at the end of October with my better half, whether I'll actually be able to unwind there. I want to bring a sketch pad andcoloured pencils with me and try to draw loosely what I encounter there.
Gorgeous work, it's fascinating too see the layers. I'm not at all artistic, so it's very interesting too see the use of reds and blues!

Do you have a website by any chance? I'm still throwing the idea of getting a portrait of my Little Man (kitty). He was my everything though, I'm not sure I could handle seeing his portrait everyday... But if I do get one, I would love to see more examples of your work
Interesting, in college our teachers were not too concerned about us working from our imaginations, they reminded us that the Old Masters certainly didn't, I guess it depends on what sort of art you want to produce. I like realism and can't draw accurately enough without a subject, but I feel completely ok with that, thanks solely to those art professors giving me that permission so-o-o many years ago.
It is frustrating though if I have a picture in my head that I can't put on paper because I don't know how to recreate it, which the masters certainly could do.
"True artist" is a concept I've wrangled with and have had to make a certain peace with, I know my limits (color for one) but I also know artistic ability is always in flux and where we are now is not where we will be as long as we keep working. So that's some comfort to me. I look at your beautiful rich drawings and they feel like art to me, I know you know it's all so subjective, but if you aren't creating what your heart and mind tell you to, then that's a sticking point all right.
Well, it sounds a marvelous step in the right direction, paper, pencils and a warm blue ocean.
---
don't worry, spiders, I keep house casually.

~ Kobayashi Issa
(1763 - 1827)