Oh oh oh! That's my boy! I'm loving it so far Kayty!
---
Flirt-Hugo-Phoenix-Romance-Fanta-Nippa-Shiloh

Trojan 09.11.02 - 26.10.10 // Kody 01.09.89-25.06.12 // Rex 05.11.95-21.12.12

Ah, it might be just the way the photographs come out as I haven't (sadly) found that oily feel with my sets: I have Rembredt's soft halfs and I really like them. Well, I have W&N's similar set too and like them as well, YES, I _am_ a pastel maniac... *sigh* (I have like 15 different sets of pastels and that's not counting oil pastels of which I have probably at least as much.)

Derwent's pastel pencils I find tricky, though. I never seem to get that nice build-up with them, instead, they tend to just scrape off the previous layers. Well, more practice and/or better sharpening is called for! Or better paper... (I'm into Canson's Mi-Teintes right now.) In your hands they seem to work really well.

... well yes. /pointlessmaterialdiscussion
I work on Canson Mi-Teintes as well, and find the Derwents on that feel quite nice to apply. I was using CarbOthello's for a while, but hated them, far too waxy for my liking!
After reading the last couple posts you've got even more commendation comin' from me
Soft pastels?! I thought they were oil!
...for some strange reason I find that really cool
---
The aim of art is to represent not the outward appearance of things, but their inward significance. ~Aristotle
www.brandisue.jimdo.com
Haha yes I love my soft pastels! Far too scared to try oils, but it means I have to apply so many coats of pastel to get a similar effect as the oils as far as coverage of the paper goes. I *should* gives oils a try one day, but at the moment I'm busy with commissions so have no time to try them.
Latest update on HowClever's lovely boy. Still going through adding base layers, but very happy with how it's progressing. I'm keen to start adding detail but have to get the base done first!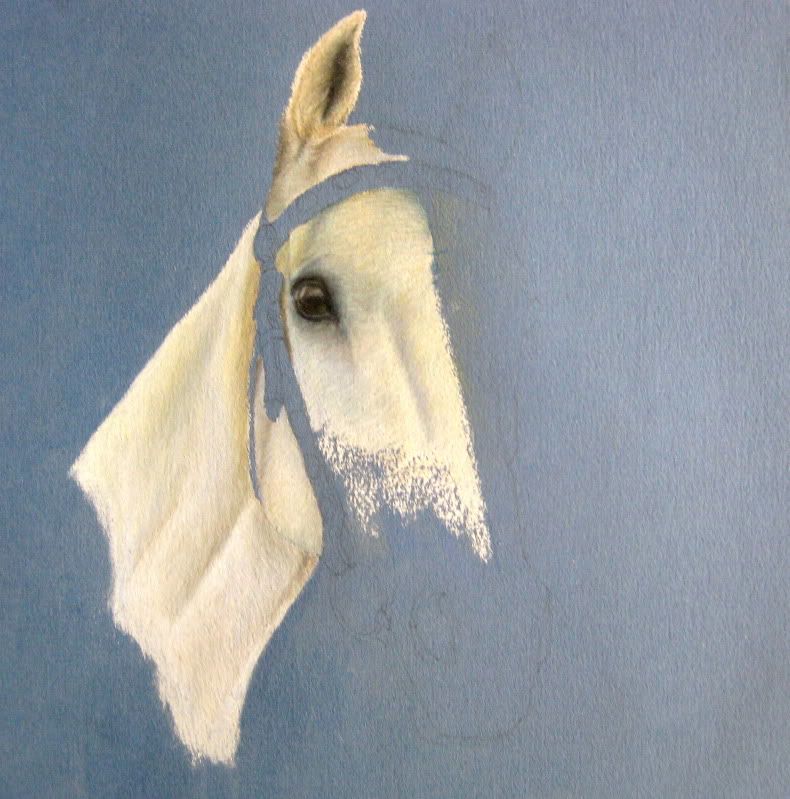 It's looking fantastic Kayty! I'm so excited!
---
Flirt-Hugo-Phoenix-Romance-Fanta-Nippa-Shiloh

Trojan 09.11.02 - 26.10.10 // Kody 01.09.89-25.06.12 // Rex 05.11.95-21.12.12

Looking incredible Kayty! I hope you don't mind that I am saving these WIP photos so I can look at how its coming along all the time! haha
---
Flirt-Hugo-Phoenix-Romance-Fanta-Nippa-Shiloh

Trojan 09.11.02 - 26.10.10 // Kody 01.09.89-25.06.12 // Rex 05.11.95-21.12.12