Quote:
Originally Posted by
1dog3cats17rodents
View Post
Gorgeous work, it's fascinating too see the layers. I'm not at all artistic, so it's very interesting too see the use of reds and blues!

Do you have a website by any chance? I'm still throwing the idea of getting a portrait of my Little Man (kitty). He was my everything though, I'm not sure I could handle seeing his portrait everyday... But if I do get one, I would love to see more examples of your work
Yes, I get alot of people asking about my use of red and blues!!! I use them alot as an undercoat to my drawings depending on what colour the animal is. In this dog for example, I can see alot of blue through the darker bits of his fur, so while I'm doing the drawing I use mostly a variety of blues until the very last layer where I'll put a small amount of black and a little white to get the lighting. Very little of my work is down with straight 'brown, black and white' as I find these colours make for a dull, flat and lifeless picture. The only way I can make them come to life is by adding a 'multi-coloured' undercoat!
My website is :
www.freewebs.com/horseandhoundartistry
Unfortunately it is only a temporary site due to my registered site going through a few 'hiccups' with the server, hopefully I'll get it back up and running in the next few weeks, however, there are a few more examples of my work on this site, as well as a basic pricing list etc.
Toadflax, you have been taught opposite to me! When I was at school I never got good grades on my artwork because it was 'imaginative' enough. In particular my final piece in year 12 art, I was on a steady A all year from my art teacher, then when it was moderated by outside markers, they downgraded me to a B- because it was not 'artistic' enough and only represented a photograph!!!!!!
I know how you feel about having an image in your head and not being able to reproduce it. The same things plagues me all the time, drives me utterly insane sometimes. I'd also LOVE to do a portrait of my other half and I for his Christmas present, as he's been asking me to do a drawing for him for some time now, but I struggle with human portaits as my perfectionist side seems to kick in even more and I find it near impossible to satisfy myself with my own work, it NEVER looks quite right even if others appear to love it.
In Port Douglas, I plan to try and 'loosen' my style a little, even if I revert back to my tight portrait style when I get back, I'd love to let lose a little with a few sweeping strokes and swirls to depict a scene rather than creating a photograph again.
wow your so good!!!
---
i love misty moo :)
Next one. Two cocker spaniels for my boyfriend's little sister's 21st birthday. She adores her dogs, so we thought it would be the perfect present for her.
The boy on the left with the long face is Lloyd, the girl on the right is Charlie. They're going to be a bit of a challenge for me with all that curly fur and the colours and facial structure is very different on both of them. I'm nervous about this one more so than other drawings, because it's for my boyfriend's sister so I feel I need to really excell with this one.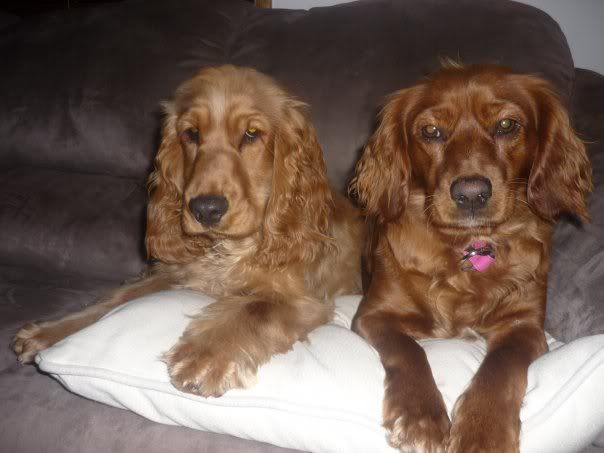 Quote:
Interesting, in college our teachers were not too concerned about us working from our imaginations, they reminded us that the Old Masters certainly didn't, I guess it depends on what sort of art you want to produce. I like realism and can't draw accurately enough without a subject, but I feel completely ok with that, thanks solely to those art professors giving me that permission so-o-o many years ago.
It is frustrating though if I have a picture in my head that I can't put on paper because I don't know how to recreate it, which the masters certainly could do.
"True artist" is a concept I've wrangled with and have had to make a certain peace with, I know my limits (color for one) but I also know artistic ability is always in flux and where we are now is not where we will be as long as we keep working. So that's some comfort to me. I look at your beautiful rich drawings and they feel like art to me, I know you know it's all so subjective, but if you aren't creating what your heart and mind tell you to, then that's a sticking point all right.
Well, it sounds a marvelous step in the right direction, paper, pencils and a warm blue ocean.
-Toadflax- thats interesting.. in my college classes the teachers stress creativity to an extent. The drawing teachers do anyway. We are not allowed to use photos. Only draw off whats real... and we are encouraged not to draw realistic drawings down to a T. I hate all this.. I'm good at portraits off photos.. and thats it! I can't do my own art...
Why the cartridge paper?
My proportions are often off... I wanna know how this works to get your drawing in proportion?
---
Last edited by cheply; 10-09-2009 at

02:14 PM

.
Also.. sorry for the double post.. are any of you on deviant art?
Hi, Cheply, it was the seventies, my teachers were a very non-judgemental bunch.
They didn't discourage imaginative art at all, but they also thought we should use whatever tools were available to us to create what we wanted in paints or pencil.
We did work from live models and life but we were also assigned to do a few paintings from photos, as well as make over a piece of classic art. The point was to be versatile and not to dismiss a perfectly legitimate option (the photograph) on some idealistic grounds.
Drawing from life is excellent for developing eye and enhancing your skill and style, no question about it, but I'm old enough to be very settled in my own mind about what I want to do with my pencils
.
I have found that the more reference you have in your head from drawing realistic images, gained however you want to go about it, frees you up to and gives you a greater ability to draw from your imagination if and when you choose.
School's different of course, teachers do want to lay good foundation and expose the students to as much variety of media and technique as they can, not a bad thing.
I do not know about Kayty's cartridge paper but if you know the grid system for transferring images by hand it is really very effective for keeping proportions accurate. I use it if I want to be sure my outline is completely accurate. Here's one explanation, you can search and come up with several more:
http://www.allaboutdrawings.com/grid-drawing.htm
---
don't worry, spiders, I keep house casually.

~ Kobayashi Issa
(1763 - 1827)
The cartridge paper is just another way of getting the drawing accurate. I've tried the grid system but I hate using it when I'm doing pastel, as it is alot harder to cover the pencil lines because of the 'toothed' paper, I find.
Doing it with the cartridge paper takes more time, but I find it better in the long run because I dont have lines all over my paper - don't know if you've tried graphite on canson paper but it's **** hard to get off and a normal eraser leaves lighter marks across the page.
If a client wants me to do an A4 drawing for them, I make sure the actuall subject is A4. So I cheat but blowing it up on the computer to the right size, then 'tracing' the vital points and drawing in the rest, to get the prportions correct. Then I mark in charcoal or pastel pencil the dimensions of the paper onto the Canson paper, and using a ruler to mark in the vital points of the drawing.
Takes a long time but when doing a commission I stress about proportions, if you don't get them perfect you have a subject that doesn't look anything like the photo. 'Colouring it in' is the least of your worries in my opinion!!
When I'm drawing for myself, I don't do this as I want to continue developing my eye for detail, I will draw directly with pastel onto the Canson and if I make a mistake it's not so drastic as it's only a practice piece.
Kayty, I think we may be running into some inter-continental confusion. I don't know what cartridge paper is, assume Canson is a toothed pastel paper, and A4 would be what, a size..?

Oh, cartridge paper must be what we call tracing paper, I'll bet.
---
don't worry, spiders, I keep house casually.

~ Kobayashi Issa
(1763 - 1827)
Oops sorry, cartridge paper is just computer paper, what you put in your printyer ;) Nothing fancy, not even as fancy as tracing paper haha!!