Thank you lilruffian and creampuff :)
hey wait a minute... your adds are in horsewyse magazine aren't they!!??
oops soz, wrote it twice :p wat comp was it? i think i might of entered
Haha yes they were, I'm currently just finishing up the prize portrait :)

It was the comp where you had to draw a horse and send it in, and the best drawing won an A4 commission pastel portrait by me.
wow thats sweet :)
im addicted to the hw mag and enter every comp!!
i won the carlos comp about compasionate training :)
Sorry mate I'm not hugely familiar with the ins and outs of the magazine - bit out of the loop now haha! But I was a huge fan as a young teenager when the magazine first started. It's a great magazine :)
ya i love it :) im entering the drawing comp how u have to draw a horse breed, i'm going to do an arab.
I've got it worked out kinda, and also a clydie.
The square head is arkward :)
Promotional advertising prize aka a freebie!!
A4 pastel head study.
Not terribly happy with this one, found it very difficult to work with, but I had to force myself to sign it and put it down as if I fiddle too much I'll completely ruin it!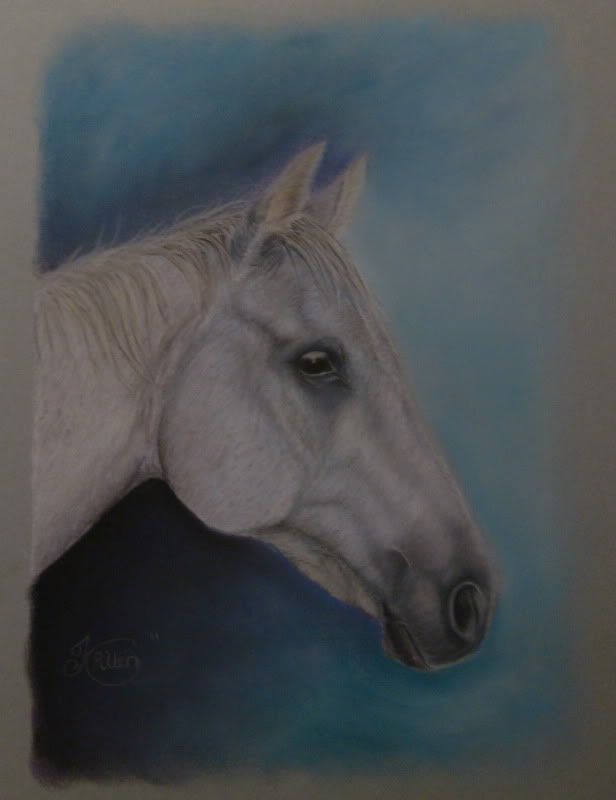 And I just realised how blurred the photo is :S Sorry, I will try and get one in the daylight tomorrow. It's almost 11pm here and it was taken in semi dark with a flash! Looked ok on the tiny camera screen :P
Wow, that looks amazing! I love the deep blues you used for the background and the incredible amount of detail with drawing every hair. :)