u are them ost amazing artist eva!!
haha thankyou for the compliment MW!
Another commission, finished tonight
Annnnd another... on a roll at the moment! This is what being currently unemployed does, lots of time for drawing!!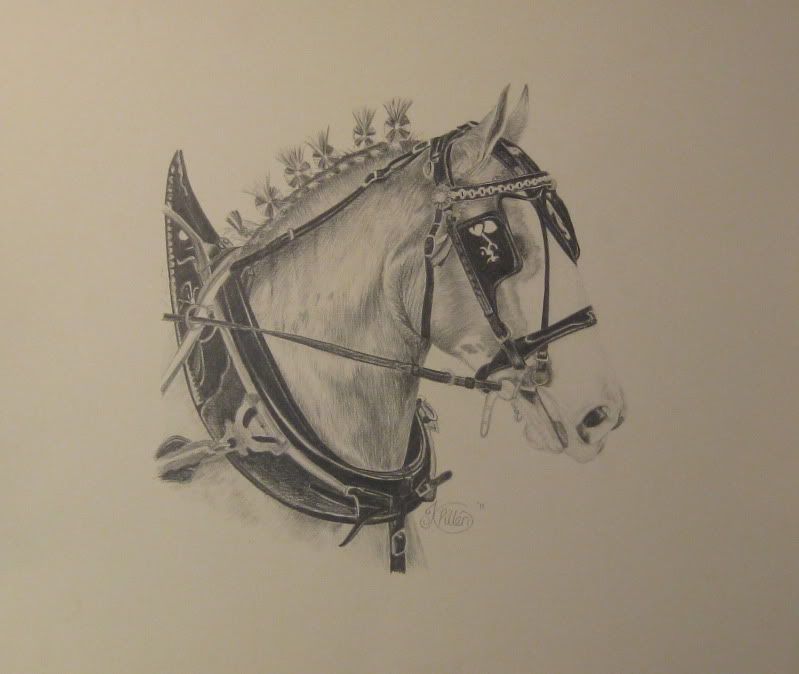 i love the last one...a lot.
love love love it
---
The aim of art is to represent not the outward appearance of things, but their inward significance. ~Aristotle
www.brandisue.jimdo.com
Well, I did promise at the start of this thread that I'd post everything, the good the bad and the downright ugly. So here goes. I must admit, once again, I just could not for the life of me get a photo of it that looked close to what it does in real life. However, I'm still far from happy with it anyway. The reference photo wasn't brilliant, taken from a mobile phone, but I'm pretty disapointed in myself for having it look so flat :(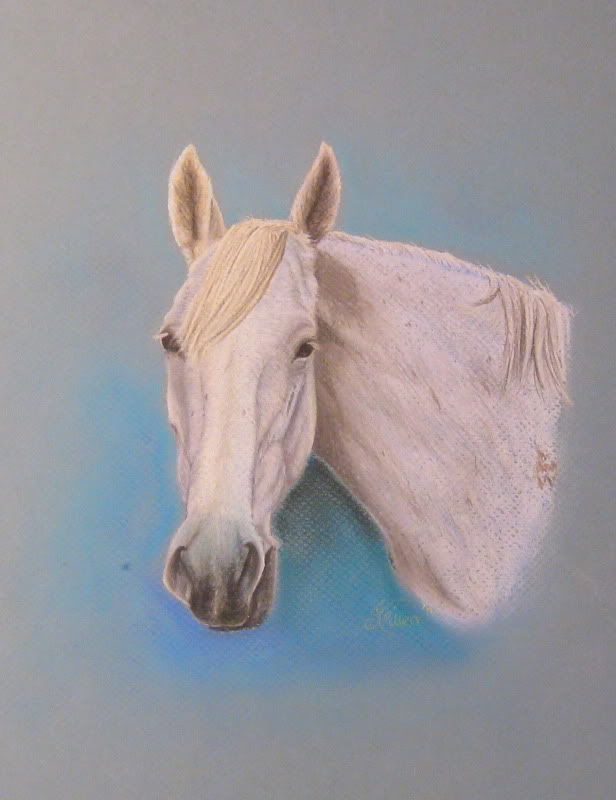 Kayty,

My experience is that doing a portrait of a horse from a straigt on front view is very hard to do, and doens't really show the horse to its best advantage either.

The horse's left eye is not a good match to his right. I have had almost exactly the same problem in several pictures I did in this view.

Thanks for showing us the not so good, too.
The eyes are really out of whack in the photo, which is where I've gotten very stuck with them. His eyes in the photo look like his head is slightly tilted, with the left eye being slightly smaller and angular than the right. It has certainly driven me crazy!!
At least this was only a freebie, just a promotional 'prize' in return for a months free advertising in a magazine.
Oh well, the next one I'm hoping will be a good one. The reference photo is lovely and taken by a photographer. Fingers crossed I can get my 'mojo' back and make it good!
I haven't picked up a paintbrush in almost two weeks and worry that I will have forgotten how.
Sometimes horses really ARE crooked in the face. We certainly are!
Your portraits are beautiful, Kayty. And you seem to be having more success with the Mi-Tientes paper than I have enjoyed. If the honeycomb texture ever gives you problems, I wonder if you might want to try some drafting/tracing vellum? I don't know what's available in Australia, but the type I have, (which, unfortunately is not acid-free), responds very well to pastel/pastel pencils. I understand at least some of the vellum made today is basically plasticized cotton, hence very much archival. (If you would like to see an example of the results I have gotten with this type of paper, I will post them in another thread.)