Quote:
finished
love it!!! So so so much
---
All I pay my psychiatrist is the cost of feed and hay,
~♥~he'll listen to me any day~♥~

Quote:
Well, I did promise at the start of this thread that I'd post everything, the good the bad and the downright ugly. So here goes. I must admit, once again, I just could not for the life of me get a photo of it that looked close to what it does in real life. However, I'm still far from happy with it anyway. The reference photo wasn't brilliant, taken from a mobile phone, but I'm pretty disapointed in myself for having it look so flat :(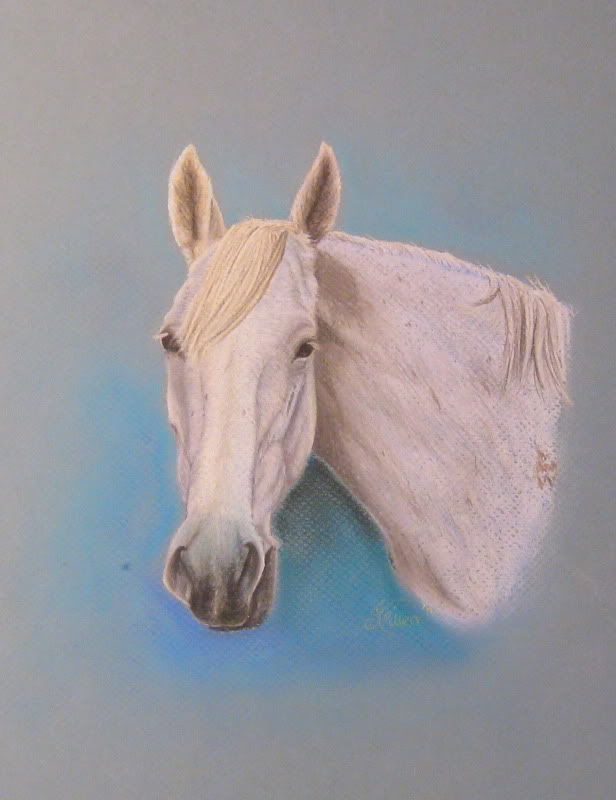 im amazed yyou can say thats bad!! i would kill to be as good a drawer as that
---
Live fast, have fun and be a bit mischievous! -Louis Tomlinson
Quote:
Your portraits are beautiful, Kayty. And you seem to be having more success with the Mi-Tientes paper than I have enjoyed. If the honeycomb texture ever gives you problems, I wonder if you might want to try some drafting/tracing vellum? I don't know what's available in Australia, but the type I have, (which, unfortunately is not acid-free), responds very well to pastel/pastel pencils. I understand at least some of the vellum made today is basically plasticized cotton, hence very much archival. (If you would like to see an example of the results I have gotten with this type of paper, I will post them in another thread.)
Thankyou for the suggestions Tamzart. I don't mind the Mi-Tientes, but often 'chop and change' between the roughly textured side and the smoother side. The last one was on a rough side, and I really struggled with it. So my current portrait I am working on the smoother side and so far I'm very happy with it.
I've also got a few sheets of velour waiting to be used, but I don't want to attempt them with a commission in case it all goes bad!
We don't have the greatest range of paper produce available here, really it's just pastel matt and mi-tientes that are the most widely used. My online supplier had to source the velour overseas for me. I have looked into buying from overseas, but so far all I have found is far too expensive to ship.
I was very stoked to have been asked to draw this horse. He is a locally bred warmblood gelding, who is currently competing at medium/advanced level dressage with both a Grand Prix rider, and a young Para-Olympic rider. He has been long listed as a possible horse to attend the London Olympics in 2012 in the Australian Para-Olympic team in the dressage there. His young rider is a very hard working, and talented girl who has gone through a lot in her life with her illness on top of that, and has still managed to be not only one of our states top para riders, but one of the top riders in general. A very talented girl, and I am very proud to call her friend.
Current project. 3 dogs in graphite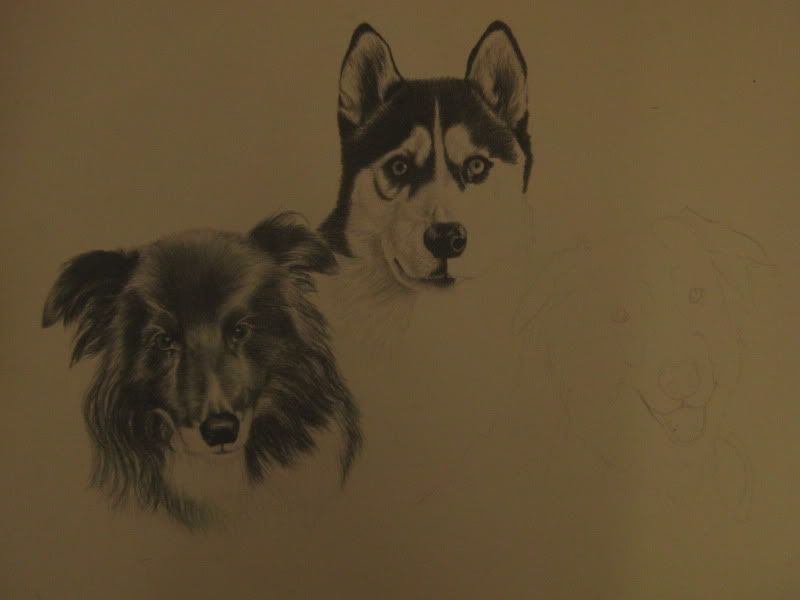 How much do these costs? Maybe, I could convince my mom to let me get one?
I am offering 20% off all portrait at the moment, it is advertised until 30th April but I may extend that to mid March if enough interest.
My website is
Home - Horse & Hound Artistry
. It gives all prices in Australian Dollars. If you are interested in one, let me know via PM or email, and I'll take the 20% off and convert to USD. I have sent enough of my work overseas to have learnt how to cut postage costs considerably. For an average A4 sized pastel portrait, you're looking at AU$15 give or take a little. Less for graphite work.
I absoloutly LOVE it!!! my favourite is the dog on the right :)
---
Pocket - 8 yr old, 15.1hh Thoroughbred Mare
~You know you're a horse person when you say 'whoa' to your dog~