Well, I am back from my honeymoon and very pleased to come home and see the final product. Well done!!! I love how you layered over unconventinal colors to make the drawing pop and pick up the lighting so well.

if you don't mind me asking, how long did this piece take you?

I ask this because sometimes I think I am selling myself short because of my rush to get a drawing done. I am always so anxious to see the final product. I am committed to disciplining myself to devote no less than 10 hours to my next project. It's going to be difficult, but I really think I can take my art to the next level. I am on the verge now and my artistic juices are flowing.

Next commission I get I am going to start a progress thread.
Welcome back Liz, great to have you back around :)

This latest one took me a good 15 hours and was easily my quickest!!

As for selling yourself short on time, I always warn people who commission me, and also when I advertise, that it can take up to 3 months depending on my work load and time of year to have their drawing in their hands. When you do commissions, definately set a generous time frame to do it in, If you tell them they'll have it withing 2 weeks, you're going to panic and rush it. I am able to sit back, have a good look at the photograph, plan the drawing, start putting undercoats on, and just potter along doing a couple of hours here and there when I feel like it, and still manage to get it done on time ;) PLus you can then sit it up on the easel and walk past it every day. You'll pick things out that you missed before, where as if you just sent it straight off, you'll miss out on finding little errors across the drawing.

Don't push yourself to take ages on a drawing though, jusr focus on an area at each sitting, get it perfect and if you get bored walk away and do something else rather than pushing yourself and hating it.
Start of 'Lloyd'. The photo has washed the colour out quite significantly unforatunately, so next time I take one I'll try different lighting.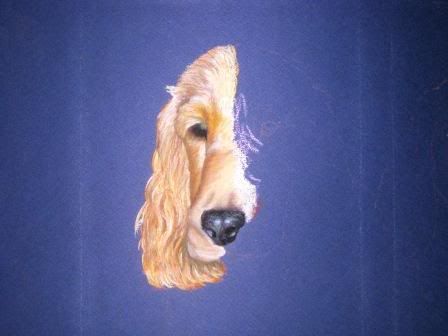 Lloyd part 2. Aparently my camera doesn't like the colours I've used so doesn't show them up anywhere near how they really are, thus makes the detail look... interesting? to say the least.
'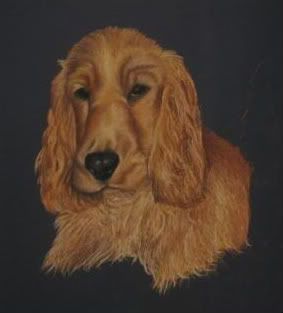 I absolutely love your dogs! Im going to have to get a commission her in the near future. I'm not familiar with the A4. What are the size in inches? Sorry.
A4 is about 8.3 inches by 11.4 inches. That is the size of the actual drawing, not the paper as a find doing a drawing on the smaller paper makes for a lesser quality drawing. So add another inch or 2 to that to get the paper size ;)
I'll try and find the measurements for A3 which is bigger, but it's roughly 1 1/2 times the size of A4
Well, I've finally got around to finishing the two dogs. I'm at work at the moment so can't post a photo but will do when I get the time.

Unfortunately, I'm not at all happy with it. I feel like I've taken 3 steps back with my drawing after looking at this one. The lighter coloured dog (above) is ok, but the darker one just looks too cartooney and I have made of a mess of her right eye. I'm scared to give it to my other half's sister now, she adores those dogs and I've made them look stupid :(
Finished:
So depressed with this one, they look like cartoons :(