Beautiful work! I envy you.
You don't like it?! It's amazing Kayty!!! Very handsome horse and very realistic!
The tiger is magnificent! I love the detail and the color. I would NOT have the patience.

The horse head is lovely too. The only thing I can say in the way of critisism is that the eye looks a little small in relation to the size of head . It may be that way in actuality, as some horses have smaller eyes than average.
Yep Tiny, I should post the ref photo - he has little eyes on quite a big head ;) I though they looked small too, but I've tripple checked my meaurements and they're dead on with the photo, so I guess I'll have to live with it :P
Zulu, the Irish Draft I ride at times, has small, sunken in eyes. He's so ugly he's adorable. I mean his head isn't elegant. Though I am told he looks a lot like War horse Joey.
IMG_2455.jpg
Wow he does have little eyes doesn't he!
I think he looks like a real sweetie, they don't have to be elegant and refined to be beautiful :)
well, they are half closed there, but he does have small eyes, beady and sunk in. He reminds me of a stuffed animal with those dark plastice eyes sewn in. He has an absolutley dreamboat personality for someone like me. There's a lot of common sense, some get up and go and lots of tolerance for error.
Well so much for having a quiet couple of months. 6 commissions lined up already for this year and it's only Jan 7th!!!
Next on the production line -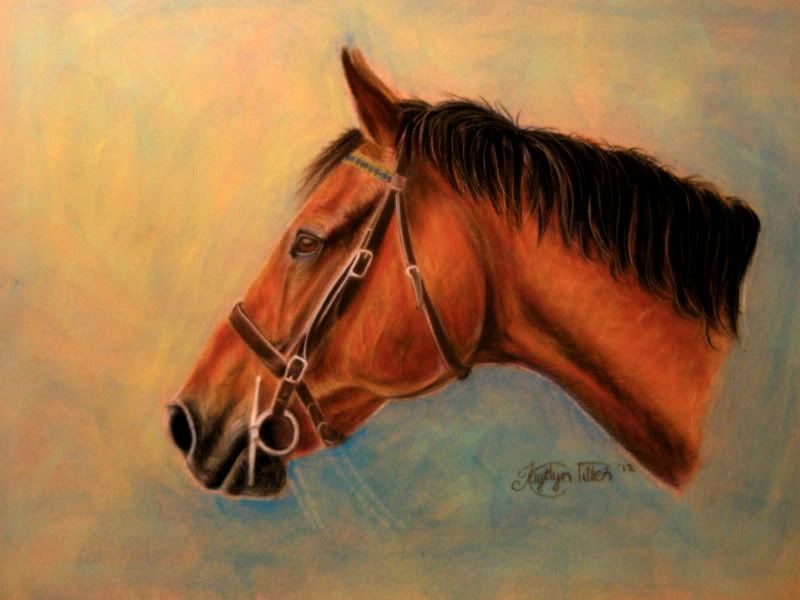 I love it , its so bright and colourful!
---
Pocket - 8 yr old, 15.1hh Thoroughbred Mare
~You know you're a horse person when you say 'whoa' to your dog~
Lovely!

I think I'm going to open up another bank account JUST for commissions from talented forum members like yourself! Seriously, so much talent, it's so awesome!!