Quote:
Latest commission - this one has a long journey through the postal service to New York!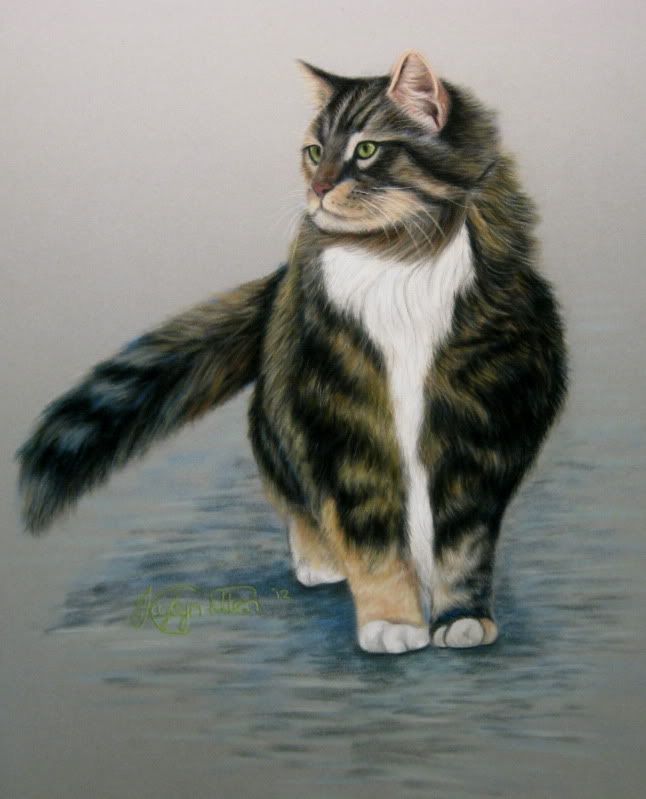 Fantastic colouring! Kayty - can I ask you how you send them in the post? I mean - do you send them flat or rolled and how do you package them to protect them from the colour smudging etc? I hope you know what I mean.. also how much do you charge for a picture like this and how big is it? Sorry for the mountain of questions!
That cat is just about the nicest piece I've seen from you (IMO). It is so, so soft and feels exactly the way a cat stands . OMG it's just "CAT" to the core.
Thanks Tiny, I am really proud of this one. Its for a girl's mum in New York, the cat passed away a few weeks ago at 15 years old. I did their dog a couple of years ago in charcoal as well :)

Confuscious - It has been very much a case of trial and error with postage. Mi-Tientes is a much easier surface to post, as it holds the pastel firmly. Now that I am working on velour, which does not hold the pastel too firmly so you need to be extremely gentle with it. The sooner if goes into a frame, the better.
It is a balance between packaging so firmly that it costs a fortune to post (I was paying over AU$60 just in postage over seas!), or too little packaging so its cheap, but bends.

I have started using core flute plastic to package, and kicking myself that I didn't try it earlier. I send everything flat, you can't roll velour, or if you can, I haven't found a fool proof method of doing so as yet.

My packing process is as follows:
1. Cut 2 pieces of core flute to 1 inch larger than portrait on all sides, making sure the 'flutes' are cross hatched against each other. (this way it is VERY hard to bend!)

2. Secure portrait to backing piece of core flute, using a thin strip of masking tape on each edge.

3. Stretch a sheet of grease proof (baking) paper, tightly over portrait. You need to secure this very firmly so it does not rub against the pastel.

4. Add business card and promotional materials in this layer

5. Secure a layer (or 2) of bubble wrap over the portrait.

6. Secure second sheet of core flute over the top of everything, and use masking tape to very firmly secure everything together.

So far *touch wood* I have not had any damage in transit to my portraits, and they are about as delicate as you can get being on velour!



This particular portrait is 12x16", and I charge AU$170 (I think the Australian Dollar is buying approx. 1.3 US dollars at the moment).
For this size and just a head study, I charge AU$130.
These are pretty **** cheap for art here in Australia, but at the moment my main goal is to build up a solid clientel, and gradually increase my prices to where I want them.
The cat is...amazing...so stunning and awe inspiring..I have to look up words in the dictionary to describe it and even they are not enough... amazing arts! totally mind blowing!
---
Live your life in a away that;

When you are born, you cry while others smile, and when you die, you smile while others cry.
Thank you very much for the kind words sana, it is much appreciated :)
Subbing! Your art is beautiful, makes mine look like a piece of poop!
But Snizard, there are some modern artists that manipulate poop and make a fortune at it.
Thanks Snizard93, your comments do mean a lot. It's always nice to get good reviews on your work :)
And my work doesn't make ANYONE'S work look like a 'piece of poop'. Everyone has a different style and technique, and often it takes years to develop that. I've been doing commissions now for about 7 years, and I am still honing in on my skills, hopefully I will be a lot better in another 7 years :)