Next commission, hopefully won't get anymore for a while (unlikely with Chrismas coming up- sucks getting overloaded with commission requests 2-3 weeks before Chrismas!! - but with any luck, I'll have some time to do my own drawings for a while. I'd like to draw my horses, and also my 3 dogs for my mum's birthday next year.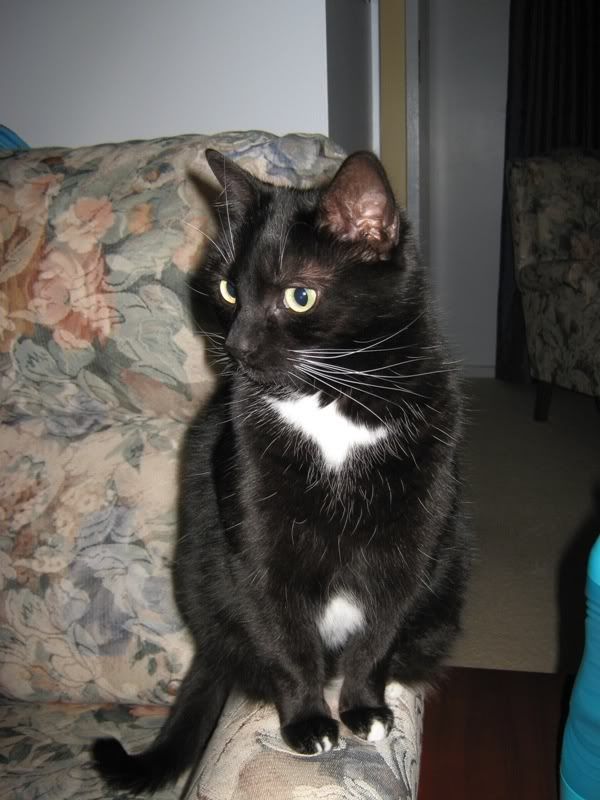 I'm not sure which colour paper I should use for this little bloke, I'm thinking a greenish/blue colour to bring out his lovely green eyes and blue in his fur, but I'll have to have a play. Not a fan of black animals, trying to match colours is hell!
First installment, just the initial stages. Have done the basic outline of him, and put a few minor colours in so I've got something to follow as I work. Have chosen a deepish sky blue so hoping that the black will come out well on it.
looking good so far...

Ugh, I know what you mean about having a ton of commissions at once. It seems with me, either I have nothing or I get a bunch of requests at the same time. I am getting a bit nervous because I have 5 people right now interested in commissions for Christmas and NOBODY has sent me an image yet. I am sure they will all send in the images like 1 week before Christmas. It's frustrating really.
Yep I get the same thing happening, you'll have a break of even a couple of months where you have nothing at all, and when you think that the end, you get a bunch of requests all come through at once!
Now when I advertise I always push the point that I need at least a month to work on a portrait, and depending on my work load it can be up to 3 months. I refuse to do a portrait it they have given me less than 3 weeks notice.
Ok almost finished little Max. I'm umming and ahing over putting a background into it. I need to bring his left shoulder out still and touch up his eyes etc. but otherwise I feel better about this one than the last one of the dogs, it doesn't look as 'cartoonish', still annoyed at my work at the moment though, I am rushing through them when I really shouldn't be and taking shortcuts where I shouldn't :S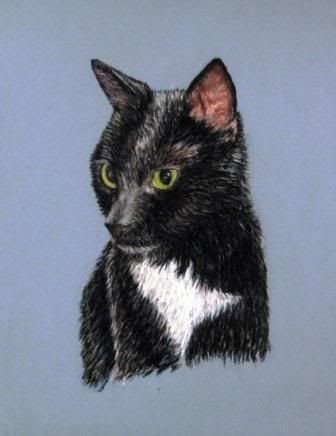 Looking good so far.
Personally if I could draw, I wouldn't put the background in.
I wish you put his little paws in though. That woulda make it cuter.
The background isn't like a realistic one as is in the photo. If you go back a couple of pages I've got what I mean on the one of two dogs. It's just pastel the same colour as the background paper blended in to look a bit 'cloudy'. It usually ameks the subject 'pop' out of the page and finishes it off, but because it's a black cat, I'm not sure if it stands out enough on it's own or not. I'll have to sit on it for a while I think, finish it completely then make the decision I think.
Oh and with the paws, I wanted to but the lady that is commissioning me only wants his head and chest in it, so I have to do what I'm told ;)
Finished?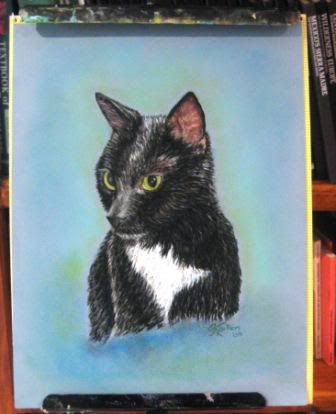 I'm glad I did the background, I think it draws the cat's eyes out off the page more and brings the whole drawing out, I thought it was quite boring without that bit of colour... now to see what the owner thinks :S
Your work is gorgeous.
I've never seen so much detail before... your drawing of the first dog was breathtaking that I had to quickly share the link with my friends.
I'm in awe with your work! Will have to think about saving some money sometime next year so I could get something done!!
Looking forward to seeing your future work.
---
♥ Seoul Searchin' for the Lovebug ♥