ok great. that is perfect. i am in no hurry. i just really want this portrait. so i am willing to wait however long it will take.. i know it is unrealistic that they would all be together in one picture.. lol but i guess i want my own "perfect harmony" kinda thing..
Another one complete. I struggled with this portrait, it had a lot of things going against it. I received 2 reference photographs, the dog has passed away and both photo's were very difficult to work from. The dog's eyes in both were 'flash' eyes, so I had to guess my way around that. The colours were very different in both photographs. My favourite horse was put to sleep just as I was starting this portrait, and then my tendonitis in my drawing arm flared up, which slowed my progress.
But here it is!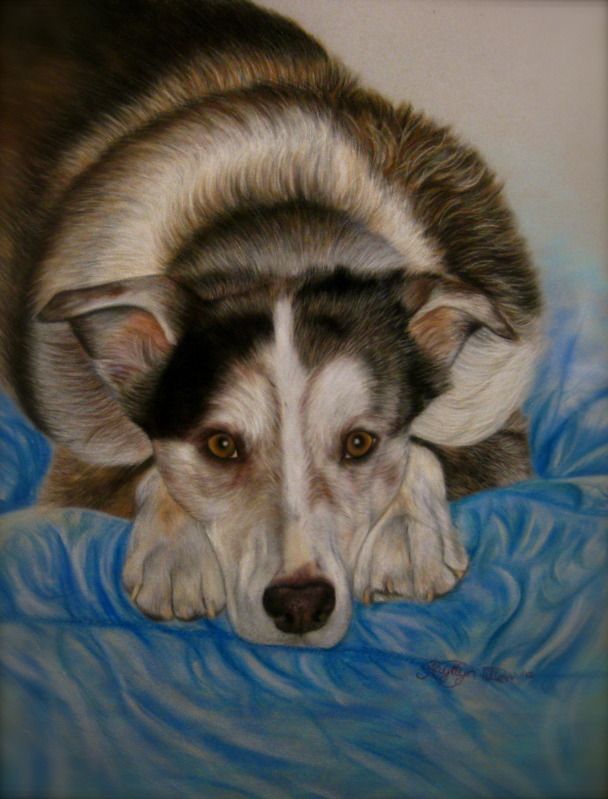 Amazing, I genuinely thought it was a reference picture, I scrolled down to look for your art!
---
To ride or not to ride? ... What a stupid question!!
That's beautiful kayty.
---
The aim of art is to represent not the outward appearance of things, but their inward significance. ~Aristotle
www.brandisue.jimdo.com
That's amazing
Just a quick question, all the Derwent pastel sets I look at, don't seem to have any kind of browns or anything like that. Do you just buy them separately?
That is adorable!
---
Pocket - 8 yr old, 15.1hh Thoroughbred Mare
~You know you're a horse person when you say 'whoa' to your dog~
Thanks for the lovely comments, I am very happy with how his eyes turned out considering all I had to go by was a couple of umber blobs with green blotches in the centre!

Snizard, I buy the 72 set of pencils, which has a couple of shades of umber, a brown and some ocre colours.
I don't tend to use much brown as such in my work, it is more reds and blues and I'll just add the umber or relevant colour over the top. The eyes are probably the only 'brown' areas, they were done in terracotta, burnt umber and yellow ocre, with some black and white for the pupil, edges of the eyes and the flash spot.
Wow Kayty. Absolutely amazing! It looks so real. His fur is just super stroke-able! I love it. I bet that lady was one happy customer.
Utterly gorgeous! It's one of your best.
Sarah - She was thrilled :)
Her email to me -
"Oh my God – that is brilliant! You have captured him so well – you are a wonderful artist!!"
It is so satisfying to get such a lovely response to my work, particularly when its a piece that I really struggled with. She has already asked me to do another one for her as a gift to a friend.