I'm not so happy with this one, I think it's just my lack of experience with black animals, particuarly cats, hopefully after a few more I'll have it up to scratch. Feel like I've lost a bit of ability in the last two drawings, I'm not totally happy with them.

Haha I'm glad you liked my dog, that's certainly one of my favourites!

If you're still interested next year, just send me a PM and we'll go from there.
Ok well so much for that being the last commission of the year. Since I updated my website and finished the charcoal drawing for Midwestgirl, I've had 7 commissions come through *sigh*.
I wasn't going to accept anymore, particuarly ones for Christmas, but of course, I spoke too soon and I have 3 to do before Christmas. All 3 are for friends so I feel a bit bad if I don't do them ( one thing about me is that i really struggle to say no!!). I've finished the first - a dog in charcoal- and have made a good start on the second - a foal full body in graphite. The third is a dog in pastel. eek! It's my birthday tomorrow so I am party planning, then my work Christmas party next friday, going to look at 2 horses, working 6 days a week, then Christmas!! Stressed!!!
Here's the dog anyway.
Gorgeous! Do you have a link to your website? I would love to see it
Website is
www.freewebs.com/horseandhoundartistry
Here's the foal I'm starting on, this is graphite. It's not the best seeing as I'm rushing a little, I know I shouldn't but I am dropping the price from full price if it doesn't turn out how I would like.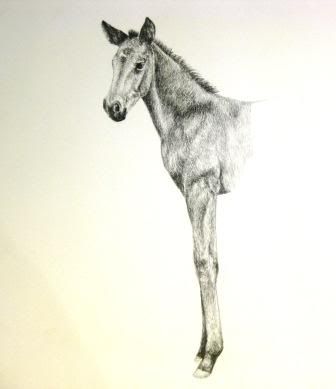 very pretty, of course and as usual. How do you get fine detail with charcoal?
What a fantastic birthday present a new horse would be-!
---
don't worry, spiders, I keep house casually.

~ Kobayashi Issa
(1763 - 1827)
I used charcoal pencils and just kept them super charp. Havent used charcoal for ages but had fun doing the two horses the other day so my mate decided she'd let me do her dog in charcoal.

Urgh hectic birthday party planning for tonight, I cracked up at my boyfriend last night when he said he didn't spend more than $500 on me :O I told him wasn't allowed to spend more than $100 at a push!! The bugger!
new horse would be nice, but wouldn't be coming from anyone else, would be from my own pocket, a birthday present to myself :P
However you swing it, a new horse is a New Horse.
Now that boyfriend sounds like a keeper
.
---
don't worry, spiders, I keep house casually.

~ Kobayashi Issa
(1763 - 1827)
Happy Birthday Kayty, tell us all about it when you get home from partying and horse-shopping!!
(No that is NOT one of my horse drawings, it's just a birthday horse for you.)
---
don't worry, spiders, I keep house casually.

~ Kobayashi Issa
(1763 - 1827)
Haha thankyou very much Toadflax
Yep my fella is most definately a keeper. He came in yesterday with a HUGE bunch of red roses and a really lovely card. My present is a solid sterling silver charm bracelett with a K for Kayty, a horseshoe with 'diamonds' in it for my love of horses, and a soccer ball to remind me of him (he plays soccer for the state ;)). I can't believe he spent so much on me :O I have a rough idea of how much those braceletts alone cost, and the pendants are mega expensive too :S
Most excellent fellow indeed.
But no horse..?
---
don't worry, spiders, I keep house casually.

~ Kobayashi Issa
(1763 - 1827)