Nope no horse! Going crazy, it's been almost a year now since I've had a youngster to play with and I'm hating it!! Have ridden maybe 4 or 5 times in the last 8 months now :S
wow-! That's amazing, only 4 or 5 times??
---
don't worry, spiders, I keep house casually.

~ Kobayashi Issa
(1763 - 1827)
Yeah it's a bugger. I was intending to bring my dad's new horse into work for him, rode him 3 times and now the old man thinks he's ready to do the rest himself. Ah well back to the drawing board!!
Foal is finished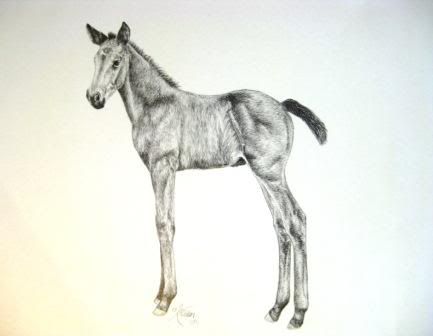 Next one. Pastel by Christmas!!!! Feeling a little bit stressed... Anyone want to draw this for me, it must be one of the worst photo's I have attempted to draw from :S This could be a very interesting result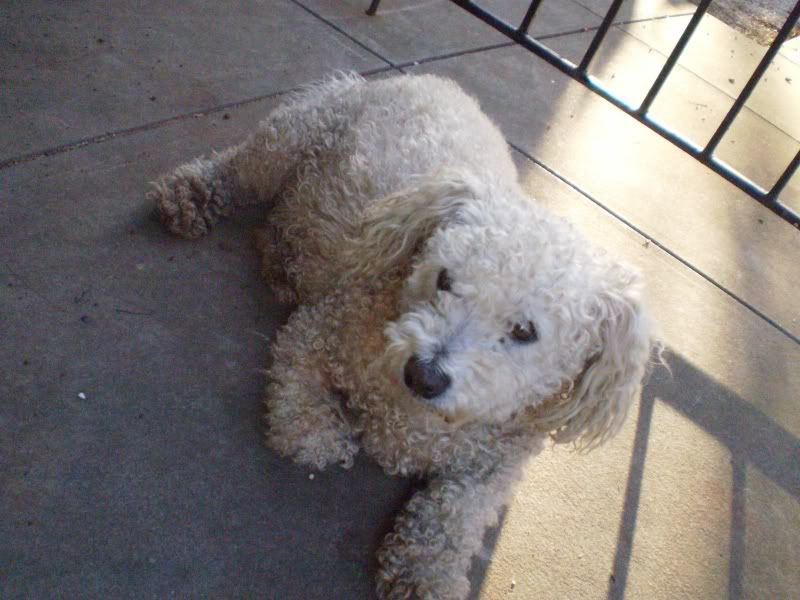 I did a Pomeranian from an absolutely wretched photo--tiny, blurry, almost bizarre really. I called it the Nightmare Drawing From Hell and I wasn't exaggerating.
Good luck. I'm utterly baffled that people don't understand the better the photo the better the drawing. I suppose they don't get that a cute photo is not necessarily a 'good' photo.
You'll do fine, there's enough there, just barely.
---
don't worry, spiders, I keep house casually.

~ Kobayashi Issa
(1763 - 1827)
Yeah I'll be able to do it... but they want a full body drawing now.... for christmas!!! A head alone takes me over 20hrs on a normal haired dog, curls, add an extra 5 hours to that. Full body from THAT picture, my god they're probably going to tell me it looks weird.... the photo is a horrendous angle! I really hate drawing from bad angled photo's because the result drives me crazy even if they're happy with it.
WOuld much prefer to do it in charcoal or graphite at the moment I really couldn't be bothered getting out all my pastels and trying to keep the place clean from pastel dust. PLus I can do the others at work, I'm working every day up to Christmas now and then from xMas to new years, then a few days after that. Last thing I want to do is come home to this little fuzz ball.

Sorry, bit peeved that I'm expected to finish it by next friday!
You have my sympathy! Just looking at the photo gives me a feeling of dread and I'm not the one drawing it.
And now that I've added to the negativity...on to the positive...
YOU CAN DO IT!!!
And it'll look amazing!
---
The aim of art is to represent not the outward appearance of things, but their inward significance. ~Aristotle
www.brandisue.jimdo.com
I completely understand on the crappy picture part. I have literally been sent a scan of a 4 x6 photograph out of focus with the sun "behind" the horse, thus creating a shadow of a full body shot and then be expected to do a head portrait...not kidding.

As for your poodle looking critter. I think you have some great undertones to work with and if anybody can make this drawing pop, it's you, especially with soft pastels!!! But I hear ya on the anxiety part. You have no idea how scared I was to do that poodle painting. I had no idea how I was going to pull off that fur texture. Granted, my poodle image didn't have such tight curls, but I took a deep breath, played around with strokes, found the formula and came out with a half way decent poodle painting. I was pretty proud of it actually. If your anything like me, sometimes tackling the unfamiliar yields positive results. Just play around a bit with the strokes. With your experience, you should be able to pull it off. You had better post the finishe product!!!
I'll post if I like it :P Nah I'll put it up and do the progress shots too. I wouldn't be stressing out if I had longer to do it, but I only have what, 10 days, until Chrismas? Working every day and I have 2 work parties, a family do and my fella is taking me out one nigth as well. EEK! No time!

*All is I want for Chrismas is MORE time BEFORE chrismas* :P