I've drawn most of the first dog now. Just doing their heads, portrait, A3.
I'm quite happy with it, other than his right eye, I tried to experiment a little with ad libbing to get rid of the camera flash but it looks a little bulky now. The other eye I'm happy with though.
Will post a photo when I'm not at work!
So far:
Bit of a botch job of the eye on this one unfortunately :( Havent done graphite, let alone a dog in graphite for ages, so this one is a bit of a warmup.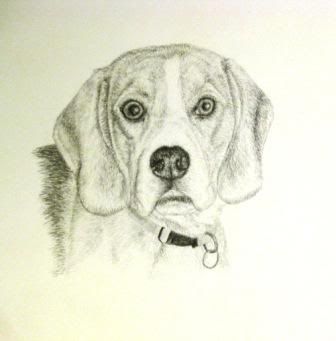 Second dog, bit happier with this one, not 100% satisfied so I'll keep fiddling once I've done the third dog, but reasonably happy for not having worked in this medium on a dog for so long.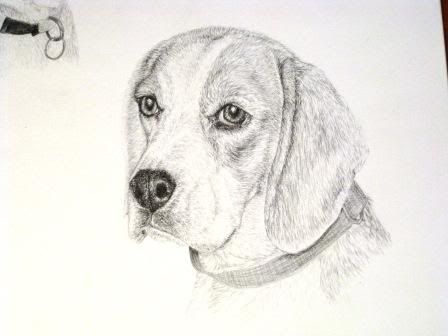 About 1/4 of the way through the last dog (the darkest one). I'm REALLY happy with it, definately my favourite of the 3... the 3 dogs looks a bit like a progression of my skills as they come back to me after a long break!! They still look ok, but the last one has so much more expression in it's eyes and much better tonal work through it.
Wow they are looking great! Can't wait to see the last one!
---
There is something about riding down the street on a prancing horse that makes you feel like something, even when you ain't a thing. ~ Will Rogers
Oh I love your work... I might have to save up and commission you to do one of each of my dogs... But you will hate me as one of them is the fluffiest dog you ever saw :] The other is short haired though so might make up for it!
---
haha oh dear another fluffy dog! I'll have to phsyc myself up for it :P I've got another 3 little fluff balls ready to go, so I might gradually start to put up with them without *too* much complaint!!

Won't be posting the photo of the last beagle yet, his pretty much done, but I'm going away on a houseboat for a week as of tomorrow so won't be around to finish/post it ;)
can i post a picture? are u charging? you are amazingly talented!
I do charge for my work. All of these drawings are commissions, I spend too much time and effort on them to do freebies.
The last dog of the series
Sorry, my scanner cut half some of the bottom off because the paper was too big for it. I got a bit slack finishing his left ear which I feel a bit guilty about, but overall pretty happy :)