My Drawings - Are they any good?
---
Just wondering if any of them are actually any good? ..Thanks. [: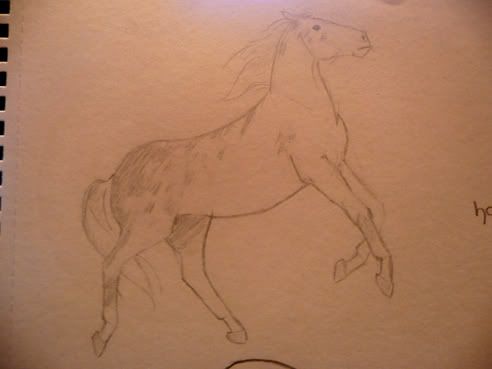 Cartoony ones..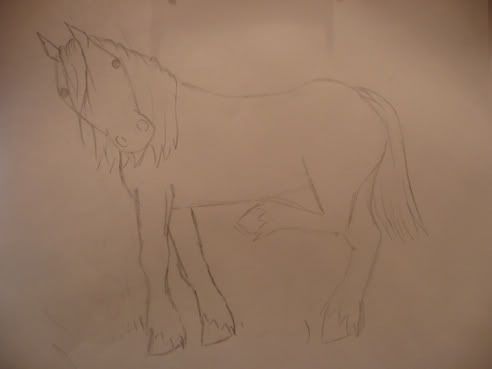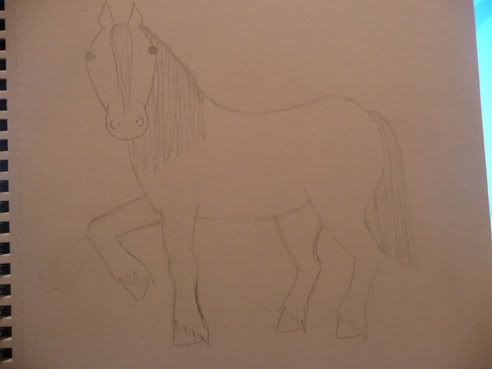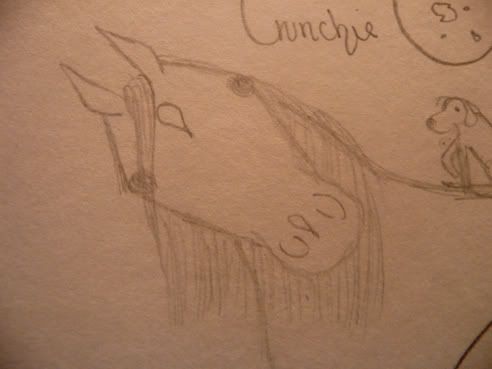 Don't ask about the dog. :P
Your drawings have a good start, and the first one is quite good for a profile. However, and forgive my bluntness, but they are rather amateurish. That's not a bad thing, though (mine from just a couple years ago would be put to shame next to yours!); you just need a bit of practice.

I'd suggest working from photographs; I like magazines because they present different positions to work from rather than the convention sideways or three-quarters view. Also, draw what you SEE. Sometimes your brain will try to argue with what it sees--you'll think you're drawing something else than what's there. If and when that happens, it works to hold the picture and your drawing upside down to compare them. Look at them from every angle to ascertain how it is.

I'd also suggests art lessons--I've been taking lessons for nearly a year and in that time I've advanced way farther than I ever thought I could. Art books are very helpful as well--and the local library is a wonderful source for ordering books if you can't find them.

If this doesn't make sense, sorry...what I know and what I write usually tend to be kinda different...now I'm rambling, so enough.
---
Colletta~ Chestnut Morab mare

Violet~ Bay roan Arabian yearling

Shiska~ Chestnun Morab foal
MRN is right if your goal is to become a 'realistic' artist.

However, I think they are 'really cute'!!

They would look great in a story book for children about horses...or a cartoon! For some reason, I think they are so cute! You should try coloring some of them!


So CUTE!!
I think they are really good! I dont know much about drawing and all but they look good! I could never draw anything like that!
---
The rider casts her heart over the fence, the horse jumps in pursuit of it.
Thanks for the replies. [:

M~R~N - I know what you mean.. I think I just need to practice, practice, practice!
I think it's a good idea to draw from the photographs aswell.. much easier than trying to draw from your head or brain or whatever. I'd love to take art classes one day.. don't really have the time just now and we're out in the country, maybe one day though. :)

Feathers - Thanks. [: I might try colouring them some day actually.. i'm not sure i'll ever be good enough to be really realistic and technical but i'll try!


RockinTheBit07 - Thanks. [:
I have just started drawing horses. I am better with clay and its tough for me to get the dimensions right on paper. I have been doing just eyes for now I draw a whole page of nothing but eyes. I find this helps by just concentrating on one part and then work on the whole. Make sense?
---

"Until one has loved an animal, part of one's soul remains unawakened..."
- Anatole France
I've done that before too, Vid! 'Course usually I just plunge in and start doodling...*rolls eyes*
---
Colletta~ Chestnut Morab mare

Violet~ Bay roan Arabian yearling

Shiska~ Chestnun Morab foal
I think that is good advice.. I spent ages drawing legs for ages and it really helped. [:
they are really good! especially the 1st one! love the detailed cheek bones!
---
_______________

I <3 you Magic!

He knows when you're happy
He knows when you're comfortable
He knows when you're confident
And he always knows when you have carrots.
~Author Unknown