Weanling
Join Date: Aug 2008
Location: On the banks of the Red Cedar...
Posts: 494
• Horses: 0
My foray into painting (Art journal of sorts)
---
So after a very unfortunate series of events which resulted in pretty much every piece of art I'd done in the past year or so being destroyed in one fell swoop, I kind of stepped back and stopped doing serious drawings. Pretty much the only thing I've done in the past 8 months or so would be a little editorial cartoon each month for my school newspaper, haha (
an old example
).
But anyways, I'm kind of feeling the urge to create again.
More specifically, I've found recently that I really want to learn to paint.
As of right now, I have painted ONCE. It was last year in my one and only art class, and it was kind of a disaster. I had to re-mix colors every day (we only had a 40min class period), I wasn't allowed to use a reference photo and I completely ran out of time and had to rush the final half of the painting and finish it in one class period. Even so, I kind of enjoyed it.
My goal, although I doubt I will reach it, is to become proficient enough with acrylics by the end of the summer to paint my instructor and the barn owner each a picture as a kind of thank you/parting gift (I'll be heading off to college - EEK!). Not sure how that'll go but I can try, eh?
I'm sure I'll embarrass myself plenty in the course of this thread, so I might as well start out showing you my one and only painting.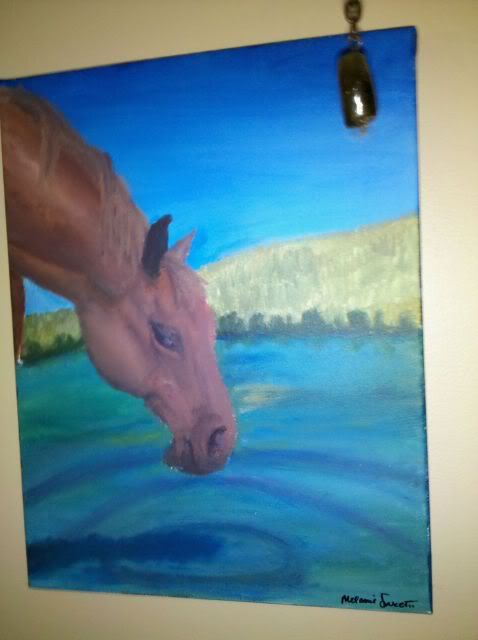 *sigh* the only part I was able to spend any time on was the neck. Clearly.
For whatever reason my mother has decided to hang it on the wall in the kitchen...I really need to paint something better to switch them out because this is just embarrassing.
Paint is the one thing lacking in my house (between my sister and I, we have a fair amount of various art supplies) so I'm planning to head up to Michael's sometime today with $50 and try and figure out what I need.
If anyone has tips on what I should buy as a "starter," I'd love to hear them.
Also - are there any alternatives to painting on like, an actual canvas Because I got one for my art class since it was required, but I don't really have the money to keep buying them every time I want to do a painting. I have a bunch of relatively thick paper...could that work at all? Also, is there a way to salvage a canvas that's already been painted on?
Any thoughts, comments, critiques or pieces of advice (for that painting and any future endeavors) are gladly welcomed!
I'm hoping that by setting up a journal of sorts I can actually track my progress and stuff. We'll see?
---
A dream you dream alone is only a dream. A dream you dream together is reality.
John Lennon

Much better than I could do. Especially for a 40 minute job. Very good!

I started with acrylics because they're cheaper and you can fix mistakes...but I've continually been told that oil is the way to go. I'll switch once I have a better handle on mixing colors.
Weanling
Join Date: Aug 2008
Location: On the banks of the Red Cedar...
Posts: 494
• Horses: 0
I've never worked with oil. In my art class we did a little with watercolors (which I HATED) and then one acrylic painting.

Oil takes forever to dry and such though, right? I don't think I'd have the patience for that, haha. I also don't have the money to invest in a bunch of nice oil paints.

It turns out that my sister may actually have some acryilics and paintbrushes from when she was briefly living on her own, so I'm waiting for her to dig those out. I did the above painting with red, blue, white and yellow...so if I even have just a suitable amount of colors I'd gladly skip buying my own.
---
A dream you dream alone is only a dream. A dream you dream together is reality.
John Lennon

So acrylic is my favorite medium! It's so easy to use. Michaels has some great stuff. I get the cheapest. Most of my paints are the little Apple Barrel ones. All you have to do is practice! What you did on the neck looks great. If you take your time and don't rush it you'll be able to produce amazing things. Don't get discouraged if it doesn't come about quickly, just take a step back and let it sit in your mind, think about it, then go back to your piece. Also, if your like me, the containers to mix your own paint in are ridiculously expensive. Use aluminum foil. Rip a piece off, mix your paint on one side, fold it in half and then fold the edges over. I've had paint last years using aluminum foil. Don't quit working on a piece until your completely satisfied :) art class is good if your learning different styles. Start small. Smaller pieces don't take as long and you can perfect your talent.

Also, I find oil immensely annoying and ill never use it again. I even do my palette knife paintings with acrylic. And my "watercolors" with watered down acrylic.
Oh, and they make this really cool stuff called canvapaper. It's like a sketchbook but with thick paper sheets with a fake canvas texture :)
I've got some of that canvapaper - it's pretty cool
The thing I like about acrylics is they're very forgiving - if you mess up you can scrape it off
Weanling
Join Date: Aug 2008
Location: On the banks of the Red Cedar...
Posts: 494
• Horses: 0
I went to Michael's today after school.
I couldn't find any of the canvapaper you guys mentioned, but I may have just missed it. However, in typical Michael's fashion there was a 40% off sale on the canvases so I got a pack of 2 9x12's for $8 :) I have plans for them both already but I'm not going to touch them until I've practiced a little and figured out how to work a paintbrush. Speaking of brushes, I also bought my own set :) My sister has some but I don't want to share since she doesn't take good care of art stuff and also my friend had this same set and I used them last year and liked them (run on sentence, much?)
Also...just for fun...I found what is technically my FIRST ever painting.
It was in my art class and the random squares were from me following along on her tutorial of 2 different ways to make the same color.
But anyways. She put a tiny picture of a fish up and we had to paint it. Unfortunately, I got there late and had one of the "gross" school brushes.
(again, created from the primary colors)
I think I'm gonna paint a bassett hound tonight.
---
A dream you dream alone is only a dream. A dream you dream together is reality.
John Lennon

I like that fish! It has character. Can't wait to see the hound :)
Posted via Mobile Device
Weanling
Join Date: Aug 2008
Location: On the banks of the Red Cedar...
Posts: 494
• Horses: 0
Well. Apparently when my sister said, "We have acrylic paint, you don't need to buy any!" she meant, "We have some tubes of random pastel colors and some yellow and no white."
So. I have to go back and buy some more at some point.
For now, I just settled with a silhouette of Babs (my Basset Hound). Thankfully my mom agreed to switch it out for the awful horse painting :p So now this is hanging in the kitchen.
---
A dream you dream alone is only a dream. A dream you dream together is reality.
John Lennon