My horse artwork
---
I've been drawing and painting for a few years now.
Have only in the last few years, really improved at painting, I usually just sketched horses.
But practice makes perfect
Here's some of my work, please don't copy or use without permission!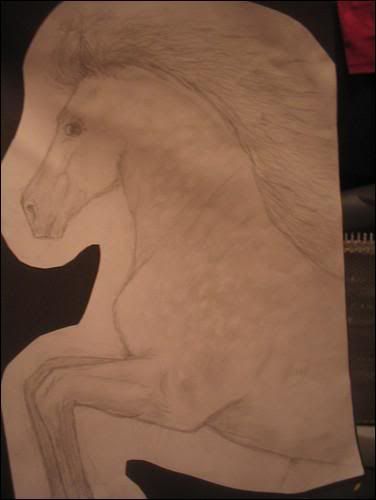 The 1st one is my favorite and seems more skilled
Thank you. I like the first one the most too...even if it is a bit rough and I left a square around the ear...oops!

the last two were from a good few years ago
i like the 1st one the best! it is pretty!
---
"every horse deserves at least once in their life to be loved by a little girl"
<3
cool! Love the big brushstrokes!
Weanling
Join Date: Jul 2009
Location: The great, white expanse of Maine...ugh!
Posts: 400
• Horses:
3
Very nice! I, too, really like the first - you have a very unique style!
---
And now, the men of the Second Armored Division with their famous close-order swanning about.
Thank you everyone :)
It took me ages to really find a style i was comfortable with. I don't have enough patience for very fine painting =P
Green Broke
Join Date: Oct 2009
Location: Witbank, South Africa
Posts: 2,681
• Horses:
2
I love them! Your very good
---
Every girl wants their own LOVE STORY, I found mine... :)