My tattoo of Gidget
---
So I have been planning on getting a tattoo for over a month by my sister's boyfriend. He is a tattoo artist and AMAZING! I considered it a birthday gift from him since my birthday is next month (22!). In return I pitched in some money to buy him a pair of nice boots. He just found out I helped get the boots and he was very happy.
Anyways,so I was wondering what I should get as a tattoo sine it will be FOREVER on me. I didn't want it to be stupid and me regretting it.
Gidget is who I consider my first horse( i had a horse before that but she had some leg issues so the owner took her back. I only had her for a month). Gidget has been there for me through all the sweat in tears of learning how to work with horses and learning how to ride.We have been through everything together. I wanted her to be with me forever so here she is on my right shoulder.My best friend forever.
(ps. it's swollen and red...once it heals it will look reaaaally nice with the shading that's done and don't mind my appy spots(freckles) kinda insecure about them)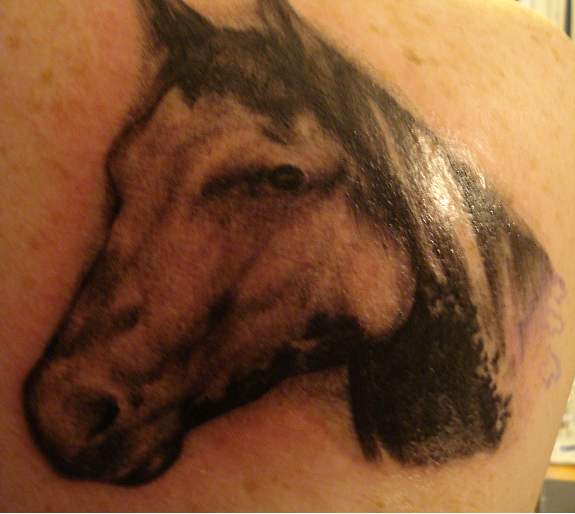 Very nice :) congrats!
Posted via Mobile Device
Banned
Join Date: Jul 2009
Location: In a land far far away, or so I wish.
Posts: 12,825
• Horses: 0
Where is it? Back at the shoulder? How big is it?
Quote:
Where is it? Back at the shoulder? How big is it?
It's on the my back right shoulder. This is my second tattoo.
It takes up most of my shoulder blade.
oh and that purple stuff..thats stencil that hasn't washed off yet.
Neat! I like it : )
---
100% Anti-Slaughter and PROUD of it!

I think it looks great
---
~Liz
I wish I had the guts to do it. Well done you. Im too much of a wuss with pain
it only hurts in spots. I gritted my teeth in some parts and other parts it felt kinda good...like a massage.