Not yet....sooner or later.
---
I hope everyone is drawing their butts off. :)
I finally had time to do a large scale charcoal pic (commission) but I'll be danged if it wasn't a horse. It is getting closer though. :)
I named it "Novemeber's Dream!"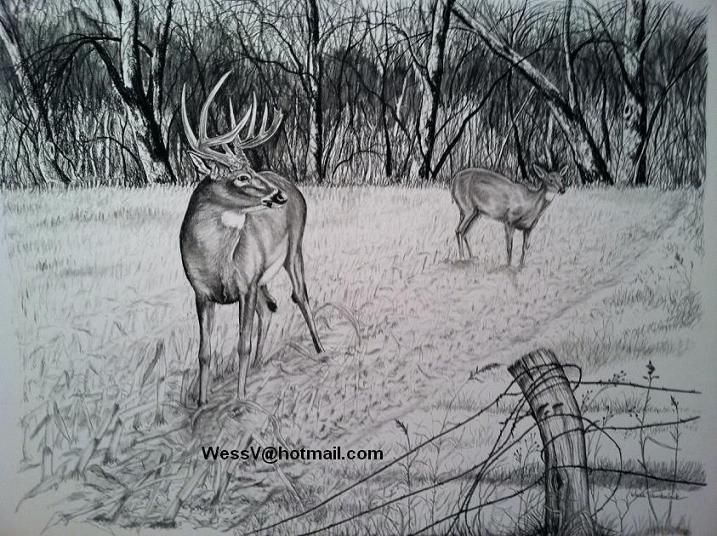 Have a wonderful, safe and productive fall!
Wess
I love the way that fence post is :) beautiful drawing
Posted via Mobile Device
I'm trying to Wess! In the process of doing a large pastel piece of the Great Brittain Olympic Dressage Team. Fair to say its taking me a long time.

That is a lovely piece, you are certainly very talented with charcoal!
The deer loook wonderful! and it really is a nice setting as well
---
"If a horse fails to do something that is because he was not trained to do it. If a horse fails to do something properly that is because he was not trained properly."
www.wildestheartart.com
Wes, I have done almost nothing lately. I feel jealous of you all with commissions. I am wide open.

that's a nice work and the composition is especially balanced.
Finished an early Christmas commission and thought I'd share as I just love to see the look on these sister's faces. It is fun to draw happy folks.
Good luck putting it down on paper!
Wess
Perfectly adorable! Faces are hard to do, but smiles are even harder; all those teeth, and the lips pulled in odd lines. And the smiley eyes are great!
Big Gold STAR!
Love the deer & the composition-you are talented! Thanks for sharing.