ONE free scetch
---
Please put your picture on here and I will choose one, maybe 2 if I get the time. I will choose the pic based on the quality of the pic and how easy it will be for me to draw as far as lighting and movement goes. Just because I dont choose your horse doesnt mean I dont think he is pretty,please dont get your feelings hurt. Also, please tell me something about him when you post your pic...where you got him, stories. what makes him special to you?
Ill put a couple pics that I have done up for you so you have an idea of my style. NOTE I will not do running horses. Still shots only.
Here is the last one I did (I had a very hard time with this one for some reason)
This is Gracie, a 2007 Oldenburg cross filly that I was debating on buying when I was thinking about moving to NY a few years ago. I never got the chance to buy her, but I spent quite a few weeks around her. She was a beauty. Unlike most 1 year old horses, she was calm, sweet, quick to learn and very very gentle. I can only wonder where she is now and what she is doing.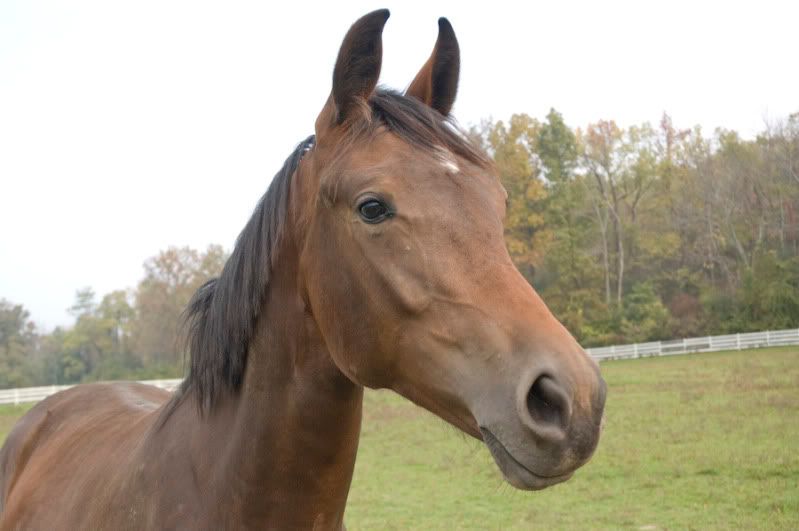 ---

Equestrian, computer person, photographer, graphic designer...
I know who I am, who are you?

Hi, could you do one of Lucky for me? She's not the most elegant mover, the most beautiful, or the most talented. But she's mine. I have a long story in my barn about her and what had happened to her, and about our bond. I have some pictures of her in my barn too, I understand if the lightings not right or if she's not the best horse to draw hehe
I would be glad to draw Lucky. I work full time, I take college Equine classes, have 17 horses and a new baby....so I cant promise a time frame. If you dont hear from me within the week you may email me at
SouthCreekPaints@yahoo.com
, yahoo IM me at southcreekpaints or P.M. me on here. If you have any other pics of her, email them to me.
Aww thankyou! Take as much time as you need, I'd just like to have a scetch of her
By the way, congratulations on your new baby