Pastels - Works in Progress
---
I have had a few requests lately, to put up a detailed work in process thread of a few of my drawings. I tend to work by layering my base colours until I get to the colour that I require, and I think this process has a few people a little confused and curious
No promises as to how fast I'll be updating this, as I work quite slowly and I am pretty busy at the moment. Though I've got a day off work today feeling as sick as a dog, so planning to make a good start!
I am having a short break from commissions to put together some sale pieces and practices, so the first WIP will be Gribaldi, the beautiful, black, and extremely talented sire of Totilas. Gribaldi is now deceased, but he has left many approved sons in his wake.
I also have written permission from this very talented Dutch photographer, to use her photographs as references for my work - lucky me!!!!
Portrait will be on velour backing, in soft pastels (Rembrandt sticks and Derwent pencils for the fine detail).
If anyone wants to see how I do a particular colour horse, let me know and I'll see what I can do.
Definately subbing
Subbing
Kayty - can I have a guess and ask if you'd lay down a blue first for under his coat?
thanks Kayty for showing us your "secret process". I look forward to getting in on the good stuff.
Sarah, yep!! Mostly blue, with a hint of red in some areas (around the muzzle, base of the ears, jaw line and over his back). The red makes a drawing look more 3 dimensional and creates more interest :)
I'm looking forward to following the process.
Oh yay!!
Red? I would never have guessed!! Can't wait to see the progress with this one!
Ok, here goes:
1. Outline - I measure the proportions out first, then re-create the image on velour. I can't afford any mistakes on velour, as it will never come out, so need to be super careful and get my proportions exact before I lay the pencil on.
2. Started blocking in the shadows. This is only a small portrait, so I like to get as much detail into the first layer as I can. I'll start on my case colours shortly, but laying down the shadow gives me a point to work from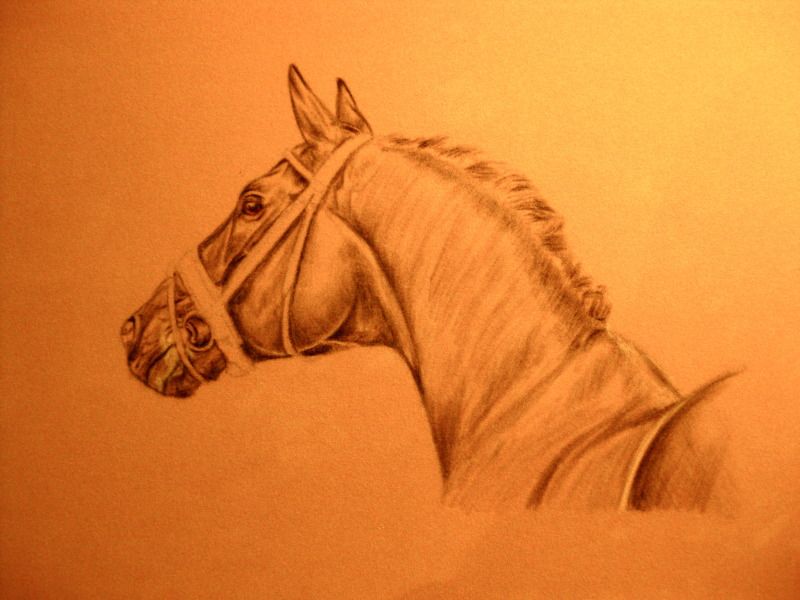 very nice job you will go far :)
---
ride a draft and see the world differently
Subbing :)
---
Pssh.I didn't pick up the wrong lead
It's called a counter canter...
...A very advanced maneuver.