Portraits of trust and love.
---
I would like to do a series of paintings showing the sweet love and trust that a human can have with a horse. I am looking for exceptionally endearing photos of humans with their horses. Children too. I prefer close up head shots but can do full body shots. This is not a contest. If you like my work you can talk to me about purchase, but mostly what I want is for anyone who submits a photo for a portrait, that I have their permission to paint them, and to reproduce it for sale , if the work is of the appropriate quality.
Here is one of Endiku with one of her ponies. I think this would make a lovely portrait
Endiku loves pony.jpg
and this one of Katie with her now gone Hugo is another example of the kind of love and trust I want to try and capture
katy's hugo3.jpg
so, if you have one that you think is what I am looking for, go ahead and submit. I have some that I have already chosen and will contact the persons for permission if they end up being painted.
Wow, this is a great idea Tiny.I think both the HF's pictures you showed above are stunning and also, great examples of passion and bond. I only have on picture like that. That is of me and my hearthorse (Owned by the horse stud i have worked for, for a while - don't worry I do have permission for pictures
!
I uploaded the first picture as a black and white, because I love the bond it helps portray! I also added the full colour version for you. Good luck, and thanks for letting me give you these pictures! Oh! And one more picture I love is on the bottom
.
Started
Join Date: Aug 2009
Location: In the barn whenever possible.
Posts: 1,910
• Horses:
2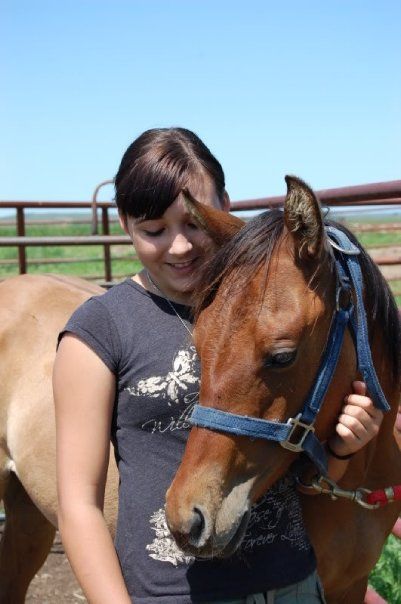 My daughter.
---
"Riding a horse is not a gentle hobby, to be picked up and laid down like a game of solitaire. It is a grand passion. It seizes a person whole and, once it has done so, he will have to accept that his life will be radically changed." -Ralph Waldo Emerson
What a great idea Caroline! I look forward to seeing your work (like always).
Here's a cute one of my best friend's daughter with a mare we have since sold. Haley (horse) was fascinated with little ones. Sweetheart of a mare that was a loner until kids came in the pasture and she was always the first one to come visit.
Haley kiss_edited-1.jpg
---
Life is like a camera. Focus on what's important, Capture the good times, Develop from the negatives and if things don't work out, Take another shot.
just checked in. All great stuff! I won't be able to paint all, but can probably do at least a pencil sketch. Keep 'em coming!
Showing
Join Date: Jun 2011
Location: Cariboo, British Columbia
Posts: 11,775
• Horses:
3
Me & my nag, Indy.
I cannnot wait to see what you come up with tinyliny these are going to look amazing!!
Here are a few of my photos with my horse Pocket. Sorry that some are out of focus but a couple of these were accidentle photos
And one with my pony Squirt
---
Pocket - 8 yr old, 15.1hh Thoroughbred Mare
~You know you're a horse person when you say 'whoa' to your dog~
Wares, if there was a HF calendar that would totally be the cover shot! Love it!
---
Life is like a camera. Focus on what's important, Capture the good times, Develop from the negatives and if things don't work out, Take another shot.
Here are a couple of me and my OTTB Mr. O'Malley that I sadly had to give to a friend of mine because I couldn't afford to keep him.