If you are still doing these, it would be awesome to see some of me and Eiger! He isn't mine, but he's a horse I'd love to get :)
Eiger hugs :)
He randomly flipped his ear back so it looks like he's missing one, lol
Sorry it looks so foggy, he had just breathed all over my camera lol
Telling me secrets :)
If you want you can look through all my picture posts, etc and use any of those for references! And if your on deviantART I have a stock account called Stichy-Stock thats got a bunch of references :)
mystery member
---
I am not sure who this is. I forgot who posted this . Hope I'm not in hot water for posting it here.
this portrait started to fall apart from the beginning. Got the face messed up, smudeged ink across it, messed up the eyes. I decided to finishe it anyway, and did the best I could to recover. the result? well, . . .
you decide.
equisketch.jpg
IMG_3567.jpg
---
Last edited by tinyliny; 02-05-2013 at

01:38 PM

.
That would be me that posted it. Feel free to do whatever you want with the painting and if you ever want to use the photo for comparison/advertising purposes, go right ahead.

Awe, it's my Moo man (aka, Mr. O'Malley). I love how you made my face a little more narrow. I was a good 20lbs heavier back then...lol. Thank you!
Outstanding work TinyLiny!
Trained
Join Date: Sep 2011
Location: Hour and a Half from Town!
Posts: 6,324
• Horses:
2
Ohhh that's one of my new favorites!! Great job!!
---
You can get a lot further with a ladder than you can with crutches!!
What do you mean what do I mean?
Wow, what a wonderful thread! In case you are still doing these, here's a couple of mine - maybe something will be of use. :)
---
I have come a long way, to surrender my shadow to the shadow of my horse.
/James Wright/
Just read through this thread and I have to say I absolutely love your work! Not sure if you're still doing more, but I have two pictures that might work for you, although I have to say it is not my horse, nor a horse I know in the pictures, just a cutey at my barn :)
IMG_8306.jpg
IMG_8307.jpg
Quote:
As requested
, lots of trust and love here I think.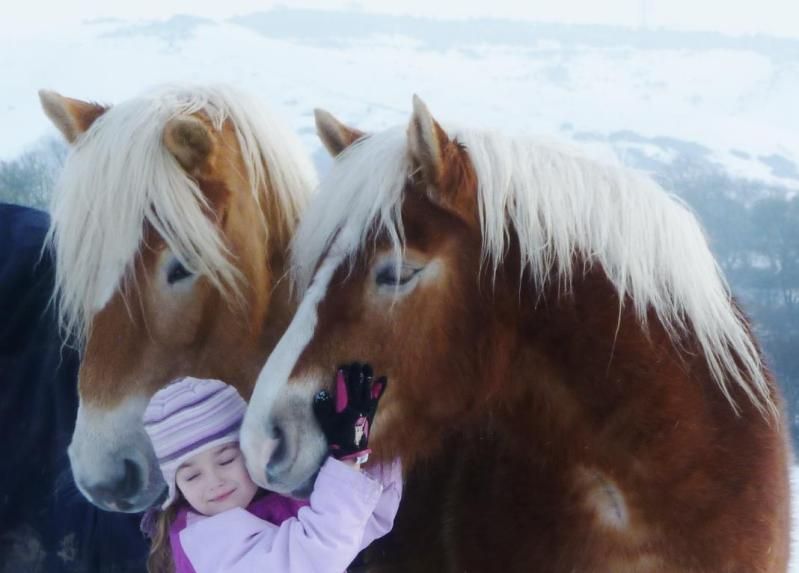 I've kind of neglected this thread for a long time, just been up doing other things. I've had a little problem with my neck in that I'm not able to paint for long periods of time, so please forgive me for not doing as many of the photos as has been posted here that deserve to be painted
However the above photo that was posted by Clopha along time ago was just too adorable to resist, and I did painted about a month ago. Here's what it looks like. I chose to crop it down to focus on the little girls face, because if I had left it the original size the girls face would be too small for me to paint with any detail.
image.jpg
How is it I've not seen this thread until now, I'm wondering? Simply beautiful work, Tiny!! If I may be so bold as to humbly suggest, give it a go to do the whole picture of this girl with those two horses in full view... I almost caught my breath when I saw those manes! You're talented enough to do it- there's no doubt! This suggestion is coming from someone who can draw a mighty fine stick figure, btw :)