Recent Drawings
---
Just 2 recent drawings I've done.
Comments welcome as I'd like to know where I can improve.
Thanks!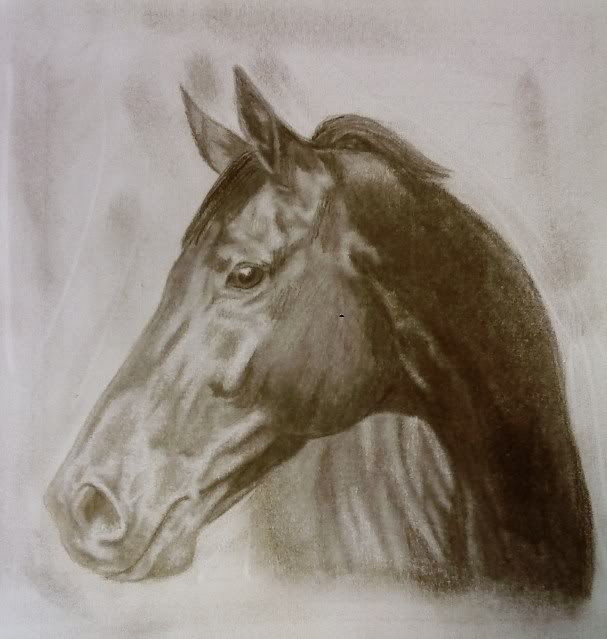 ---
Colourville Calanthe < 3
Wow! awesome drawings. you are really good. I love the shading and the detail in them.
---
There is one principle that should never be abandoned, namely, that the rider must first learn to control himself before he can control his horse. This is the basic, most important principle to be preserved in equitation - Alois Podhajsky
Started
Join Date: Aug 2009
Location: In the barn whenever possible.
Posts: 1,910
• Horses:
2
Gorgeous work!!!
---
"Riding a horse is not a gentle hobby, to be picked up and laid down like a game of solitaire. It is a grand passion. It seizes a person whole and, once it has done so, he will have to accept that his life will be radically changed." -Ralph Waldo Emerson
O wow-they are beautiful. Love the first one-what paper did you use?
The only thing that I might say is that the nose might seem a tad big for the rest of his/her head. That might be my own perception though...might be right on proportionally and I'm just looking at it differently
Looks awesome. I look forward to seeing more of your work.
~Brandi
---
The aim of art is to represent not the outward appearance of things, but their inward significance. ~Aristotle
www.brandisue.jimdo.com
Love the cat - saw it on H&H - just like the unusual angle you've drawn it from. The horse is great too - I think the nose is the right size but the eye maybe a little small? I know it's hard to get all the proportions right and it's only when you've finished you can see them clearly - I do it all the time and am forever tweaking stuff and changing bits - probably why I take forever to do a pic!