I hate to ask but do you think you could draw my horse as well? You can put your watermark and keep the original and everything. I just want to see him drawn! I got a great picture and I know you would do it justice!
---
Yeah I'm happy to do it, but as I said before, I won't be able to do it for a while becuse I've got a bit of a backload of commission work to get through. Post the photo for me and I'll put it on my list ;)
Started
Join Date: Apr 2007
Location: Australia-The best Country!
Posts: 2,192
• Horses: 0
Oh my gosh! Your fabulous! I especially like the horse with the horseshoe. Fantastic work! But me, I'm not exactly what you'd call creative, maybe I try to be, but it just doesn't work....How long does it usually take you to get one piece of work done?
---
Rach
WE ARE GEELONG! THE GREATEST TEAM OF ALL.....
Keep practising honey and you'll get there. I spend hours and hours of solid work just honing down on my skills, I'll pick out a few different eyes and draw them until I can get them perfect, then try different ways of getting fur etc. until it all starts coming together.

My graphite drawings tend to take me about 15-20hours, pastel a bit longer 20-30 hours depending on what I'm drawing of course. The dog that I posted first on the previous page has taken me 25hours now and I'm ALMOST finished only a front leg to go, will put it up when it's all done and cleared by the owner ;)
---
beautiful work, kayty. i like surfing the net, and look at artwork. you are real good. i'm having my horse &dog, and my friends horses painted at the moment and i cant wait to see what the artist did with them :)
if the result is 75% as good as yours, i'll be happy
Haha Sabine, thankyou :) I'd love to be able to paint with brushes eventually with oils, but at the moment I'm more of a 'hands on' girl with pastel and pencil. How people manage to get such detail with a paintbrush puzzles me!!
Ok! Pick any one that you want! Sorry if they are bad! Just let me know and I will take better pictures for you. Here are some:
Thank you sooo much!!!!
Megan
---
Hey,
Do you have any good one's of his head? I'll try and find you an example of a good photo to draw from.
Something like this: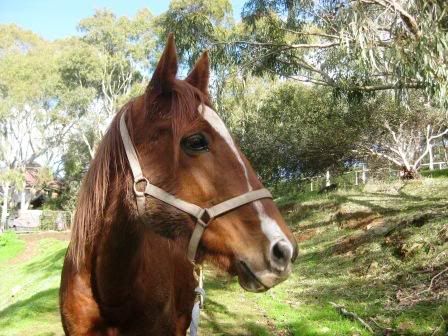 You're horse is absolutely gorgeous by the way, how tall is he?
And the dog is FINALLY finished- maybe... contemplating putting a background or shadow in there so he doesnt just float around in the middle...